Floating solar projects have headlines in in a number of cleantech publications for the past few years, thanks mainly to their novelty, the ingenuity of their approach and their often striking appearance. 'Floatovoltaic' (a term used when solar photovoltaic technology is used) and other types of floating solar projects have now sprung up in locations as diverse as California, India, Japan, South Korea, Singapore and even the UK.
The projects, which might come across at first as being in the 'so crazy that they might just work' category, are only attracting more interest as time goes on. More and more companies, having recognised the potential benefits, are either developing floating solar projects or technologies to make them possible.
This article examines the concept floating solar and also takes a look at some of the projects and technology options are out there. 
Floating solar power: What are the benefits?
Below are some of the potential benefits of putting solar power on the water which are frequently touted by floating system proponents.
There is no need to use land which could be put to better uses such as farming; floating solar uses space that would otherwise be underutilised.
The water absorbs heat collected by the floating solar arrays, thereby cooling them. This is key in the case of floating photovoltaic projects – solar panels lose efficiency as their temperature increases.
By covering the water, floating solar projects can slow evaporation; this is a key benefit in dry climates in Australia, where such projects could be installed in dams.
Floating solar projects may prevent the water from being subject to daily temperature fluctuations as the sun beats down on the surface; this may have ecologically beneficial effects.
Floating solar system may prevent algae growth.
When installed on a dam used for hydropower, can act as a backup power supply when dam levels are low.
Questions about floating solar
Although floating solar technologies certainly seem to promise much on both the power production end as well as from an ecological perspective, anyone seeking to carefully balance both power yield and environmental outcomes should carefully weight the options for the project in question. Some of these considerations include:
The presence of water and humidity could mean faster than average corrosion of components–from the pontoons to the panels themselves. What measures need to be taken to prevent this?
How much does pontoon technology add to the overall price of a solar project, when all factors are taken into account?
Will there be issues with ballasting, anchoring and maintenance that wouldn't apply in the case of an ordinary ground- or roof-mounted system?
What studies are available about the environmental impact of floating solar array on the ecosystem of a small body of water, and when should this matter?
Will water birds be attracted to the project by virtue of its being on water? Could they nest, leave droppings or otherwise cause problems?
What concerns are relevant in the case of freshwater as opposed to saltwater/seawater?
Technologies & projects
The following are examples of floating solar technologies and products from around the world.
USA' SPG Solar – 'Floatovoltaics' at the Far Niente Winery in California
The Far Niente Winery chose to use SPG Solar's 'Floatovoltaics' technology to put 400kW of solar on an on-site reservoir rather than cut down valuable grapevines. Read a press release about the project from Far Niente Winery or check out WinesAndVines.com's feature on the project.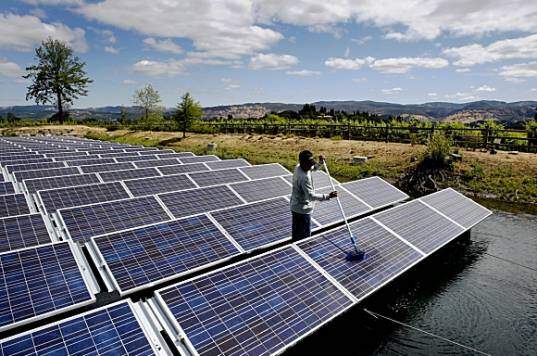 Far Niente Winery's floating solar array. Image via Inhabitat.
Israel's Solaris Synergy – Floating Photovoltaics (FPV) at reservoir in northern Israel
Solaris Synergy's FPV technology is a 'self-contained system that operates on any fresh, salt or waste water surface'. The company has deployed its first 50kW plant at Mekorot's Eshkol reservoir.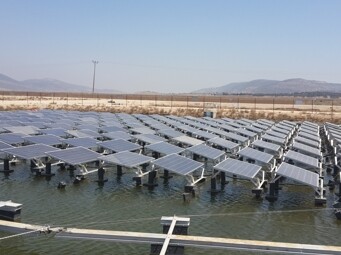 Solaris Synergy's FPV technology. Image via Solaris Synergy.
France's Ciel et Terre – Hydrelio system
Ciel et Terre ('Sky and Earth') has developed a floating solar panel mounting technology (called the Hydrelio system) which has been used in a number of projects around the world. These include a 200kW array in Berkshire, England and several projects throughout Japan (850kW in Hyogo and 1.2MW in Saitama). The company is also involved in another Japanese project – currently in early development stages – for the Yamakura dam in Chiba prefecture outside Tokyo. This project, at a massive 13.4MW, will be the largest of its kind in the world once completed.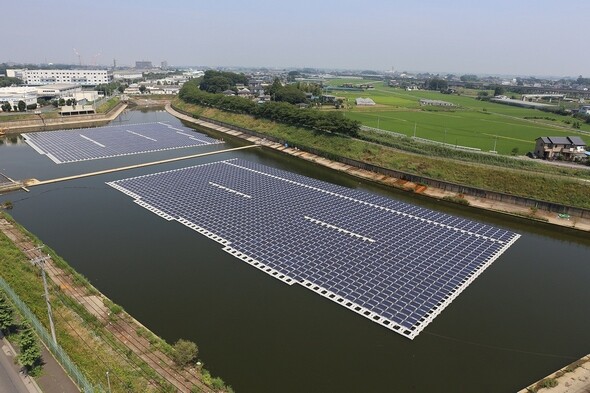 The 'Solar on the Water' floating solar plant in Okegawa, Saitama Japan uses the Hydrelio system. Image via West Holdings Corp.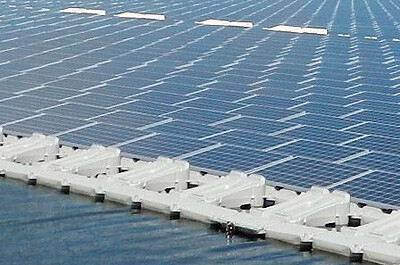 Hydrelio system. Image via Kyocera.
Australia's Sunengy – 'Liquid Solar Array' (LSA) at pilot project in India
Sunengy has developed a concentrating photovoltaic (CPV) technology designed synergise with hydropower dams. A pilot project using their Liquid Solar Array technology has been deployed at a dam owned by the Tata Power Company outside of Mumbai, India.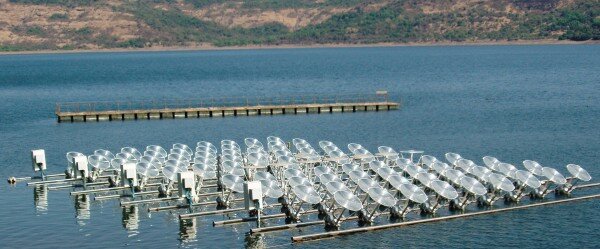 The LSA demo project in India. Image via Sunengy.
You can read more about the project on Inhabitat, or watch the video below.
Switzerland's Novation – Solar-Island technology
Novation's 'Solar-Islands' are floating platforms (12 – 100 meters in diameter) designed to be compatible with both photovoltaics panels as well as concentrating solar thermal (CST) technologies. They have not yet been put into operation, but three are in the process of being built in Switzerland. You can read more about the Solar-Island technology on the Novation website or CSP today. There is also a video below.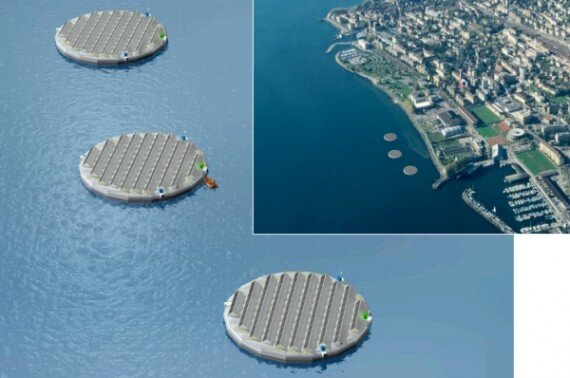 Novation's floating Solar-Islands, currently under construction. Image via Novation.
Other floating solar projects
Singapore – Tengeh Reservoir:
-On Cleantechnica, Softpedia and Today Online
Floating solar projects in India:
–What could be the world's largest floating solar array – 50MW on a canal in the city of Kolkota
–10MW of floating solar on a canal in the state of Gujurat
Top image: Far Niente Winery floating solar array, via WinesAndVines.com
© 2015 Solar Choice Pty Ltd