Solar Choice's Mount Majura Solar Farm has again been the subject of an article by the Canberra Times' John Thistleton. The most recent article provides an update on the progress of the project since the paper first covered it in March of 2013. It also takes note of the innovative and unique tracking technology that will be used in the solar farm – namely, California-based QBotix's 'Solbots'.
Although Solbots have been put to work elsewhere around the world – including the US, Japan and Europe – the Mount Majura project will mark the first time QBotix's system is to be deployed in Australia.
Unlike conventional solar tracking technologies, the QBotix system utilises intelligent, track-mounted robots which adjust the tilt and orientation of solar arrays throughout the day. This cuts down on the need for multiple motors to do the same job. The Solbots charge themselves with the power produced by the solar modules. (You can read more about QBotix's technology here.)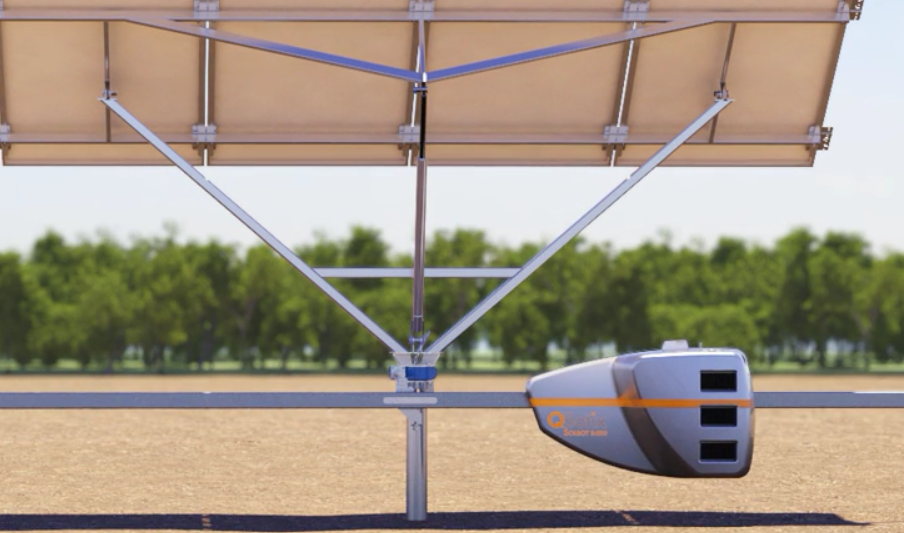 A QBotix 'Solbot'
Solar Choice is in the process of finalising the first 2MW stage of the project, which has been held up by a number of bureaucratic hurdles since it was proposed in early 2013. One of the biggest hang-ups was a protest on the part of nearby Canberra Airport, which expressed concern that the panels could reflect sunlight, producing glare and temporarily blinding pilots during takeoff and landing. The Civil Aviation Authority later determined these concerns to be groundless, and the final go-ahead on the project was granted at the end of last year.
Work is due to commence this year and will take approximately 5-6 months between start of construction and commissioning. Once complete, the solar farm will be visible from the Majura Parkway (scheduled for completion in 2016) until newly planted native trees grow tall enough to block the view.
(The Mount Majura Solar Farm was also covered in the Canberra Times on 13 September and 16 September 2014)
Top image: Mockup of the Mount Majura Solar Farm outside Canberra
© 2015 Solar Choice Pty Ltd