A US startup that promised to revolutionise the solar tracking industry with a robot-controlled sun-tracking system has apparently shuttered its operations. According to Greentech Media. QBotix CEO Mike Miskovsky confirmed that the company let go of most of its staff and closed its doors in August this year. The QBotix website is no longer online.
QBotix garnered significant investment and media attention with their innovative, streamlined approach to solar tracking, which reduced the number of malfunction-prone tracking motors usually necessary in a dual-axis tracking system. Instead, in the QBotix system, a smaller number of intelligent, solar-powered, track-bound 'Solbots' would adjust the orientation of panel arrays repeatedly throughout the day. The result was to be overall higher energy yields, lower balance-of-system (BoS) costs and a lower motor failure rates than conventional dual-axis tracking technologies.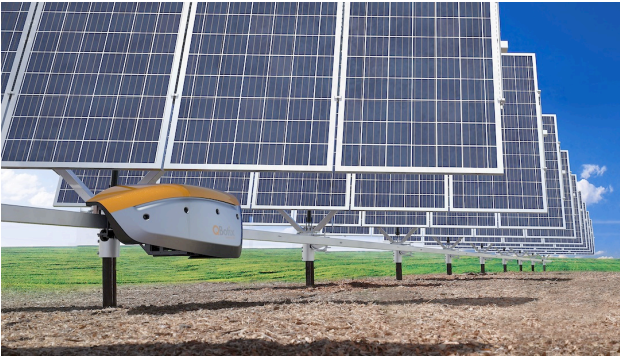 QBotix's Solbot-controlled dual-axis tracking system. (Image via QBotix.)
But now it appears that the company's Solbots will be retired to the annals of history without ever having been put into commercial operation. Greentech Media comments that the company was unable to keep up with competition from the single-axis tracking space, where innovations have also driven down costs and improved reliability significantly.
"QBotix's engineering issues might be confronted and costs could be driven down, but new, risky technologies just don't get used by solar project developers — the most conservative players in a conservative utility power market," said Eric Wesoff. "Market acceptance and adoption did not happen anywhere fast enough to allow this startup to scale."
In late 2014, Solar Choice was poised to proceed with QBotix's Solbot technology for the Mount Majura Solar Farm, but concerns over their contract manufacturer led to the decision to opt for horizontal single axis trackers instead.
Perhaps one day in future this type of visionary robotic tracking will find it's place in the sun, but not for the foreseeable future.
© 2015 Solar Choice Pty Ltd