QBotix, developer of robotic tracking systems for PV systems, has attracted close to USD $12 million in capital in its second funding round. QBotix is expected to use the funds to market and mass-manufacture its robotic tracking technology.
QBotix has attracted USD $25 million in funding thus far and the inclusion of major global utility companies E.ON and Iberdrola (world's largest investor in renewable energy) as investors in latest funding round "validates [QBotix's] strong value proposition" according to founder and CEO, Wasiq Bokhari.
"E.ON has tested the QBotix RTS for over a year and has evaluated the system's ability to produce significantly more energy than fixed-tilt and single-axis tracking systems," says Urban Keussen, Senior Vice President, Technology & Innovation at E.ON SE.
Single- and dual-axis tracking systems help to ensure that solar panels always face the sun regardless of the time of the day and year, thereby producing more energy on a daily and annual basis than a fixed-tilt system. However, traditional tracking systems for individual modules are expensive since motors and other complicated machinery are required for each panel to adjust their tilt.
QBotix's Robotic Tracking System (RTS) (pictured below) solves this issue by using a pair of self-charging robots mounted on a floating track, which periodically adjust the tilt and orientation of each individual panel/array, eliminating the need for motors on each of the panels/arrays (read more about the system in our previous article here).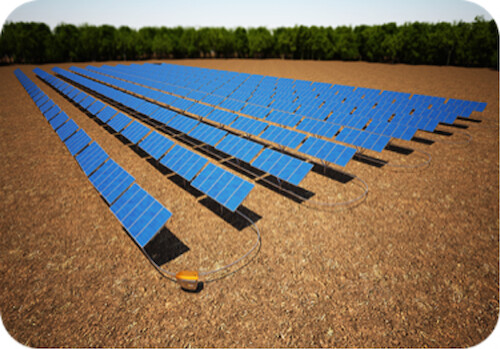 Image Credit: QBotix
Touting the system's simplicity and advantage, CEO Bokhari says "Our bankable system provides up to 15% more energy than single-axis trackers and up to 45% more energy than fixed-tilt mounting systems, and it can provide an immediate reduction of up to 20% in CAPEX or levelized cost of energy for our commercial and utility-scale customers". The claims are based on an independent engineering report, which was announced earlier this year.
The innovative design has led to QBotix being recognized as one of the top 10 most innovative companies in robotics by Fast Company. It was also awarded $1 million earlier this year under the US Department of Energy's SunShot project.
QBotix has moved beyond product testing, however. It already has its first commercial project in the pipeline (a 45 MW solar project in the UK) and as the latest funding announcement suggests, will continue scaling up manufacturing and sales in the near future.
Top Image Credit: QBotix
© 2014 Solar Choice Pty Ltd

Latest posts by Nitin Nampalli
(see all)