The futuristic robotic sun-tracking technology innovated by California-based QBotix is gaining traction in markets around the world, as the company's good news streak stretches through 2014 with announcements of supply contract growth, financing wins and corporate expansion.
QBotix started the year with the announcement that it had won a 45 megawatt (MW) supply contract with UK-based renewable energy project developer Castillium. QBotix's dual-axis Robotic Tracking System (RTS) will be deployed in Castillium's pipeline of ground-mounted solar farm projects across the UK, the first of which are already under construction.
The company has since had a series of successes so far this year, including winning US$1 million of funding through the US Department of Energy's SunShot initiative in March, and its inclusion in FastCompany's top 10 list of the most innovative companies in robotics in February, among other accolades.
The bankability of the company's technology, as evidenced in projects already in operation in the US and Japan, has attracted interest internationally. In May the company announced that it had garnered an additional US$12 million in investment, as German utility E.ON and Spanish renewables developer Iberdrola joined the company's other backers.
QBotix announced in July that it now has over 80MW worth of supply under contract for projects around the world, including the 45MW with Castillium, as well as with more in the US, Europe, Latin America and Australia. (Solar Choice's own 2.3MW Mount Majura Solar Farm, located outside Canberra, will be among those to utilise QBotix's RTS technology.)
Earlier this month, QBotix founder and CEO Wasiq Bokhari moved into the role of Executive Chairman in order to welcome former Zepp Solar head Mike Miskovsky onboard as the company's new CEO. Mr Miskovsky's focus will be to further extend the company's global reach over the course of the coming years.
In the press release announcing Mr Miskovsky's appointment, the new CEO reflected on the significance of the company's vision and direction. "QBotix is the most innovative company in the large-scale solar project space right now, and I'm excited to be part of its growing momentum," he said. "QBotix technology is where solar is heading – reducing costs while increasing energy production to deliver superior lifecycle economics. The experience of the last four years [at Zepp Solar] has shown me that the balance-of-system (BOS) is where project costs are being driven down most; QBotix is perfectly positioned to lead that charge."
The QBotix RTS differs from conventional dual-axis tracking systems primarily in that it uses durable, intelligent, rail-mounted 'SolBots' to adjust panel arrays as the sun moves through the sky, thus eliminating the need for multiple, independent tracking motors and improving overall resilience. QBotix says that its system can increase solar farm yields by up to 45% and reduce project costs by up to 20%.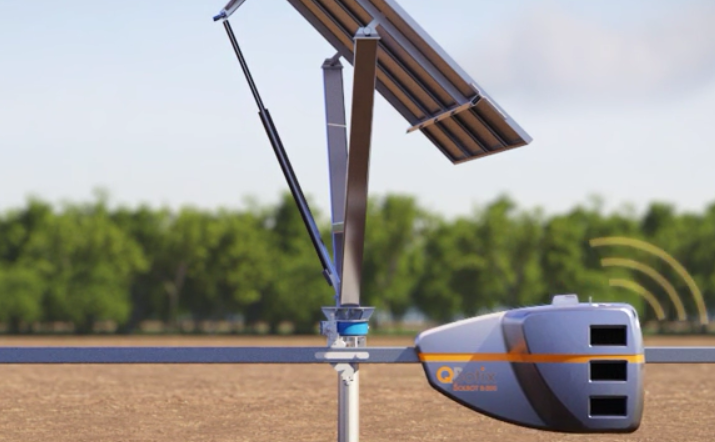 QBotix SolBot. (Image via QBotix.)
A video detailing the components of a QBotix system can be viewed below.
Top image via QBotix
© 2014 Solar Choice Pty Ltd