One of the promises of home battery storage was realised during South Australia's historic blackout yesterday: Homes with batteries were able to keep the lights on even as surrounding building swam in a sea of darkness.
The most high-profile of these was the home of Simon Hackett, head of Australia-based flow battery developer Redflow, whose ZCell made a splash in the media when it was revealed this past June. Although ZCell installations are not slated to begin until October, Mr Hackett already has his Adelaide home equipped with 2x prototypes of the 10kWh ZCell batteries that are now making their way into the Australian market.
In an interview with RenewEconomy, Mr Hackett was glib. "One remembers the questions when we said we live off the grid – 'do you live in a cave?'. Well, who's living in a cold cave now?" His children were able to continue playing video games and had the lights even as the rest of the state lit candles to have light during the massive blackout, which was caused by a number of downed transmission lines during a major storm. They didn't even realise the blackout had happened until an hour into it.
"The Hackett household is happily up and running as usual – I had got about 50% (charge) into the house (batteries) before the power failed (while I was on a plane to Brisbane)," he told RenewEconomy.
"I landed (in Brisbane) to the news of a statewide blackout… except for my house, where the teenagers are continuing to charge their smartphones and play computer games perfectly happily. (That's his house above pictured last night)
"It took them an hour to figure out the power had failed – they had to read about it on social media – they hadn't noticed!"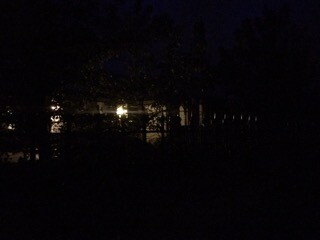 Lights on at the Hackett household during SA's blackout. (Image via RenewEconomy.)
Growing demand for battery backup functionality
Our experience speaking with battery storage shoppers here at Solar Choice is that backup power is one of the things that households frequently look for in a battery bank – and cases like the SA blackout prove how this functionality can be useful. However, it's important to keep in mind that not all battery systems come with this functionality – it's something that you need to ask for.
If backup power for your home sounds appealing to you, Solar Choice's Battery Storage Product Comparison Tool can help you sift through which products do offer backup power. While you're at it, you can also compare lifetime expected performance and value.
Ready to shop for solar & batteries? Compare solar & battery quotes from installers in your area.
© 2016 Solar Choice Pty Ltd

Latest posts by Jeff Sykes
(see all)