A new report has predicted that the point of "mass adoption" of household battery storage could arrive in Australia as soon as 2020, at which time the payback period for battery systems for solar households would be just five to six years.
The UBS Utilities Sector report, published on Monday and covered in-depth on RenewEconomy, says that if storage system costs fell at 20 per cent per year – as UBS has predicted, and as they have done over the past 18 months – for another five years, households with PV systems could achieve payback periods of between five and six years.
As the table below shows, the UBS estimates are based on AGL Energy's 7kWh Power Legato (pictured below) battery system. And they show the average price of a lithium-ion battery storage system dropping from just over $9,000 now, to $3,510, or $3,960 for households with PV.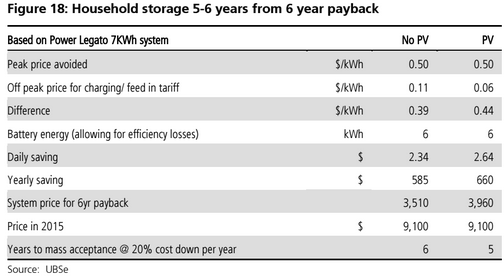 The table also forecasts that households installing battery storage can save between $585 (without PV) and $660 (with PV) a year on electricity – a proposition, says UBS, that "should make some storage relatively attractive to most households."
"We don't expect households to go off grid," says the report, titled Energiewende: Aussie style. "But we do think that 'hybrid households' will be both economic from the consumer point of view and desirable from the grid's point of view."
If utility-scale solar was priced low enough in the middle of the day, the report says, even households without solar would be incentivised to install storage systems, so that they could charge the battery in the middle of the day and consume the cheaper energy in the evening.
"If the consumer sees an attractive storage price (payback periods of 5-6 years) we think they will likely finance that themselves," the report says.
"The grid still has to be paid for increasing fixed costs," it says, "but its average capacity utilization increases and the investment in storage should mean less investment… in terms of peak and largely unused capacity, but more investment in the intelligence of the grid."
The report also points out that storage would also help to manage the swing in capacity as utility scale PV output drops in the afternoon, prior to the pickup in wind generation.
It estimates that one million households – just 15 per cent of the 6.6 million households total in the NEM – with a 7 KWh battery would be capable of providing about 2-3GW of power at any given time.
"This exercise simply shows that household storage and utility storage should be sufficiently economic in 5-6 years to give some confidence that storage will be a 'tool' to help deal with the volatility for higher renewable penetration and can also be a great investment theme for retailers," UBS says.
© 2015 Solar Choice Pty Ltd