The 100MW big battery installed by Tesla in South Australia has taken a 55 per cent share in the state's frequency and ancillary services market, and lowered prices in that market by 90 per cent, new data has shown.
The stunning numbers on the economics of Australia's first large-scale battery were presented by McKinsey and Co partner Godart van Gendt, at Australian Energy Week in Melbourne.
Speaking in a session about the key technologies to facilitate the nation's transition to renewables, van Gendt said the data was more evidence that battery storage would "play a very big role."
"In the first four months of operations of the Hornsdale Power Reserve (the official name of the Tesla big battery, owned and operated by Neoen), the frequency ancillary services prices went down by 90 per cent, so that's 9-0 per cent.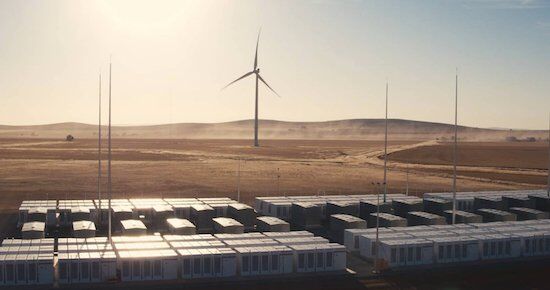 "And the 100MW battery has achieved over 55 per cent of the FCAS revenues in South Australia. So it's 2 per cent of the capacity in South Australia achieving 55 per cent of the revenues in South Australia.
"So that's great for the first battery in the market," he added, "but if you've already had 55 per cent of the FCAS that are now gone, right… and a 90 per cent drop in price, then the business case for the second battery, of course, is a bit less attractive.
"So I wish the second battery in South Australia a lot of luck!"
Van Gendt's calculations are just the latest in a series of assessments that show how the Tesla battery is having an impact on the market.
Various estimates have put the cost savings to consumers from the FCAS market alone at around $35 million, just in the first four months of its operation.
Compare Solar & Battery Quotes
Latest posts by Giles Parkinson and Sophie Vorrath
(see all)