Australia's budding large-scale solar market has helped deliver its second biggest year of PV growth, with nearly 1 GW installed in 2015, despite a flagging residential sector.
According to a new report from Green Energy Trading, a combined total of 974MW of solar PV has been installed in Australia over the course of the year  – down from a high of 1047MW in 2012.
This puts Australia in line to make the ranks of the world's top 10 solar installers in 2015.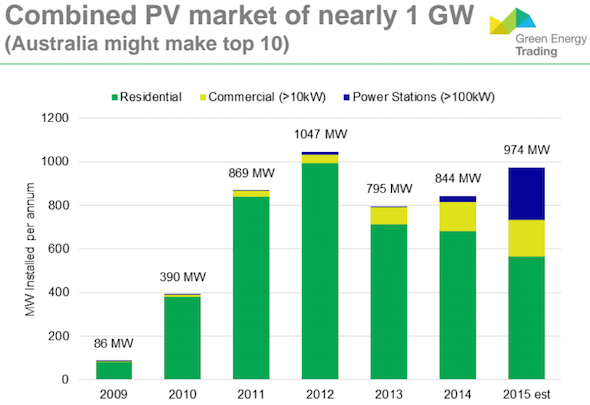 Around three notable large-scale solar projects (the report technically defines these as being larger than 100kW) were built this year, including the 53MW Broken Hill solar farm, the 102MW Nyngan PV plant, and the 56MW Moree Solar Farm, which is expected to come on line in 2016.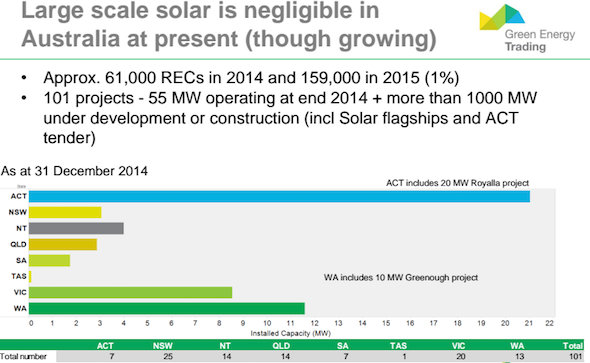 It is worth noting that most of these projects were supported by direct funding, either from the ACT government and/or from the Australian Renewable Energy Agency.
The report also notes that few new projects have been committed in 2016, and that the industry is running out of time to build the necessary amount of solar and wind energy projects to meet Australia's modest 2020 renewable energy target.
As you can see in the graph below, we will need commitments of more than 3,000MW of new project capacity in 2016 alone to avoid a shortfall in RECs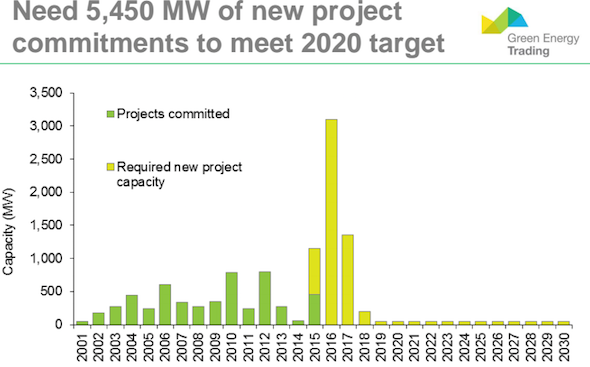 © 2015 Solar Choice Pty Ltd