The Brisbane Powerhouse, the city's former coal-fired plant turned popular hub for Queensland's bustling theatre and arts scene, has come full circle and is again generating power.
This time however the Powerhouse is generating clean, silent and smog-free energy through a 100kW solar array developed and brokered by Solar Choice Commercial.
Angus Gemmell, Managing Director of Solar Choice, said the project "delivers powerful symbolism that the paradigm shift to clean energy is making big strides."
"It's poignant to see solar panels glistening on the roof of old defunct coal generators," Gemmell said.
The installation was performed by a highly reputable solar operator in the Solar Choice network with decades of presence in Brisbane as a firm of electrical engineers, using Suntech 255W solar panels and 4x 25kW Schneider Conext inverters.
First commissioned in 1928 to provide power for Brisbane's now shuttered tram system, at its peak the Brisbane Powerhouse was capable of delivering 56 megawatts (MW) of coal-fired power. With the replacement of trams with buses in the late '60s, the power plant was decommissioned.
Between 1971 and 2000 the building was sat mostly dormant, being used variously as a chemical store, a works depot and for military exercises by the Australian Defense Force. It also became a popular (if unofficial) party venue for the city's youth, as well as popular spot for film and photography and an impromptu shelter for the city's homeless.
In 1989 Brisbane City Council resumed ownership of the building and in the year 2000 the Powerhouse was brought back to life in its current form: as a community centre, performance hall and events venue.
"Brisbane Powerhouse is thrilled to once again be a power generator, but in a very 21st century way," said Brisbane Powerhouse CEO Fiona Maxwell in a media release about the project. "We are delighted with the environmental leadership shown by Brisbane City Council in enabling this project and are excited to be a showcase to cultural precincts nationally for sustainability,"
The addition of the solar panels to the heritage-listed building is the latest in a range of sustainability plans whose aim is to deliver Brisbane City Council's goal of carbon neutral status for Council operations by 2031.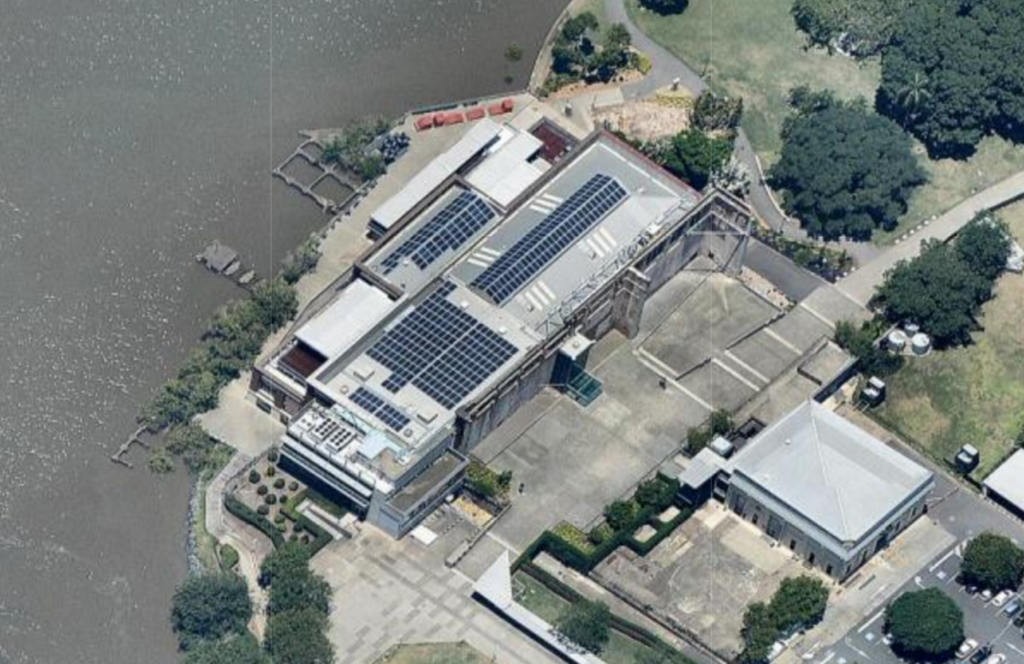 Aerial photo of the completed 100kW solar array on the Brisbane Powerhouse.
Top image: Brisbane Powerhouse, via Wikipedia.
© 2015 Solar Choice Pty Ltd