New South Wales has outshone the Sunshine State on solar, taking the crown from its northern neighbour as Australia's biggest monthly market for rooftop PV installations.
Data from two new reports show that Queensland – which has long held the crown as the biggest market for rooftop solar, and now has more than 1.4GW out of a country total of more than 4GW – was overtaken by NSW on a monthly basis in February.
According to Green Energy Markets, 16.5MW of solar was installed in NSW in February compared to 15.8MW in Queensland. 

Victoria followed close behind at 14.6MW. All told, nearly 13,000 homes and businesses signed up for solar in February across the country, for a total capacity of 61.3MW.

Click image to enlarge.
The analysis says that NSW's prime solar position was almost entirely due to the strength of its commercial market, the businesses that install rooftop PV systems on their premises.
Commercial-scale solar – between 10kW and 100kW systems – now accounts for one-third of total capacity in NSW, and more than 23 per cent of all small-scale solar installations in Australia in January and February.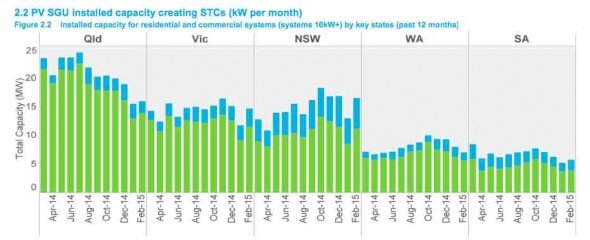 Click image to enlarge.
This data is borne out by this graph from analyst services group SunWiz, whose graph shows that Queensland has been the biggest monthly market since May, 2011, apart from one blip in late 2013 when a surge in South Australian installations took it briefly to number one.
South Australia remains the state with the highest penetration of solar per household, with more than 23 per cent of homes having rooftop solar.
© 2015 Solar Choice Pty Ltd

Latest posts by Giles Parkinson
(see all)