Nearly 10 per cent of all solar systems in North America would have energy included in as little as three years' time, a new study has found.
IHS  said on Monday that, according to its data, 9 per cent of US solar photovoltaic systems were projected to include storage in 2018, driven by the nation's booming commercial market.
This meant that around 700MW of PV systems installed by 2018 would have storage, compared to just 30 MW in 2014.
The shift to commercial systems that included energy storage was driven by advances in battery technology and reductions in cost, as well as through the offer of no-money-down leasing packages, said IHS.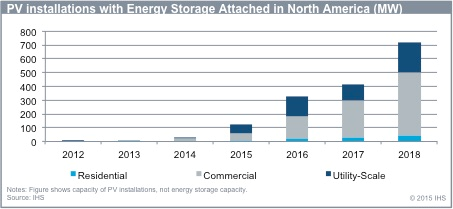 "The commercial PV energy storage market in the United States has gained huge momentum in recent months," said Sam Wilkinson, research manager for solar and energy storage for IHS Technology.
"Leading suppliers are currently offering highly successful 'no-money-down' sales models to customers, and they have also gained the backing of major investors."
According to the newly released IHS Energy Storage in PV Report – 2014, US commercial buildings are subject to peak demand charges, which are based on the maximum power drawn from the grid during the billing period.
These charges can make up a significant portion of a business's electricity bill; however, using a battery and PV to reduce peaks in grid power consumption can reduce these costs significantly.
"Incentives, like the Self Generation Incentive Program offered in California, are also making the economics of such systems extremely attractive; but there is no guarantee that electricity tariff structures won't be adjusted, which could affect the economics of existing systems," Wilkinson said.
As Solar Power World notes, US market growth for energy-storage PV systems has been largely driven by suppliers like STEM and Green Charge Networks.
IHS says it expects that leading US installer and solar leasing pioneer, SolarCity – which already offers customers Tesla batteries with its PV systems – will become increasingly active in the attached storage market in 2015.
"SolarCity's third-party ownership business model has enabled it to become the largest residential and commercial solar installer in the United States," Wilkinson said.
"The company already has highly established sales channels and financing agreements in place that will make it another major driving force in the commercial PV energy storage market."
As for the US residential market, IHS predicts demand for PV systems with attached storage will remain limited, with the only real incentive driving battery installation being to provide back up for power blackouts.
This differed from European markets like Germany, Italy and the UK, said IHS, where the economics of a residential PV system were improved when the system owner was able to increase the amount of power they self consume – a factor that is looking likely to drive energy storage uptake in Australia's residential market, too.
© 2015 Solar Choice Pty Ltd

Latest posts by Giles Parkinson
(see all)