The Australian PV Institute has launched a crowd-funding campaign to help finance the further development its live-mapping solar website, which charts Queensland's solar installations by postcode and local government area.
The Solar Map, originally developed in the lead-up to the Queensland election, was first commissioned to map the state's solar distribution by electorate.
As RenewEconomy noted here and here, solar was a major hot-button issue in the Queensland election, and is believed by many to have been one of the key deciders in Campbell Newman's defeat.
APVI's initial aim in building the map was to inform state policy discussion by providing easy access to data. It illustrates, for example, that among Queensland households, rooftop solar installation has reached more 40 per cent in a number of electorates, despite the Newman government's best efforts to staunch its uptake.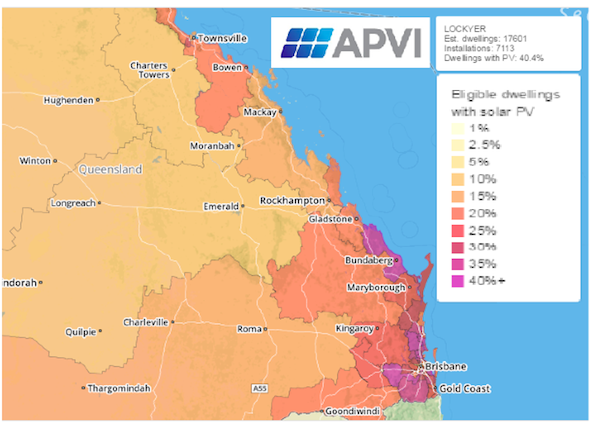 With Queensland's election done and dusted, APVI hopes to extend the solar map to the rest of Australia, and hopes to finance the effort through an online fund-raising campaign, launched today.
The overall target for the campaign is $15,000 which would allow APVI to upgrade the map to cover all of Australia. Only $2500 is needed to map NSW by electorate.
APVI says funds raised in excess of $15,000 will be used to add increased functionality to, and communication around, the Australian Solar Map.
Other potential upgrades to the Map would include the Australia-wide extension of a tool that allows householders considering solar to estimate how much energy a system on their rooftop would generate; data to use in conjunction with the Solar Schools program, to support the uptake of solar in the public education sector; and the integration of weather data for energy forecasting.
© 2015 Solar Choice Pty Ltd

Latest posts by Giles Parkinson
(see all)