The Australian Photovoltaic Institute (APVI, formerly APVA) has debuted an interactive solar PV status map on its recently re-launched website. The map, which uses data from the Clean Energy Regulator and whose development was in part funded by the Australian Renewable Energy Agency (ARENA), offers a glimpse at how solar PV capacity & penetration fare on the local government area (LGA) and postcode levels. 
Dubbo, NSW (as was the case over a year ago), with nearly 9 megawatts (MW) of capacity installed and almost 30% penetration (of roofs suited for solar), remains one of the top postcodes in the nation for solar PV. Dubbo's situation is representative of a trend seen across many of Australia's regional areas, where solar PV tends to be a popular option due in large part to higher grid electricity prices in such areas. A quick glance at the APVI's map clearly demonstrates this trend, with telltale dark red and blue colouring denoting high PV installation density and capacity, respectively, in many of Australia's non-urban areas.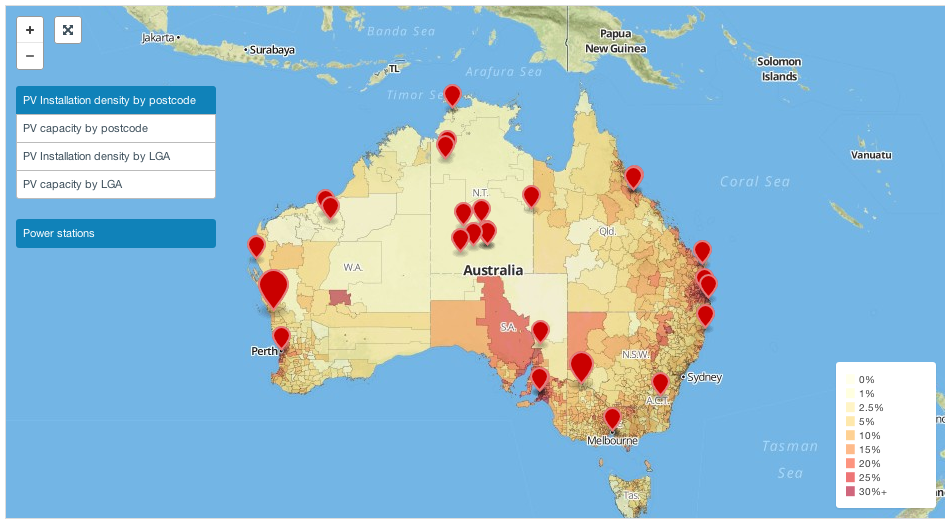 Queensland's installed rooftop solar capacity, at 1 gigawatt (a whopping 1/3 of Australia's cumulative total), was recently referred to in the Courier-Mail as 'the fourth largest power plant' in the sunshine state. The large swathes of dark red and orange in Brisbane and surrounds in the map below clearly demonstrate how this is the case, and just how popular rooftop solar has become there.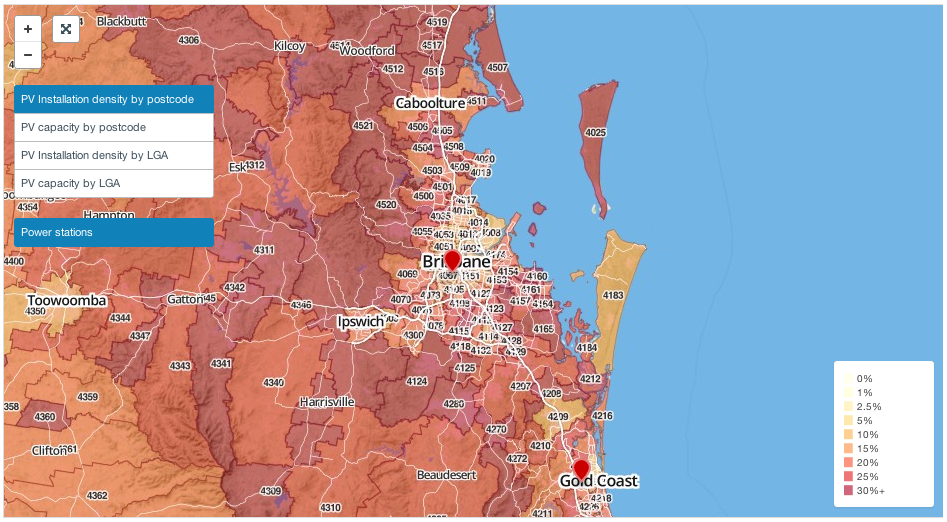 Information on the APVI's new site extends well beyond those outlined above. Also accessible on the site is a separate, interactive 'live solar PV map' detailing daily & historic data for total solar electricity produced and solar's contribution to total electricity generation in each state. The site also has up-to-date monthly & cumulative figures from the solar market for the nation as a whole.
Explore the APVI's solar map yourself.
All images via the APVI
© 2013 Solar Choice Pty Ltd

Latest posts by James Martin II
(see all)