Australian households will now be able to estimate their rooftop's potential for solar PV before installing a system, thanks to a new online modelling tool created by the Australian PV Institute.
The free, 3D mapping program launched last week by APVI, will allow rooftop solar customers in Australia's capital cities to weigh up the energy and cost benefits of installing a PV system before they invest.
Part of a suite of updates to APVI's Australian Solar Maps, the Solar Potential Tool estimates PV output from selected rooftops, as well as financial savings and emissions offset.
The tool – developed with $436,000 of backing from ARENA – accounts for solar radiation and weather at the site; PV system area, tilt, orientation; and shading from nearby buildings and vegetation.
Users can then alter the design of the system and adjust the feed-in tariff to improve the accuracy of savings estimates.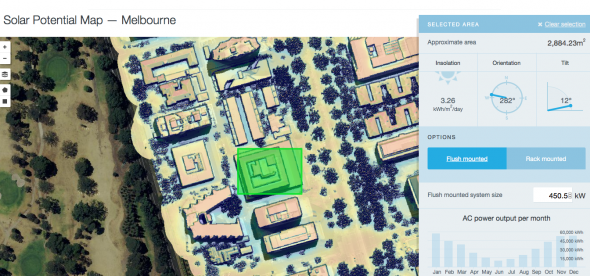 A Solar Potential estimate taken from inner Melbourne
Also launched last week was a Solar Animation tool, showing the evolution of the PV market in Australia. The CER data on the Solar PV Status and Market Analyses was also updated and a new PV Postcode Data tool has been added for postcode level analysis.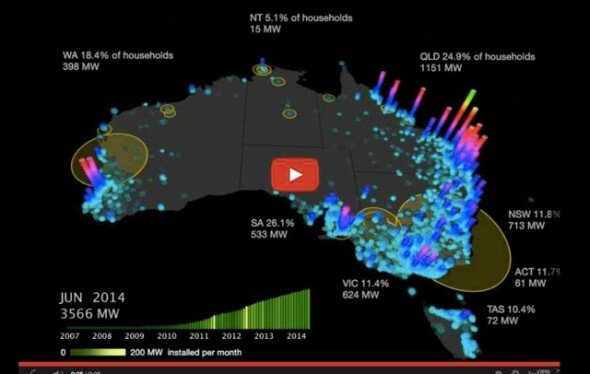 According to ARENA, more than 19,000 people had already visited APVI's solar map website at the start of last week.
APVI CEO Lisa Miller said the maps are important resources for understanding the increasing role of PV in Australia, incorporating live generation data, historical information and interactive tools.
"This map is an important part of the work of the APVI to support the increased development and use of PV via research, analysis and information," said Miller.
The new modelling tool and solar maps are available online: pv-map.apvi.org.au
© 2014 Solar Choice Pty Ltd

Latest posts by Giles Parkinson
(see all)