Australia's largest solar farm, the 102MW Nyngan Solar Plant in western New South Wales, is set to become fully operational in a matter of weeks after achieving the milestone of full generation last Tuesday, less than two months after construction of the plant was completed in mid-April.
The plant's owner, AGL Energy, said the solar farm had successfully completed testing, and was given the green light by the Australian Energy Market Operator and the local distributor to start sending the full amount of its 102MW electricity generation capacity to the grid – enough to power 33,000 homes a year.
Ivor Frischknecht, the CEO of the Australian Renewable Energy Agency – which helped AGL fill the funding gaps for the $300 million project, along with the NSW Government ($64.9 million) – said the plant's achievement was a milestone for the Australian solar industry.
"This new Australian record sends a strong signal to the energy industry that utility-scale solar PV plants can be constructed on time and on budget," said Frischknecht, adding that it would greatly increase market confidence in future solar PV projects, bringing down the cost of planning, construction and finance.
This is how it looked when the added capacity was introduced over the weekend.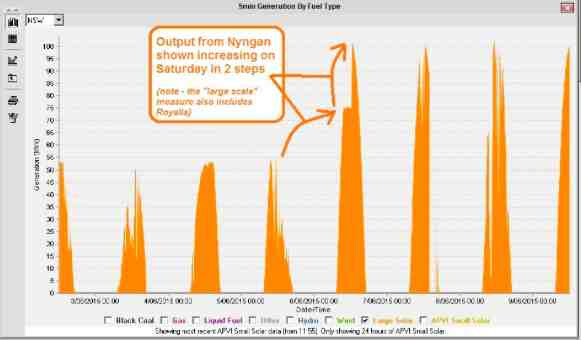 And this is how it sits in context with other generation.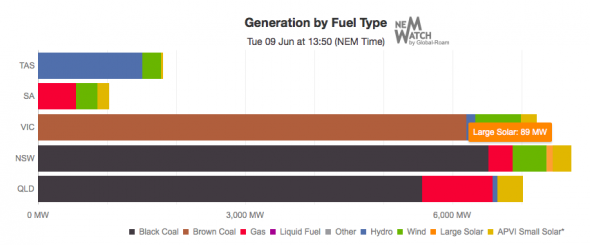 The 140 hectare Broken Hill plant has also reached a significant construction milestone, AGL said, with the installation of more than one-third of its 650,000 PV modules, keeping the project on schedule.
All told, Broken Hill and Nyngan will have a combined capacity of 155MW. Total capital expenditure for the two projects is approximately $440 million – $166.7 million was provided by ARENA.
Top image via AGL
© 2015 Solar Choice Pty Ltd