The University of New South Wales (UNSW) has recently installed two additional electric vehicle (EV) fast chargers at the Kensington campus.
The charging station, which sits behind the Tyree Energy Technologies Building (TETB) research hub, is the second EV charging station to be installed on site. The new ChargePoint and ABB fast charging units have been installed to support UNSW's growing EV and hybrid vehicle fleet, which now include a brand new Tesla Model S and a number of BMW i3 EVs.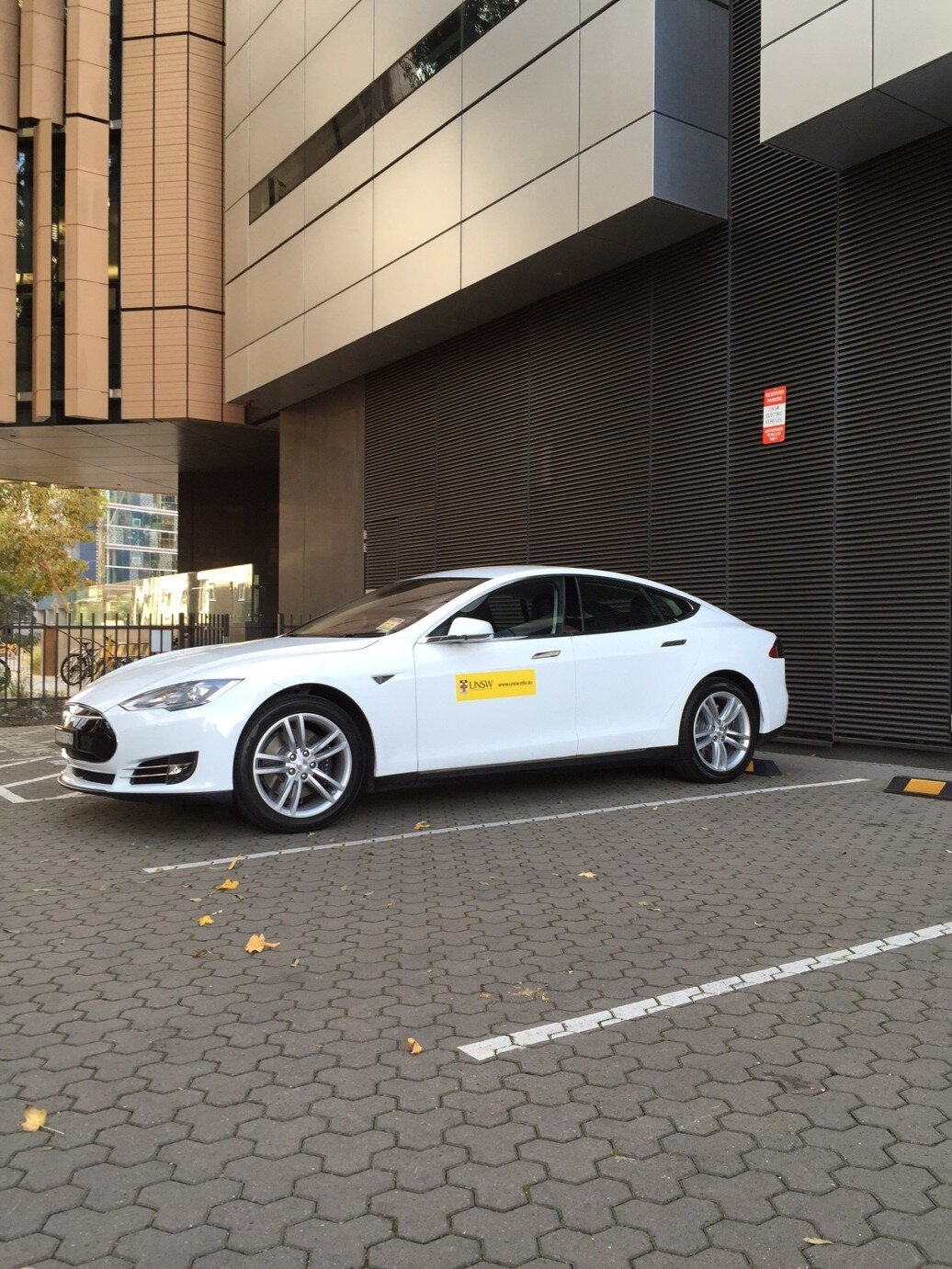 Tesla Model S UNSW fleet vehicle.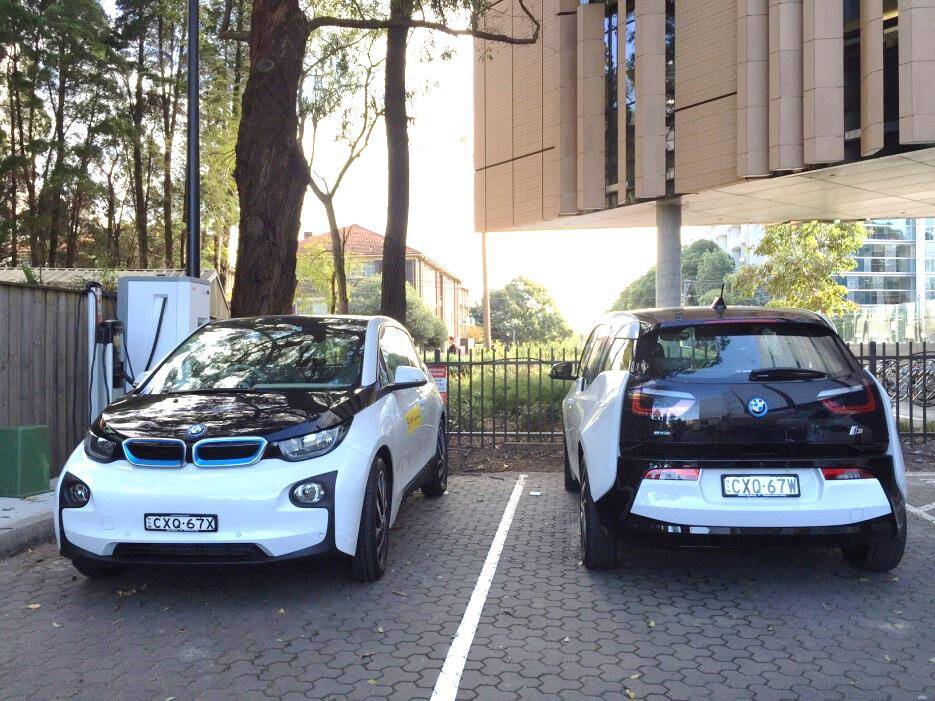 BMW i3 UNSW fleet vehicles.
The cars can be utilised as part of the Australian Energy Research Institute's (AERI) research investigating the challenges faced when integrating large amounts of renewable energy and EVs into the grid.
ABB's press release notes: "a key facet of this work involves simulating future scenarios based not only on increasing penetration of solar and other renewable energy sources into the supply side of the electricity grid, but also modelling how future loads and usage will impact overall system stability. The uptake of EVs in large numbers is one such scenario that AERI is investigating. Modelling the performance and impact of EV chargers – multiplied many times throughout a simulated grid – will allow AERI researchers to develop management and mitigation strategies at the system level, to ensure solutions to future problems are already available, before they eventuate."
ChargePoint has established itself as the premier EV charging station provider in Australia, aided in part by the demise of once-dominant start-up Better Place. With its headquarters in Silicon Valley, ChargePoint now has a permanent office in Rosebery to service the growing demand for EVs in Sydney and Australia.
The ChargePoint web interface and app allow for easy user registration and access to open ChargePoint stations. There are currently 23 publicly-available charging stations scattered throughout the Sydney metropolitan area, a total which doesn't include privately-run charging stations such as those at the Kensington campus.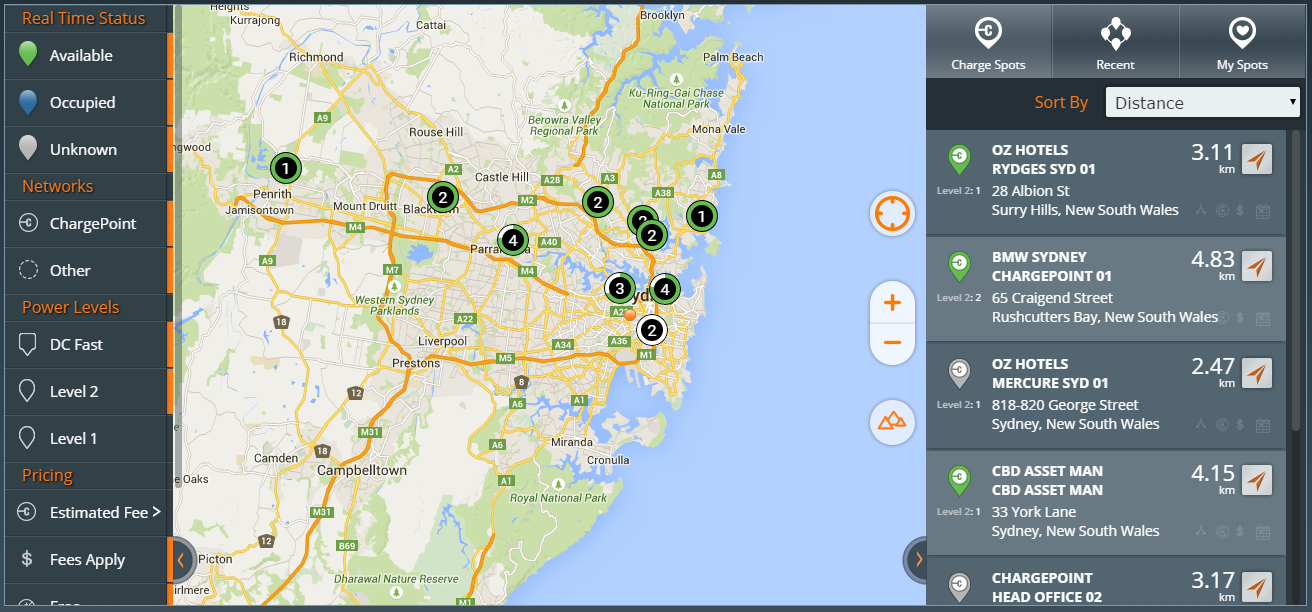 A screenshot of the ChargePoint web interface showing locations of publicly-available charging stations in the Sydney metropolitan area [Image Credit: ChargePoint]
ChargePoint charging stations have been installed in most major Australian cities [Image Credit: ChargePoint]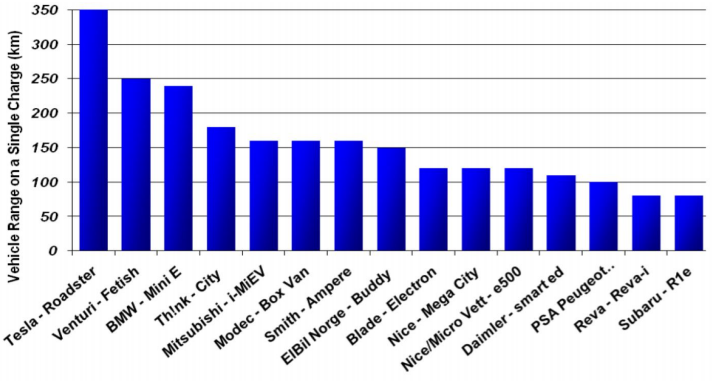 Driving range of various 2011 EVs [Image Credit: CEEM]
Considering that most EVs have a range of at least 150km on a full charge – even back as far as 2011 –  the success of EV charging station providers such as ChargePoint has made it easier than ever to make the switch without having to worry about the chirpings of 'range anxiety' doubters.
© 2015 Solar Choice Pty Ltd

Latest posts by John Rodriguez
(see all)