The Independent Regulatory & Pricing Tribunal (IPART) has issued its final determination with regard to solar feed-in rates for the 2016-2017 financial year, suggesting a slight increase over last year's thanks mainly to rising wholesale electricity prices. IPART is the NSW body charged with setting regulated electricity prices and the benchmark range for solar feed-in rates, among other public service-related determinations.
The two key points to take away from IPART's report are:
The 'benchmark range' for solar homes who do not have access to a state-sanctioned feed-in tariff (i.e. anyone who signed up for solar or moved into a home with a preexisting system after 28 April 2011) will rise from 4.7-6.1c/kWh to 5.5-7.2c/kWh, nominally higher than the 2015-2016 rates.
The mandatory 'retailer contribution' to state-sanctioned feed-in tariffs (i.e. the 60c/kWh or 20c/kWh offered under the state's now defunct – and soon to end – Solar Bonus Scheme) has also risen by about 1c/kWh.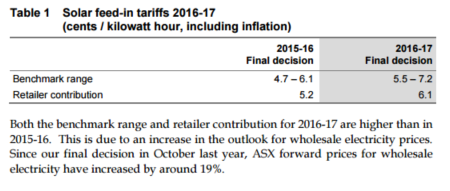 In reality, these changes mean very little to NSW's solar households. In addition to the fact that the changes are so small as to be insignificant, IPART's benchmark solar feed-in rate range is simply a suggestion. No electricity retailer is required to provide rates that high (or any rates at all, for that matter) – they are completely voluntary. Because of this, feed-in rates have come to mean very little in the state, where solar customers would benefit much more from self-consumption of their solar energy than from sending it into the grid (the same goes for pretty much every other state as well).
As for the mandatory retailer contribution, homes on a state-supported feed-in tariff should see little or no difference, still being eligible for at least the 20-60c/kWh rates that they are guaranteed under the Solar Bonus Scheme. Some retailers may slightly increase the 'premium' that they pay above these rates.
Want to learn more about maximising the benefits of your solar system with a low feed-in tariff?

These days, higher feed-in tariff rates should be seen as a 'bonus', and all retail electricity plans should be viewed in their totality.

See our articles: How to get the most of your solar system: Part 1 – System Sizing and Part 2: Your usage electricity consumption pattern.

You can also try our Solar PV system sizing tool or our Solar-friendly retail electricity plan comparison tool.
© 2016 Solar Choice Pty Ltd