A local government plan to boost small and medium-scale solar development in regional NSW has received strong bi-partisan support in the federal senate, after being presented to them last week by Greens MP Lee Rhiannon.
The Solar Energy eXchange Initiative, or SEXI proposal – put together by 24 NSW councils and shires accounting for two-thirds of the state's area – wants each local government group to install around half a megawatt of distributed PV each, and co-develop five medium-scale concentrating solar thermal plants of 3-6MW each.
To realise these ambitious goals, which would demonstrate five different solar technologies, the group of councils hopes to get federal government funding of up to $200 million over five to six years.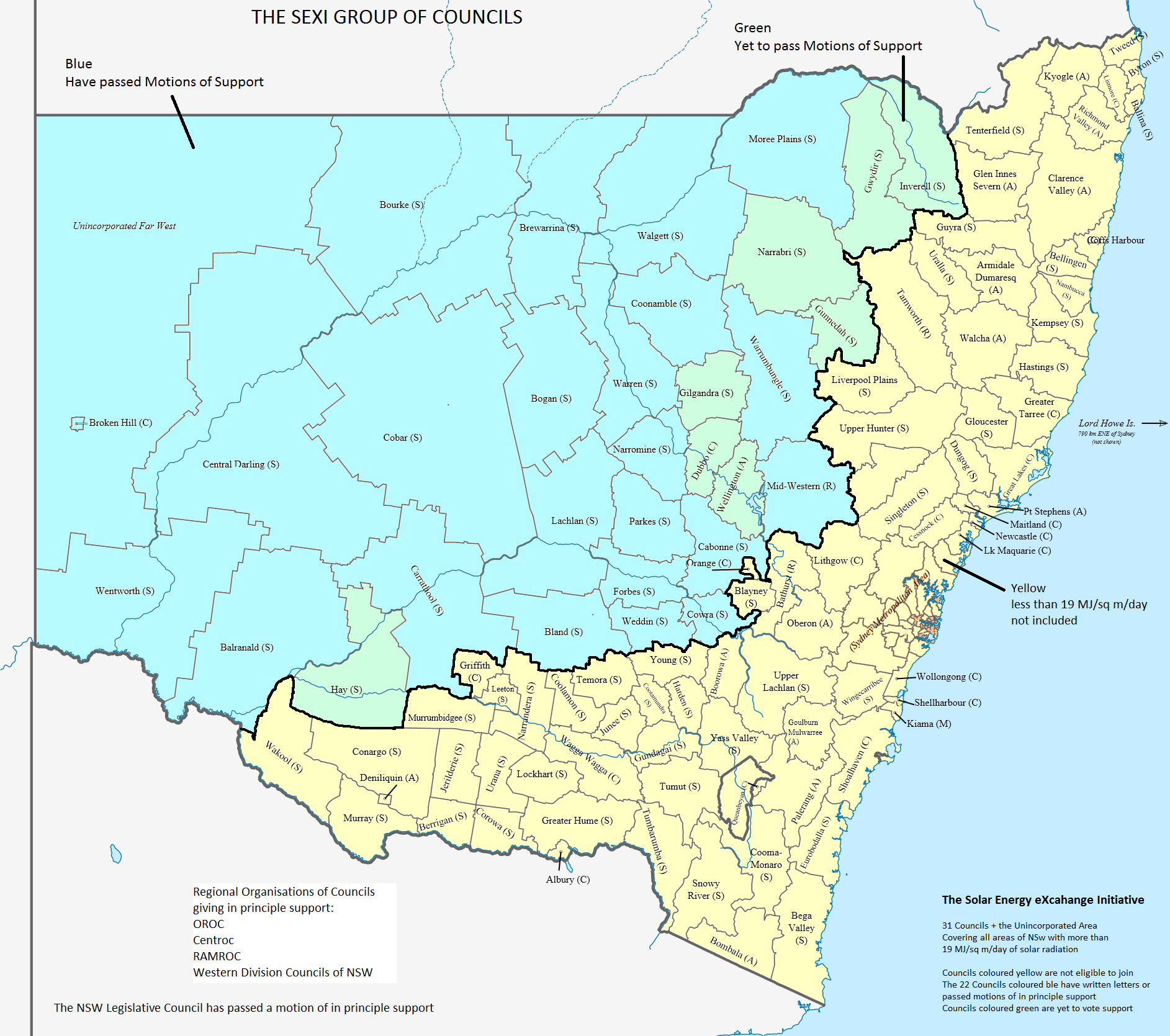 A map of the SEXI councils' areas
So it was a good sign when, following a motion introduced by Senator Rhiannon, the proposal received support right across the political spectrum.
As you can see on Hansard, Rhiannon's question – which urged all levels of government to acquaint themselves with the Initiative and consider how they could support it – was unanimously agreed to, with no division required.
"I think this shows that the Senate 'gets' SEXI", said council group coordinator, Matt Parmeter.
"The senators understand the long-term importance of renewable energy to inland NSW, and as an industry that we can develop to produce electricity we can eventually export.
"It can provide jobs and investment in our region in the future."
The support of federal parliament follows similar support from the NSW Parliament 18 months ago, where a motion of support was passed unanimously by the Legislative Council.
"There are more steps to be taken, more meetings to do, more reports to be produced, but there is no doubt about the popularity of solar energy, and the public's view that it should be part of our energy future," said Parmeter.
© 2015 Solar Choice Pty Ltd

Latest posts by Giles Parkinson
(see all)