Australia's retail electricity rates could be on the rise again as networks push back against reductions introduced by the Australian Energy Regulator (AER) last year.
The cuts were a welcome relief to electricity consumers after years of electricity price inflation due primarily to increases in publicly regulated network infrastructure upgrades, as well as the now defunct Carbon Tax.
In 2004, network fees accounted for 53% of the charges on the average electricity bill nationwide.
The AER is the governing body that sets spending limits for network companies on the National Electricity Market (NEM), which spans most of Australia's eastern seaboard.
Because network companies are natural monopolies, the fees that they charge – which are passed through to end customers in their electricity bills – are set by the AER to ensure that they are fair.
Network fees were projected by the AER to fall or level out in the NEM states, including a 25% drop for NSW between 2014 and 2017 – which would have translated into a savings of up to $300 per annum for some NSW households.
These cuts have been contested by network companies Ausgrid and Endeavour Energy, who have taken their case to the Australian Competition Tribunal, which requested that the AER review their initial determination with revised assumptions.
A final decision is to be delivered in the coming months.
Significant changes coming to retail tariffs
In 2014, the Australian Energy Market Commission (AEMC) introduced new rules to set stricter limits on network company infrastructure spending; under these rules, network companies must consult consumers and retailers about new 'cost-reflective' tariffs and then submit draft proposals to the AER.
The new, cost-reflective tariffs are to be phased in no later than mid-year 2017.
The reforms were introduced as a result of claims of network 'gold-plating' and over-investment, which resulted in record-high electricity prices for consumers.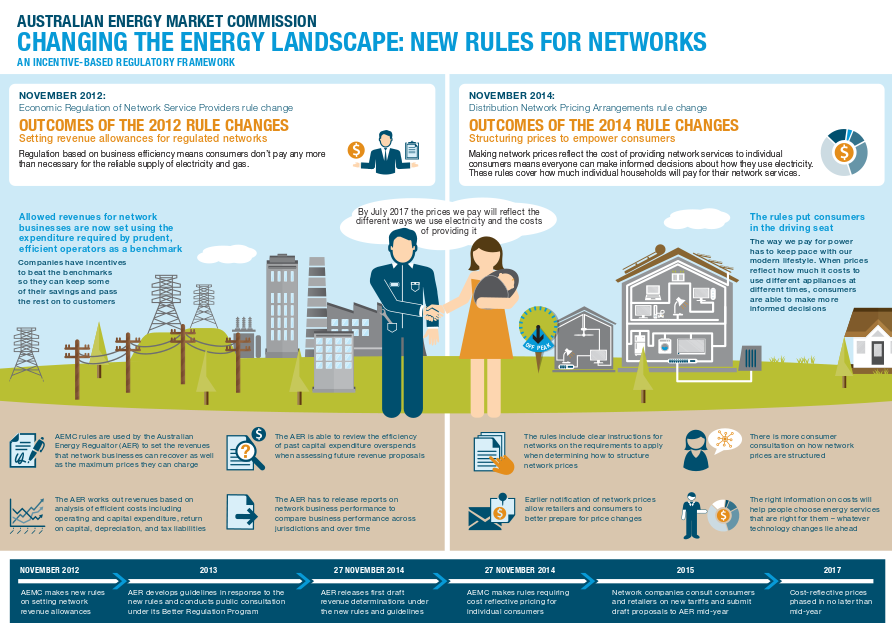 Infographic from the AEMC about the new decision-making regime with regard to electricity rates. (Image via AEMC. Click to enlarge.)
© 2016 Solar Choice Pty Ltd