Around 13 per cent of residential energy in south-east Queensland is now produced by rooftop solar, according to new data, with solar households generating the equivalent of more than half their electricity needs.
The data, released on this week by network operator Energex, estimates that 90GWh was produced in the month of October by the 272,878 rooftop solar systems in the network.
This equates to roughly 13 per cent of the estimated 676GWh consumed by households in the same month and means that solar households are producing more than 50 per cent, on average, of their consumption.
The data also found that most of those solar households were exporting much of the solar they were generating back into the grid, and then drawing from the grid when their panels were not producing.
In October, around 70 per cent of total solar generated was fed back into the grid (66GWh) because of longer days and the fact that air conditioning was not yet in full swing.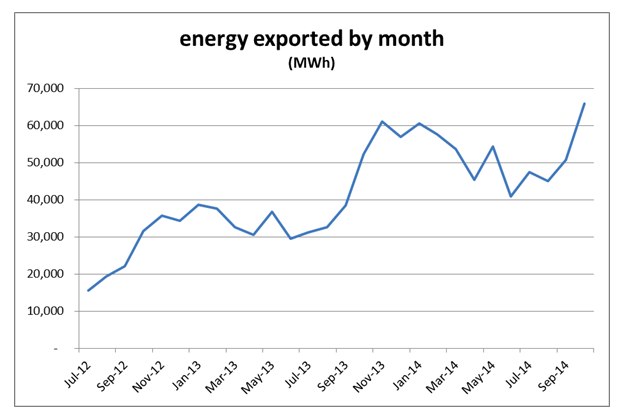 But an increasing number of the homes exporting their energy to the grid – 74,000, or 6 per cent of all residences – were signed up to the lowest feed-in tariffs, so had an incentive to "self consume" to offset the cost of grid power.
A total of 24GWh was "self consumed" during the month.
According to Energex, these homes tended to have larger systems, averaging around 4kW, suggesting they would have an incentive to install battery storage to maximize "self consumption".
The Energex data says that another 2,630 homes signed up for rooftop solar in October, and another 800 homes fell off the solar bonus tariff because they changed hands.
Another 58 larger systems (5kW – 1MW) systems were connected.
That means there are now 953 of these larger systems totalling 11 MW generating capacity now in service in south-east Queensland, although the state is being outpaced in the rate of commercial scale installation by South Australia and New South Wales, according to recent data.
South east Queensland now has a total of 895MW of rooftop solar. Of this, 269MW are "non-FiT" systems.
© 2014 Solar Choice Pty Ltd