Extraordinary figures continue to roll in from the year that was for renewable energy in Australia, but easily the most outstanding so far are the numbers – and "eye watering charts" – that have just come in on national solar PV installations for 2017.
The latest tally from PV market analysts SunWiz has revealed a record smashing total so far of 1.25GW of solar PV installed across 2017, making it out and away the biggest year for the market in Australia ever, eclipsing the former record set in 2012.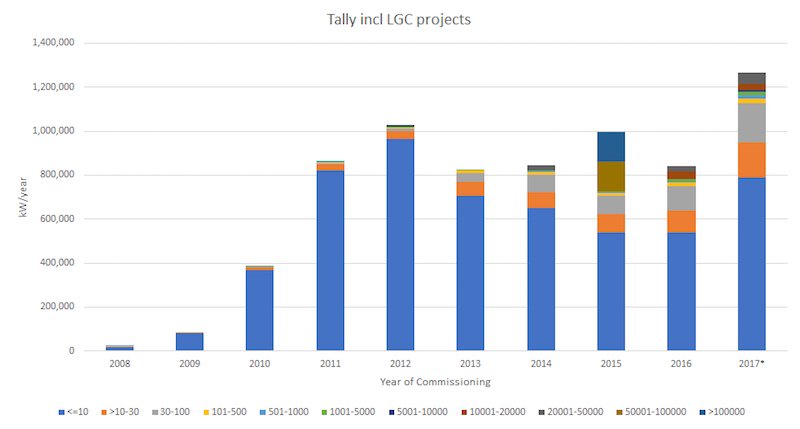 "Our numbers aren't finalised yet … but our 2017 Australian PV installation tally now sits at 1.25GW," said SunWiz managing director Warwick Johnston in a note outlining the highlights from the company's 2017 Year in Review.
"We calculate that 1.12GW of sub-100kW PV has been installed in 2017, though it will take a few months to true-up to this level in the STC registry. We've identified at least 138MW of (large-scale certificate) eligible systems."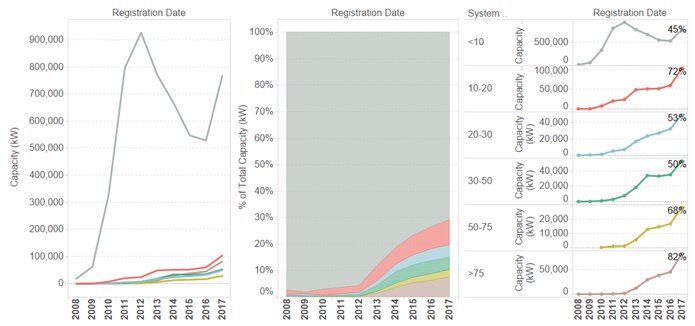 But that's not even the best of it.
As Johnston notes, the truly "outstanding figure" from 2017 is the 50 per cent year-on-year growth in the sub-100kW PV market – the solar installed on Australian homes and businesses.
As you can see in the charts below, while there was an impressive rebound in the residential market (0-10kW installations), it was the late-blooming commercial sector that really put a rocket under PV growth.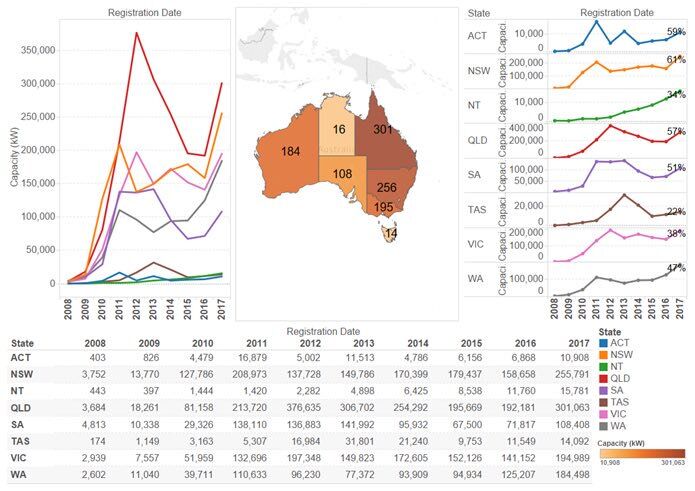 Commercial solar installs made up more than 30 per cent of sub-100kW capacity in 2017, and as the bottom right chart reveals, the year-on-year growth rates of the various size sub-categories are "astonishing," says Johnston – particularly in the 10-20kW (72 per cent growth) and 75-100kW (82 per cent) segments.
All up, there was more than 60 per cent growth in the sub-100kW commercial solar market and almost twice as much volume in the 101-1000kW range.
On a state by state basis, there was decent growth all round, with New South Wales, the Northern Territory and Western Australia all charting their biggest year on record – NSW topping the charts with 61 per cent growth in installations, year-on-year.
xxx
And Johnston expects that 2018 might be just as exciting.
"2017 was a magnificent, record-setting year for solar installations, and many people were still up on roofs installing over the summer break," Johnston writes.
"It may actually not be possible to pause to catch breath, as we're already hearing that January 2018 is notably busier for commercial sales than in past years."