The world's largest renewables company has predicted that the global solar and wind energy markets with be worth $4 trillion by as soon as 2020.
US-based SunEdison said on Wednesday that the combined capacity for wind and solar would be more than 1,450GW by 2020, about two-and-a-half times larger than the capacity at the end of 2014.

As part of a 95-page display presented to analysts, the company predicted the renewable energy market would be be split between wind, large-scale solar, commercial solar, household solar and off-grid installations.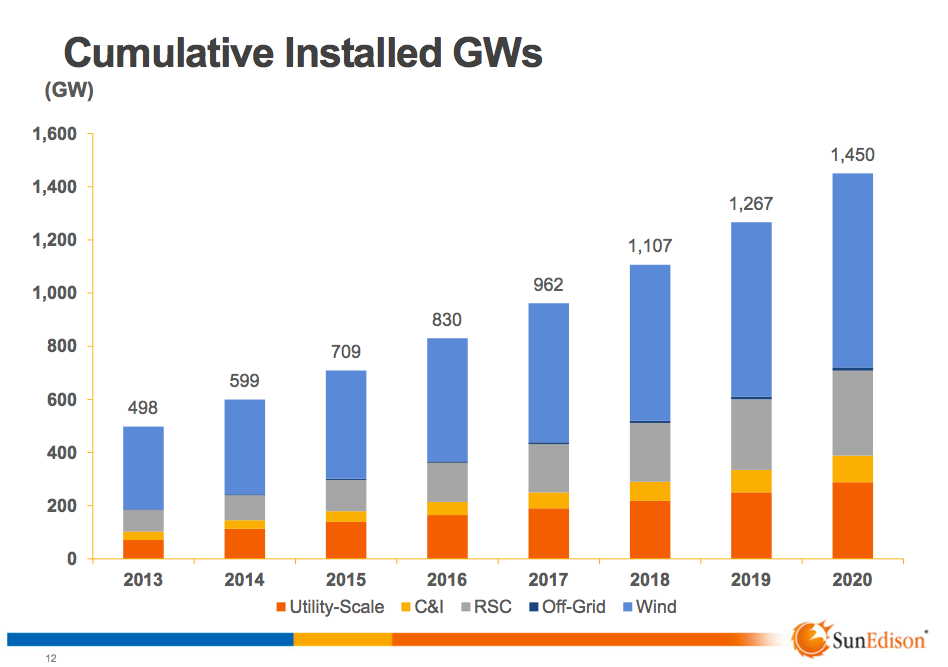 That is expected to translate into more than $US170 billion (CAFD) cash available for distribution annually by 2020.
SunEdison says this will then translate into a value opportunity of $US4 trillion – the would-be value of any company that held 100 per cent of the market, according to CEO Ahmad Chatila.
Chatila used the hypothetical figure to highlight the opportunity, and underpin why SunEdison recently bought First Wind, and created the TerraForm yeildco venture that will own utility-scale projects. The biggest oil company in the world is worth around $US400 billion.
"That is what we are going after, it's for the taking," Chatila told the analysts. "No one should doubt the opportunities. The question becomes how that cake is divided."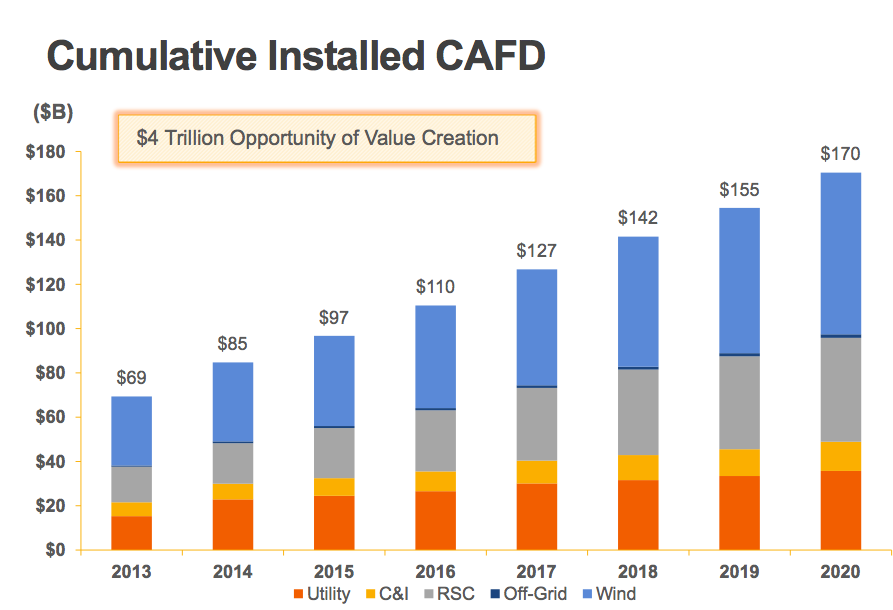 SunEdison says it is targeting the world's 20 biggest power markets, with a particular emphasis on growth.
Chatila said Australia, along with the US and UK, was one of the three big target markets for distributed solar, which he predicted would be worth around 10GW by the end of 2020.
© 2015 Solar Choice Pty Ltd

Latest posts by Giles Parkinson
(see all)