Polynesian microstate Tokelau is in the process of installing a solar PV system large enough to source 90% of its energy needs from the sun. The balance of the nation's energy will come from locally grown coconut oil, making the tiny archipelago the world's first to source 100% of its power needs from renewable energy.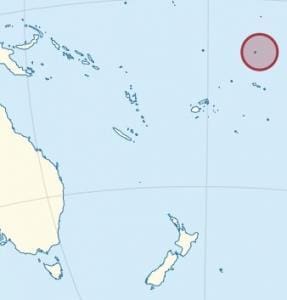 Tokelau is located in the Pacific, about half-way between New Zealand and Hawaii. (Image via Wikipedia.)
With a land area of just under 12 square kilometers across 3 atolls and a population of less than 1500, Tokelau is one of the world's smallest nations. The country is a self-governing protectorate of New Zealand. The $75m worth of solar power installations will be funded mainly by New Zealand's Ministry of Foreign Affairs and Trade.
Tokelau has been mainly dependent on imported fossil fuels for its energy generation to date. The proposed 3 solar power/biodiesel hybrid power systems–one for each island–will enable the island nation to switch off the diesel generators that the inhabitants currently rely on most of the time. Each island's system will have a capacity of 300kW and use approximately 700 SMA solar inverters and battery chargers to manage the panels' electricity production and charge the battery bank.
The decision to switch is driven not only by the country's wish to protect itself against the rising cost of imported fossil fuels, but also allow it to become an example to other Pacific island nations as to how renewables can be used to meet their energy needs.
The other driver for the switch is to set the example for larger countries, whose historic and current CO2 emissions are an existential threat to low-lying islands like Tokelau. These islands are highly vulnerable to the effects of climate change,  including sea level rise, ocean acidification, and an increase in extreme weather events such as cyclones and droughts. In 2011 Tokelau suffered the double blow of a severe, 7-month drought and a series of cyclones which made ordinarily potable groundwater undrinkable.
Tokelau government head Foua Toloa, at a press conference at Durban's COP17 last year, pleaded his country's case to the rest of the world and explained why the country chose its renewable path, according to an article in the Guardian. "We stand to lose the most of any country in the world due to climate change and the rising sea levels, so leading the way by making the highest per person investment in the world is a message to the world to do something. It took me 64 hours to get here. Before I left my eldest daughter said: 'Go challenge the world in Durban to match or better the renewable energy targets we have set ourselves and which we will meet next year.'"
© 2012 Solar Choice Pty Ltd 
All images via Wikipedia
Related articles: Solar Power in Vanuatu : Solar Power the Choice of Renewable Energy in the Pacific Islands