The first installation using Australia's own Tindo Karra 240 solar panels has been installed in Adelaide.
The 1.44kW system is composed of six 240W panels. As each module contains its own micro-inverter, the ground-mounted solar system is unconventional in that it contains no central inverter.
Adelaide receives an annual average of about 4 sun hours per day. The system is expected produce a daily average of approximately 6kWh of electricity.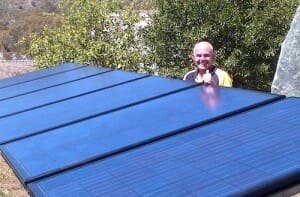 © 2011 Solar Choice Pty Ltd
Images via Tindo Solar

Contributor
at
Solar Choice
James was Solar Choice's primary writer & researcher between 2010 and 2018.

He is now the communications manager for energy technology startup SwitchDin, but remains an occasional contributor to the Solar Choice blog.

James lives in Newcastle in a house with a weird solar system.

Latest posts by James Martin II (see all)