The continued surge in US solar growth could boost the nation's accumulated capacity to 28GW by the end of 2015, new research has predicted.
In a recent presentation by America's Solar Energy Industry Association, strong growth across all markets – residential, commercial, utility-scale PV and CSP – was highlighted. 

In utility-scale, the US has another 36GW of solar in the pipeline, and the residential market, now at just over one million homes, is also expected to surge.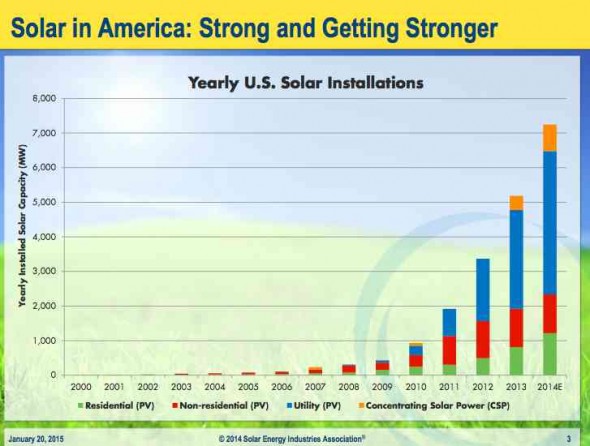 Residential installations were still growing faster that commercial and industrial installations, though, with the SEIA predicting 18 per cent growth in 2015 and a new installation every 2.5 minutes.
In 2014, 36 per cent of all electricity capacity was solar. But by 2016, it will still account for 1.6 per cent of the total generation mix.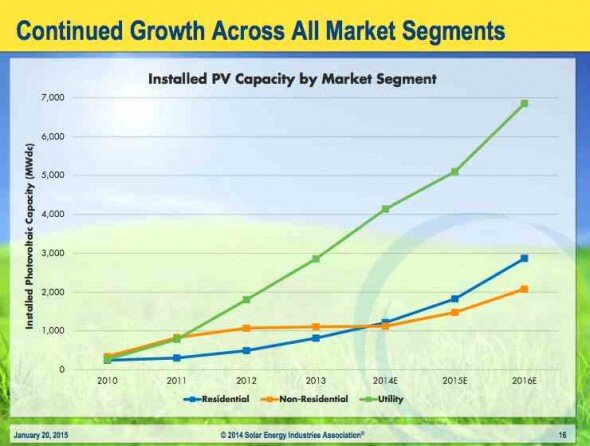 © 2015 Solar Choice Pty Ltd
Giles Parkinson regularly contributes unique content to Solar Choice News. Giles is the founder and editor of clean energy industry news service RenewEconomy. He is a journalist of 30 years experience, a former Business Editor and Deputy Editor of the Financial Review, a columnist for The Bulletin magazine and The Australian, and the founding editor of Climate Spectator.
Latest posts by Giles Parkinson (see all)