A major new study by the CSIRO and Energy Networks Australia says wind and solar will provide nearly all Australia's electricity needs by 2050, and the system will be cheaper for all customers.
The study found that a decarbonised energy grid by 2050, with half of generation produced and stored locally, will save billions in upfront capital costs and consumer bills, and deliver a secure electricity system.
The Electricity Network Transformation Roadmap released on Tuesday builds on the Future Grid scenarios put together by CSIRO and the ENA and others in the past two years, which mostly highlighted the massive change in our electricity system, driven by the falling costs of renewable energy and storage and a major shift to distributed generation.
This latest study, however, looks at the possible strategies that could meet those scenarios, working on the assumption that business as usual is untenable and unsustainable, and would be economically destructive, both in terms of electricity costs and other impacts.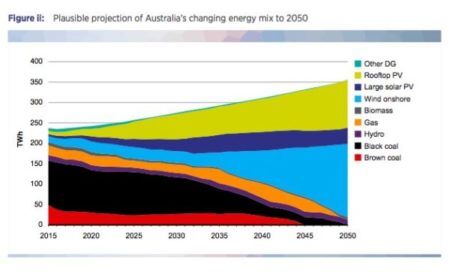 The network owners and scientists say the best way to supply reliable and affordable energy is through renewables and local generation – it suggests that nearly half of all generation will be local, on site in homes, business and communities.
Wind and solar will provide nearly all generation by 2050, with a significant amount – between one-third and one-half – coming from the nation's rooftops. Battery storage in homes and business, and located on the grid, or at renewable energy installations, will balance the output and provide most network stability services.
On top of this, this scenario will deliver significant bill savings – of $400 or more a year for "active homes", those with solar and storage and smart controls, and more than $600 for "passive homes", those with no interest or no possibility to pursue such technologies.
Rooftop solar PV will grow six-fold within a decade, and 16-fold by 2050, which is the equivalent of 80GW. Up to half of all electricity generation will be sourced "locally", mostly on rooftops. Battery storage uptake will be significant, accounting for nearly 100GWh at the local level alone.
This will be critical in the shaping of the new grid. This battery storage will play an important role in balancing the grid and providing the network services needed, along with centralised storage, which could be from batteries, pumped hydro, solar thermal, or other.
Compare solar & battery storage prices instantly: Complete our Quote Comparison request form on the right of this page
Image Source Via: RenewEconomy.com.au