Solar Choice has managed the tender for a 100kW solar system for Balmoral Orchard, an avocado farm outside of Toowoomba, Queensland.
The orchard's manager first approached Solar Choice in May 2016 looking for assistance with their large quarterly energy bills.
Following the initial conversation with the manager, the land owner promptly called to introduce himself. He was interested to learn more about Solar Choice's business model, and provided a recent energy bill and interval data so that Solar Choice could build a detailed business case.
After examining the bill and meter data, Solar Choice determined that a large portion of the orchard's energy bill could be attributed to the need to pump artesian basin water uphill overlong distances, and that a 100kW solar system would be an appropriately sized system for their needs. Due to lack of roof space, Solar Choice recommended a ground-mounted system.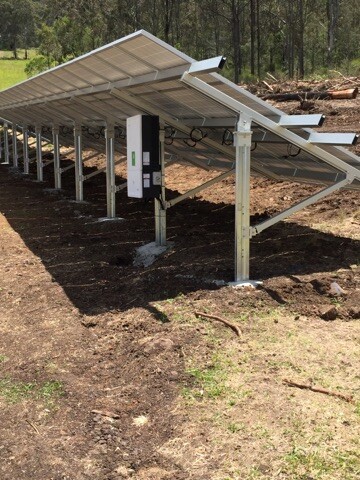 Photo of a portion of the completed ground-mounted solar array for Balmoral Orchard.
The land owner paid a visit to Solar Choice's office in Manly in June during which we discussed potential locations for the proposed solar array. We also discussed the various installers' products, prices and warranties and helped the client narrow down his choices. Two installers were ultimately selected for a site visit.
Solar Choice promptly notified the chosen installers and coordinated the site visits, where each supplier could discuss their company, products and measure up in order to compose their final proposals.
Following the site visits, Solar Choice was able to mediate contact between the installers and the client, as well as answer all questions posed by the client on a fair and impartial basis. The client was very comfortable with our approach and advice.
By late June the client had settled on a supplier for an initial install of 100kW of ground-mounted solar using Canadian Solar panels and Schneider inverters. The project may be expanded in the future.
© 2016 Solar Choice Pty Ltd