Renewable energy managed to carry the bulk South Australia's electricity load over the long weekend, after a fire at the Northern coal power station – the state's only baseload generator – caused it to shut down suddenly.
The incident – which caused several injuries, including one serious injury to a worker still in hospital – is not the first time the plant has shut down; it was mothballed for nearly a year because of the declining economics of the coal generator. 

The difference with this event, however, was that the shut-down in baseload energy from Northern came unannounced.
While declines and increases in the output of wind and solar are quite predictable, sudden outages in baseload fossil fuels are not, which is why the energy system needs a large amount of redundancy to support large centralised generation.
So how did the South Australian energy market cope? Quite well, as it turns out. There was a lot of wind blowing at the time, so it was a while before the Torrens gas plant was needed. Most of the gas came from the Osborne plant.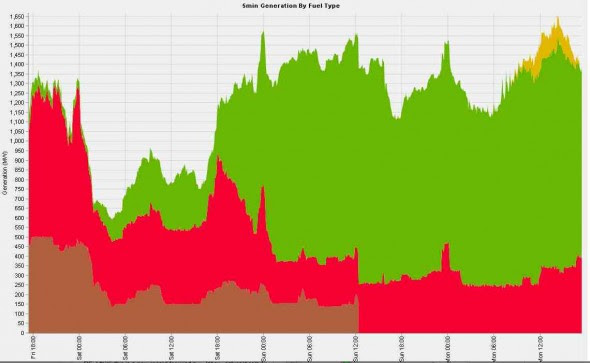 There was so much wind – more than 1GW through most of the day – that electricity prices dived into negative territory on several occasions during the day, which means that the gas generators were not making any money.
Indeed, for most of the day South Australia had the cheapest wholesale electricity prices in the country.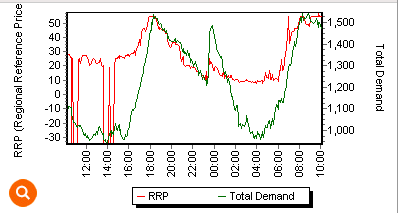 It was only when the output of wind declined, and the working week began on Tuesday (Monday was a national holiday), that wholesale energy prices started to jump as the more expensive gas generators began to set the marginal cost of generation – something that would likely have happened on Sunday without the impact of wind.
This is a scenario that has been repeatedly played out in summer months, when the state's large rooftop solar output has also kept prices in check. As it happened, because of the lousy weather than generated the wind, there was comparatively little output from solar.
Later on Tuesday, as the output of wind dropped to around 500MW, those prices jumped to more than $550/MWh, and were averaging during the day at more than $150/MWh.
It underlines the point that the chief qualities of the energy system of the future will not be baseload, but flexibility. This will likely be delivered by the quick-start gas generators that already exist in the system to back up fossil fuels, but also the grid and household-based storage that will be installed in coming years.
Both are likely to be installed by utilities, households and retailers because they offer a cheaper alternative to upgrading grids. Morgan Stanley recently suggested that deployment of battery storage could negate the need for much of the gas-fired peaking plant currently needed to respond to heat wave conditions and provide power when baseload power stations cut out.
(Note: This article has been corrected to note that prices in South Australia jumped to around $550MWh on Tuesday, not $11,000MWh as first reported.)
© 2015 Solar Choice Pty Ltd

Latest posts by Giles Parkinson
(see all)