Who is the greenest electricity retailer of them all – and how do you know? Fortunately, every year the Total Environment Centre commissions a report on the topic, the results of which are documented in its handy Green Electricity Guide, which ranks the companies from most environmentally friendly to the least so.
Part of the Green Electricity Guide's appeal is the simplicity of its rankings and the transparency of its criteria. It is straightforward to understand and actually kind of fun to use. Retailers are given a ranking of 1-5 stars, with users able to click on a bar for each company to expand it and get more detail (as per the example below). Users can also filter results to see the best companies available in their state.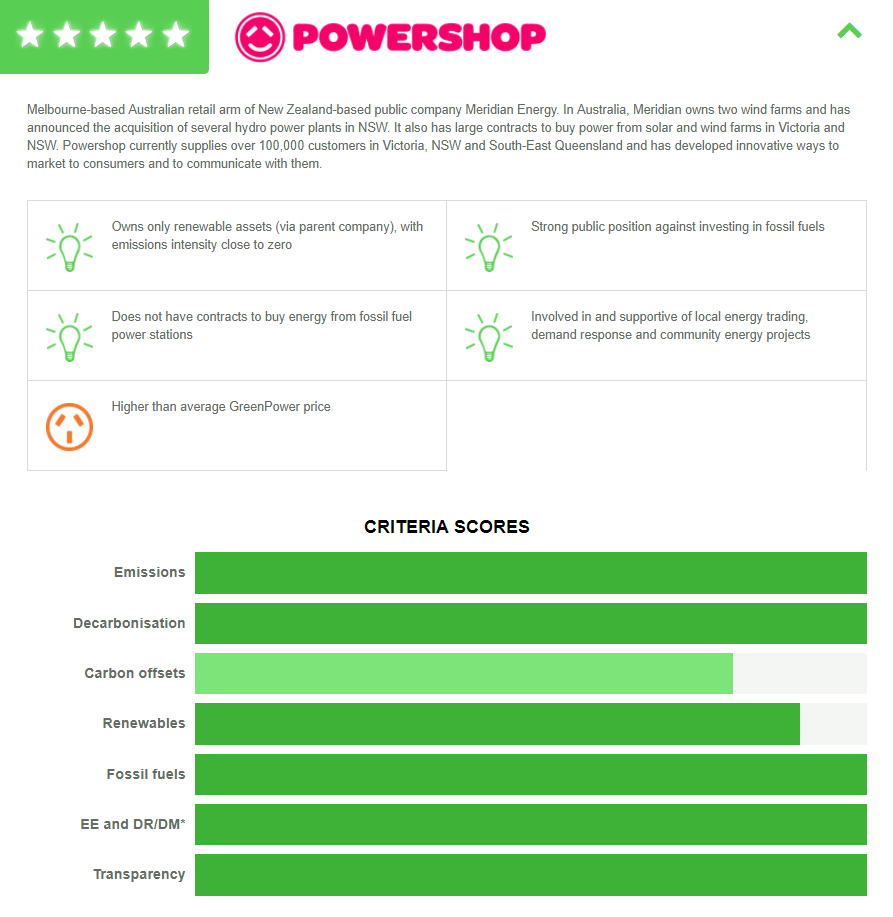 Compare solar quotes from up to 7 local installers now.
What are the criteria?
The Total Environment Centre has gradually been changing (and improving) its methodology for determining its rankings with each passing year and with its changing partners. The final criteria for 2018 are:
Emissions intensity of generation assets
Support for energy sector decarbonisation
Carbon offsets
Support for local and renewable energy
Fossil fuels policy positions and investments
Energy efficiency and demand response/demand management
Corporate sustainability, transparency and responsibility
What's particularly interesting for this year is the Guide's evolution to come to incorporate demand response and demand management – two promising technologies in Australia's energy transition to more renewables on the grid. These approaches encompass 'virtual power plants', which have become a mainstream buzzword in Australia following announcements about several such programs – most notably the Tesla-powered VPP proposed for South Australia.
Who are the top performers?
Online electricity retailer Powershop got the top national spot this year in part because of its innovations on the demand response side. They were followed by longstanding 'solar-friendly' retailer Diamond Energy, who ranked first for South Australia and the ACT (where Powershop doesn't operate). Startup retailer EnergyLocals (my electricity company) managed to nab the #3 spot despite only having been in business for a year.
Other noteworthy results were community-owned retailer Enova (who operate only in the Northern Rivers region of NSW but still managed a #4 spot) and retail giant AGL, who were ranked fifth and 'most improved'.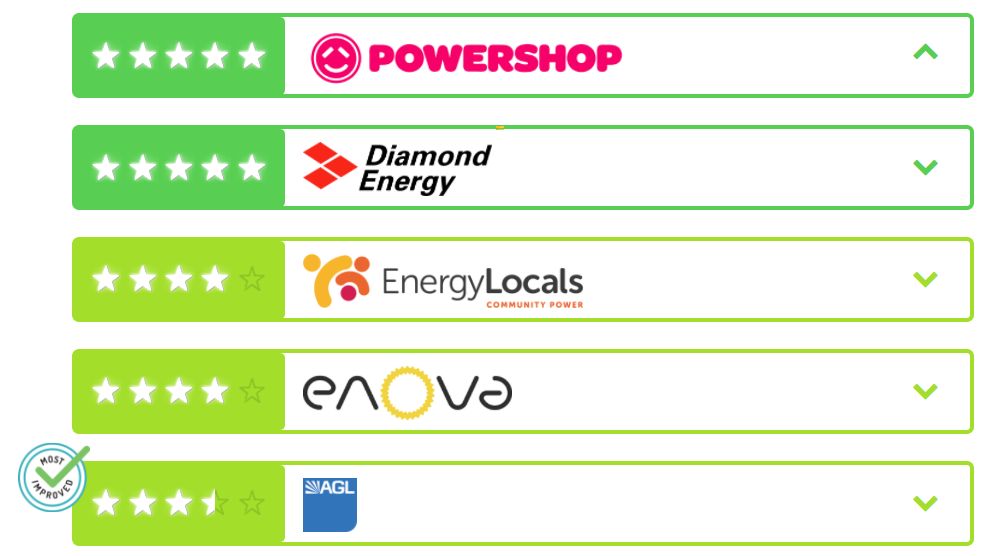 Further information
If you're interested in learning how your own retailer ranked for 2018 (even if you don't have a choice of who sells you electricity – as is the case in Western Australia, the Northern Territory and regional Queensland), or if you are interested into switching to a more environmentally friendly one, we highly recommend checking out the guide: www.greenelectricityguide.org.au.
It's worth noting that one thing the guide does not cover is pricing. Although some of the top-ranking companies may also offer the best rates (or highest feed-in tariffs), that is not necessarily the case. For most people choosing an electricity retailer – even those for whom the environmental considerations do factor in – pricing still counts for something.
© 2018 Solar Choice Pty Ltd

Latest posts by James Martin II
(see all)