Click here to see latest commercial solar prices
On the back of the success of its monthly Solar PV Price Index articles, which focus mainly on residential solar PV systems, Solar Choice has decided to begin publishing monthly pricing figures for commercial-scale solar systems up to 100kW in capacity on a monthly basis. As with the residential pricing figures, commercial numbers are drawn from Solar Choice's installer network database of over 100 installers across Australia, highlighting pricing trends in capital cities (minus Hobart and Darwin for scarcity of data). It is our hope that these figures will be a resource to both the solar industry at large as well as businesses and other government & non-government organisations with an interesting in going solar.
As with the residential solar PV system prices, the Commercial PV Price Index is intended to be a representative cross-section of the Australian solar market, except with a focus on systems whose output would be considered more appropriate for small to medium-sized businesses. As such, 10kW solar systems, which are commonly seen installed for both residential and commercial applications, are included.
The numbers for May 2014 (raw data generated from the Solar Choice database at the same time as that used in the residential figures this month) offer insight into how economies of scale benefit those who opt to have a solar system installed. Among residential systems, an overarching trend over the past 1.5+ years has been the rise of prices among smaller system sizes; 1.5kW and 2kW systems are on average more expensive on a dollar-per-watt ($/W) basis as they were back in August 2012, when Solar Choice began keeping track.
Meanwhile, prices for larger systems (3kW, 4kW, 5kW and 10kW) have witnessed a steady decline, leveling out in recent months. Analysis of data for larger systems carried out for the first time this month reveals that average $/W price for systems larger than 5kW is in the range of $1.50/W–significantly lower than the $2.00/W average seen among smaller, (usually residential) systems. It is also interesting to note that 'low' $/W figures in Table 2 come in at under $1.00/W in a few instances, while highs rarely stray above $2.00/W.
Although the tables below offer a fairly detailed glimpse into pricing trends for PV systems 10kW to 100kW in capacity, it is important to keep in mind that all of these figures are by nature indicative only, given the complexity inherent in the design, installation and grid connection of larger systems.
Numbers in the table below are inclusive of the STC incentive available through Australia's federal Renewable Energy Target (100kW is the upper capacity limit for STC eligibility). According to installer data, where incentive contribution to system price is estimated, STCs shaved about $0.70/W off the cost of systems installed in Zone 3 cities (Brisbane, Sydney, Canberra, Perth and Adelaide) and about $0.64/W of the price of systems in Melbourne (located in less sunny Zone 4).
Table 1: Average commercial solar system prices by city and size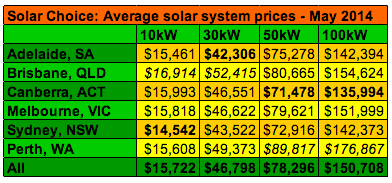 About this data
Tables and charts included in this article were compiled using data from Solar Choice's installer network database, which contains regularly-updated pricing and product details from over 100 solar installation companies across Australia. Prices do not ordinarily incorporate meter installation fees or additional costs for difficult installations. The discount available to Solar Choice customers is also excluded from calculations, as are prices for 'premium' installer offerings.
About Solar Choice
Solar Choice is a solar PV installation and advice service based in Sydney, NSW, providing free Solar Quote Comparisons for residential solar customers Australia-wide. Solar Choice's commercial wing, Solar Choice Commercial, manages tenders for medium- to large-scale solar projects for a wide range of clients. Solar Choice also develops large-scale and utility-scale solar projects of its own.