Renewable energy technology developer Renewable Energy Solutions Australia (RESA) has received approval for its VoltLogic power management device to connect to the grid in sections of NSW where power export limitations for larger solar systems have been introduced.
This means that grid connection applications for solar systems above 5kW per phase will not trigger a full assessment provided they are installed with a VoltLogic device that is calibrated to limit the amount of excess power going into the grid. Without such a device, a full assessment would ordinarily be required.
There have been cases–particularly those in regional areas of the state–where solar customers have submitted grid-connection applications for systems above 5kW only to have the allowable size be reduced by the utility, impeding their commercial viability. The VoltLogic will make it possible for these larger systems to be connected to the grid without alteration.
"This is a big win for installers, customers, and the solar industry as a whole," said RESA commercial manager Michael Le Messurier about the development. "Best of all, this is the result of hard work, working with utilities to solve their problems" with the growth of grid-connected solar PV systems in recent years.
The VoltLogic was introduced with power quality and solar export issues (among other things) in mind when devised in 2012. RESA describes the devices as a '4 quadrant energy management device' that can take the place of a standard inverter whilst simultaneously managing the electricity flows of a number of power inputs—including solar panels, grid electricity, wind and battery power. Earlier this year the VoltLogic was certified as compliant with the Australian standard for grid-connected inverters, AS4777.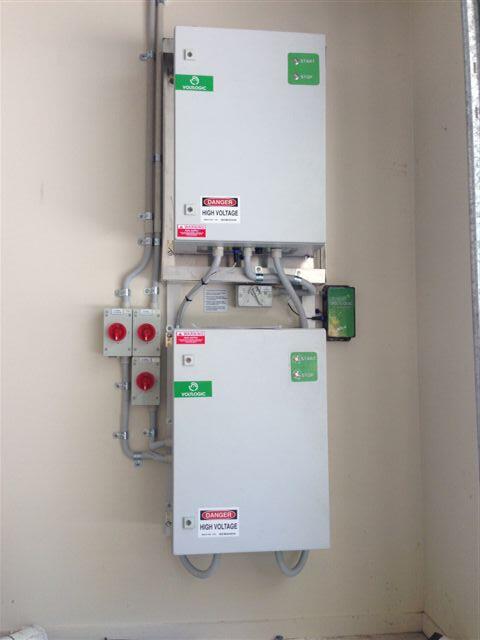 VoltLogic units used in a 5kW solar system in Hervey Bay, NSW. (Image via RESA.)
The company notes that the device is also compliant under a new standard to come into effect on 1 July this year with Queensland utilities Ergon and Energex —with the reactive power component set and with zero-export functionality built into the technology as standard. Victorian utility SP Ausnet has similarly approved the VoltLogic for grid connection, with a 5kW single-phase system installed on their network with an export limit of 4.6kW.
Currently, VoltLogic units are available in 5kW (single phase), 10kW (dual or single phase) and 15kW (3 phase) capacities.
Mr Le Messurier added that the company is planning to release 3 VoltLogic-compatible energy storage options in the near future.
Top image: VoltLogic units used in a 10kW solar system in NSW, via RESA
© 2014 Solar Choice Pty Ltd