Solar Choice Commercial has announced an innovative and unique financing package for customers looking to develop large-scale commercial solar PV projects across Australia. The Commercial Solar Finance package will be a strong stimulus for the Australian commercial market, and is available to Australia's solar PV industry at large, for projects sourced directly by installers/manufacturers as well as large-scale PV tenders under the management of Solar Choice Commercial. The highlights of the package are: no capital expenditure required; instant parity with commercial electricity tariffs; major tax advantages and conservation of working capital; and monthly rental payments over a 5-year period for qualifying applicants.
The Solar Choice Commercial PV Finance Package
Available only through Solar Choice and CAFGA
Solar Choice Commercial has entered an exclusive arrangement for the dissemination of this Package with Commercial Asset Finance Group Australease (CAFGA). CAFGA has 30 years of experience in financing Australian business. Solar Choice Commercial is the commercial arm of Solar Choice Pty Ltd, Australia's national Solar Energy Brokering service, and has been managing tenders for commercial PV clientssince 2008.
A number of 100kW installations under Solar Choice Commercial management have already been arranged and installed using the Package, including 100kW on the roof of the Blacktown, NSW RSL Club.
The Package is expected to stimulate significant uptake of commercial-scale PV in Australia.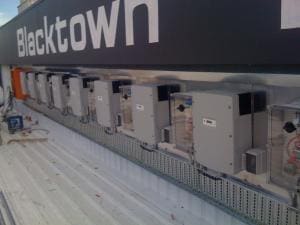 A Solar Choice Commercial settled under the Commercial PV Finance Package: Inverters for the 100kW system at the Blacktown RSL. (Photo by Iain McGregor, Solar Choice Commercial Tenders Manager.)
Operational Leasing Agreement
The key to the Commercial Finance Package's attractiveness lies in its employment of Operational Leasing Agreements. Under an Operational Lease, the use of the generation equipment on a rental agreement over a set term is possible without any capital expenditure. Operational leases are well-known to be accepted by the ATO and  have been in common use for other types of commercial projects for decades; for the first time this arrangement is now available for large-scale solar projects.
Confidentiality
Confidentiality is a key component of the Package. For clients sourced directly by the installer, an application is made directly and confidentially to CAFGA. This application sets out the details of the customer and related solar PV project and its components and warranties. CAFGA will vet the installer and client's financial eligibility, and a finance broker will be available to assist in confidentially educating installers and their clients about the details of the Package.
Read the details: The framework and advantages of the Solar Choice Commercial Financing Package.
A development that could change Australia's commercial PV industry
The announcement paves the way for accelerated uptake of large-scale solar projects, which promise to be a major growth area for the solar PV industry. The news has created a buzz amongst the commercial solar industry in Australia. Solar Business Services Director Nigel Morris commented that the development is an "exciting … innovative, industry-wide offering that might just make a big difference." As Mr Morris points out, the Commercial Finance Package, by using the Operational Lease model, "removes the age-old barrier of up-front capital" and will improve the financial security of investing in solar PV on a commercial scale. "This product demonstrates true innovation through it's ability to simply and effectively sell the merits of PV; as a financially modelled product."
Angus Gemmell, Managing Director of Solar Choice and its UK subsidiary Solar Selections, was happy to announce the final terms of the Package and has been actively spreading the word of its arrival. "The Package has been enthusiastically received by the industry at large, including the largest commercial installers and all bankable manufacturers.  The agricultural and manufacturing industry have been no stranger to this type of finance package for decades, but Solar Choice Commercial is pleased to announce that this is the first and only finance facility of its kind available for commercial solar PV in Australia."
For further information and a personal introduction to CAFGA, please contact Solar Choice:
Angus Gemmell, Managing Director: angus@solarchoice.net.au

Contributor
at
Solar Choice
James was Solar Choice's primary writer & researcher between 2010 and 2018.

He is now the communications manager for energy technology startup SwitchDin, but remains an occasional contributor to the Solar Choice blog.

James lives in Newcastle in a house with a weird solar system.

Latest posts by James Martin II (see all)