Solyndra solar tube technology has been widely praised as one of the most innovative approaches to solar electricity generation in the world. Solyndra modules utilise ordinarily lower-efficiency (compared to mono- and poly-crystalline silicon) thin-film CIGS photovoltaics technology in an ingenious configuration that enables higher module efficiencies, and simplifies and reduces the cost of array installation. Already widely used throughout the world in large-scale rooftop installations worldwide, the number of solar installations that utilise Solyndra panels has also been increasing steadily in Australia.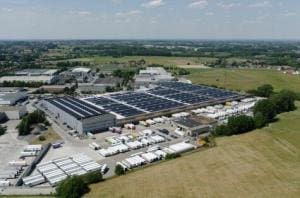 Solyndra 3MW rooftop solar system in Zellik, Belgium. (Image from Solyndra.)
(Update 2 October 2011: Since the writing of this article, Solyndra has filed for Chapter 11 bankruptcy. Panels are no longer available through the manufacturer in Australia.)
Solyndra's technology has already seen significant uptake in a number of large-scale rooftop solar power installations. Among the thousand+ installations worldwide are a 3-megawatt (MW) installation in Zellik, Belgium, 1.5MW on the roof of a shopping centre in Rome, and a 488kW installation on the roof of the Norkus grocery store chain in New Jersey. To date, Solyndra has manufactured over 100MWs' worth of its solar tubes worldwide–mainly for mid- to large-scale projects like these.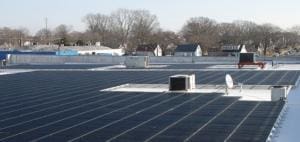 488kW Solyndra installation on Norkus foods chain roof, New Jersey Shore. (Image from Solyndra.)
Previously, when Solyndra solar tubes were first featured and explained on the Solar Choice site, Solyndra was only just beginning to make its way into the Australian solar photovoltaics (PV) scene. Since then a number medium, large, and even small-scale installations have appeared throughout the country. Solar Choice has overseen the installation of a number of systems using Solyndra's technology, including a 10kW system in Manly, NSW.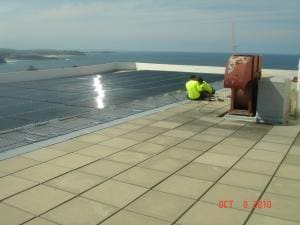 Solyndra modules require no drilling, roof penetration, or special tools to install: modules come with Solyndra's customised snap-together mounting frames.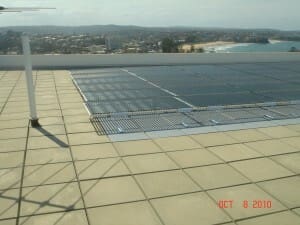 The signature design and construction of Solyndra modules makes them resistant to the effects of strong wind. Wind passes between the tubes instead of pushing against it, as is the case with traditional panels.
Higher efficiency solar power and more
Besides relatively high efficiency, Solyndra's unique approach to solar power technology affords a number of bonus advantages for installers and owners. Many of these benefits are related to how the modules can be used on a rooftop. For example, Solyndra modules are self-ballasting; they come with snap-together mounting frames and install easily and quickly on no-slope or low-slope roofs–up to four times faster than ordinary solar panels, which require drilling and mounting brackets to secure the panels on the roof.
Solyndra modules thrive on reflective roofs by collecting diffuse sunlight
Solyndra panels are composed of a series of cylinders. Cylinders, by definition, have a continuous surface, so the CIGS thin-film photovoltaic material contained in Solyndra tubes runs all along the around the inside. At first glance, this may seem like a waste, as one side of the tubes will always be facing away from the sun. Paradoxically, this apparent disadvantage offers a great opportunity to take full advantage of the intrinsic photovoltaic characteristics of the properties of CIGS thin-film photovoltaics.
Thin-film photovoltaic materials are ordinarily known for their low conversion (sunlight-to-electricity) efficiency, but they are also more resistant to the effects of partial shading and are better at collecting diffuse/indirect light than conventional crystalline silicon flat panels. Plus, as you can see from the photos above and below, there are gaps between each tube, which means that light can pass between them, hitting not only the increased surface area that comes as a result of the tubes' curved nature, but also the surface behind them (i.e. a roof or wall). Provided the surface behind a Solyndra module is reflective or lightly coloured, its rear part will collect the diffuse sunlight that would ordinarily not have occurred at all with a conventional flat panel. At the end of the day, modules can reach efficiencies of up to 14%–the same as the efficiency of many crystalline silicon panels.
Solyndra and energy savings go hand-in-hand: "Cool roofs"
As an additional benefit, a light-coloured roof has significant energy-saving properties that make pairing them with Solyndra modules an easy choice; they do not absorb as much heat as a dark roof would, and therefore cut down on the need for air conditioning in the summer. This would of course offer improved thermal comfort for occupants as well as financial benefits for owners/operators in hot climates by mitigating the need for air conditioning in the summer.
Solyndra is aware of this low-hanging fruit, and it is common practice to paint roofs as a part of the installation process. At the Blacktown, New South Wales RSL club, where Solar Choice recently oversaw the installation of a commercial-scale 100kW Solyndra system, roof-painting was one of the first steps in the process. (See pictures below.)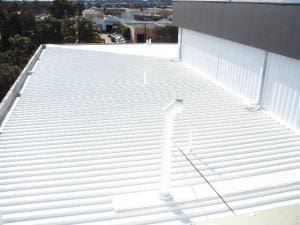 The roof of the Blacktown RSL has been painted white in preparation for the installation of 100kW of Solyndra solar modules.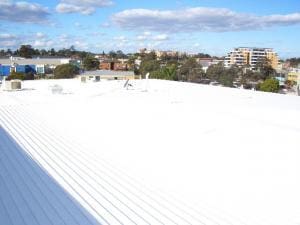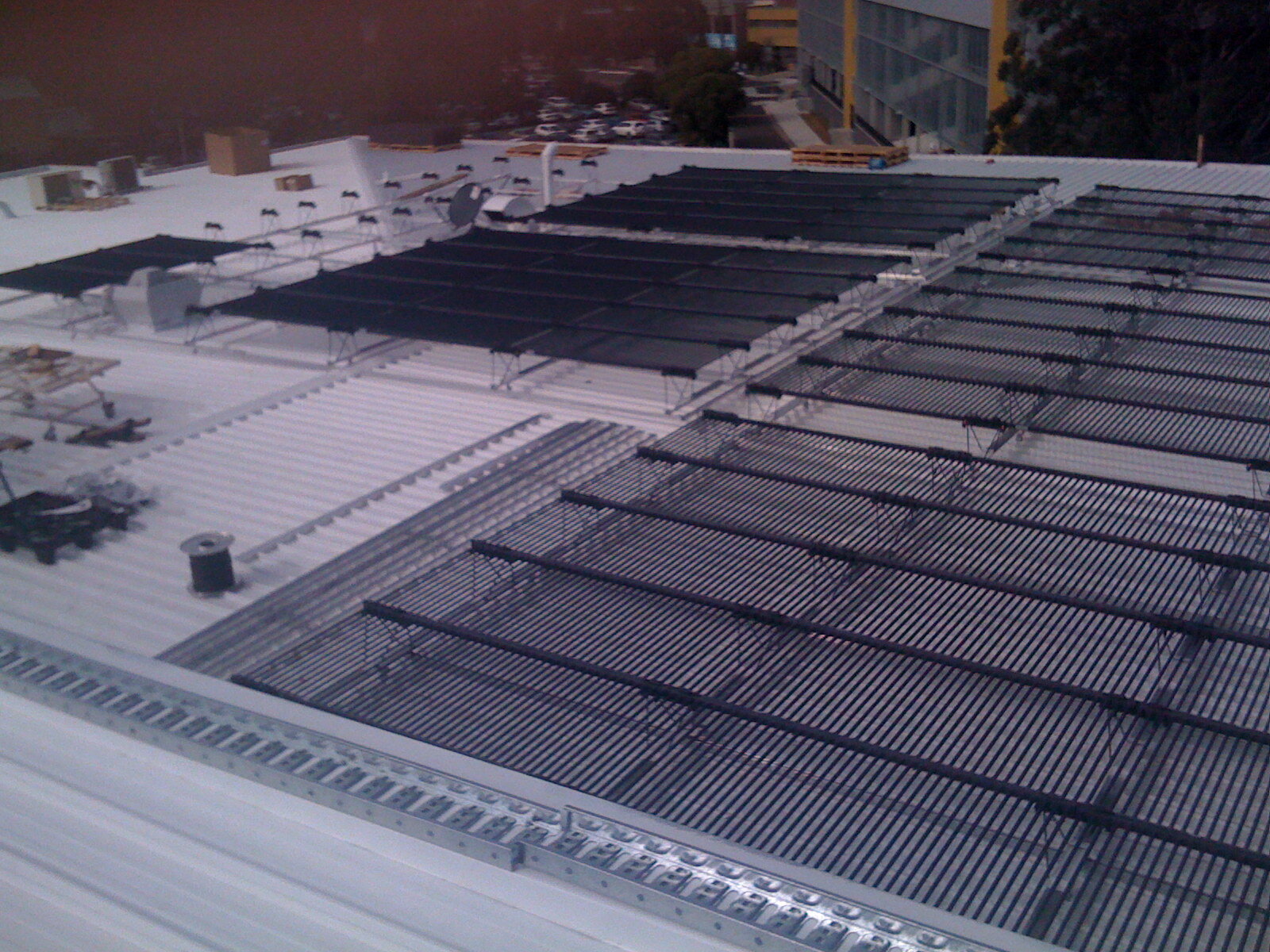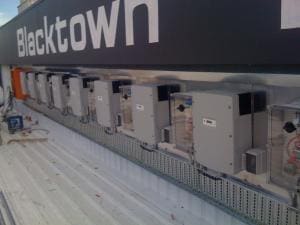 Solar inverters on the Blacktown RSL commercial solar installation. (Photo by Iain McGregor, Solar Choice Commercial Tenders Manager.)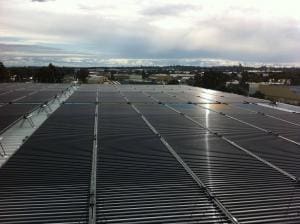 The sun shining through the clouds on the installation. (Photo by Rob Burnett, Solar Choice Broker.)
Another application for Solyndra: Solar Greenhouses
The shape and characteristics of Solyndra's panels make them ideally suited for another application that not ordinarily associated with solar panels: Solyndra Solar Greenhouses.
Solyndra has put its solar tubes to use in greenhouses, where their ability to cast even shade on whatever lies underneath makes them perfect for use in greenhouse roofs. The panels above collect sunlight and generate electricity, while the plants below are allowed to soak up the sun's beams without withering under its heat–a great example of building-integrated photovoltaics. One such greenhouse (598kW) is already in operation in Villa del Conte, Italy.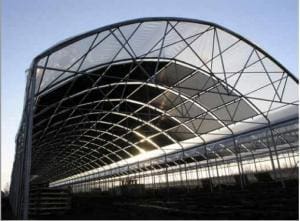 Solyndra solar modules used in the roof of a greenhouse in Italy. The slots between tubes provide even shading for the plants within while generating electricity from sunlight. (Image from Solyndra.)
Solyndra module 200 series
All 5 modules available in the Solyndra 200 series have the same dimensions (2.28m x 1.09m x 0.06m) and 31.8kg, but rated power ranging from 182 to 220W.
About Solyndra:
-Headquarters and Factory location-
Freemont, California, USA
-Components standards met/awards-
All Solyndra modules are accredited by the Clean Energy Council of Australia.
Solyndra has appeared on Massachusetts Institute of Technology's '50 Most innovative companies in the world' list, the 'Global Cleantech 100' list, and has won a 'Business Journal' award for Emerging technology: Green/Clean Technology.
© 2010 Solar Choice Pty Ltd
Resources and Links:

Latest posts by James Martin II
(see all)