Every day solar panel companies are patenting technologies that keep them ahead of the technology curve. One of the recent additions to the front of this curve is Solyndra's solar panel tubes, a feat of innovation that earned the company a spot on MIT's list of the top 50 most innovative companies list.
As described in our previous article about emerging solar panel trends the reasons for choosing a certain type of material to produce a solar panel are based on the ability to solve several complex design trade-offs.
For example, Solyndra uses a combination of Copper Indium Gallium Selenide (CIGS) to produce their solar tubes. These are not as common or as cheap as elements like Silicon, however, the combination provides other benefits that are not obvious to the average solar panel purchaser.
Some of the benefits of using CIGS to manufacture solar panels are:
Its ability to absorb more wavelengths of light
Relatively good performance in absorbing light of low intensity–i.e. low-light conditions
Its ability to absorb and 'collect' light more efficiently*
20% + cell conversion efficiency (in laboratory conditions), compared to 12-14% for many silicon cells
Its flexibility and applicability on even curved surfaces
This thin-film technology also has one of the lowest costs of production in the industry, primarily because of the minimal use of materials and the highly automated processes used to mass manufacture the tubes.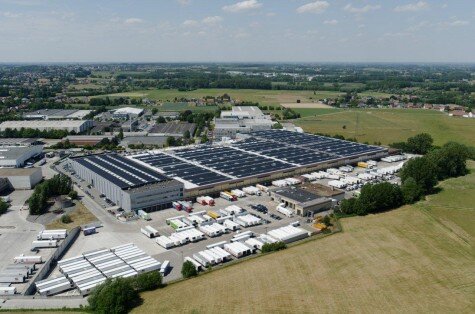 Other inherent design advantages are that it offers are: natural sun tracking thanks to its cylindrical shape, the ability to withstand larger gusts of wind and greater passive-cooling–important if the cells are to operate at optimal temperature.
Game on Silicon!
Written by Prateek Chourdia
MEngSc – Photovoltaics and Solar Energy, UNSW
Solar Energy Analyst

Solar Choice
© 2010 Solar Choice Pty Ltd
Source
http://www.solyndra.com/Products/PV-Systems
* There is a difference between 'absorb' and 'collect.' This is to differentiate between the optical efficiency and the substrate efficiency. Where optical efficiency is determined by shading etc. and substrate efficiency is effected by the chemical characteristics of the elements that make up the substrate of the cell and their ability to generate electron-hole pairs from the photons of light that enter the cell.