With the cost of solar systems at an all-time low and the price of electricity rising, a growing number of rural NSW residents are looking at large-scale solar power as a way to offset their electricity costs. Solar Choice has assisted thousands of people in New South Wales in finding the solar PV system best suited to their needs and conditions, including hundreds of systems 5kW or greater in capacity. Although many of these made the decision to go solar when the state's solar incentives were at their peak at 60c/kWh, the Solar Choice brokering team has recently seen a resurgence of interest in solar power systems in rural parts of NSW, many of which are large-scale. This article looks at some examples of Solar Choice customers who have made the decision to invest in clean energy to the benefit of both the environment and their own home finances.
Don and Tina: 10kW ground-mounted Solar Farm on sheep farming operation near the Upper Hunter Valley, NSW
Installed June 2011

Don and Tina run a sheep operation in the Upper Hunter Valley, NSW, and decided to go solar to reduce their electricity costs. News about the state's Solar Bonus Scheme started the couple thinking about installing a system, which they eventually did in June 2011. As there was insufficient roof space to install the 10 kilowatts' worth of solar panels on their home, they opted for a ground-mounted system a few hundred meters away.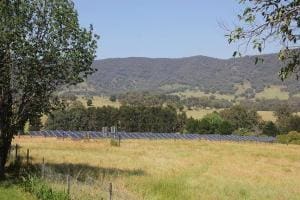 The Solar Farm has either met or exceeded their expectations: Total output from 3rd June to 24 June was 499kWh, from 24 June to 26 September 3198kWh, and from 26 September to 14 November 2207kWh, according to their on-site monitoring equipment. "We are situated in a valley and do not get the same amount of sun hours as other places due to the hills. However we certainly think it has been worth it… We are very happy with the system we installed… The final installation date was on June 3rd and since then the system has generated 5904 kWh (approx. 5 months)."
System details:
-10kW ground-mounted system on a sheep farm
-168 x 60W panels–QSolar thin-film solar photovoltaic panels
-2 x Xantrex GT5.0-AU inverters
Rob: 10kW solar systems (x4) on agricultural properties in near Tamworth, NSW
Installed June 2011
Rob, a large-scale cattle and mixed cropping enterprise manager, decided to take advantage of the benefits offered by solar power and the NSW Solar Bonus Scheme on the properties under his management.  In total, he had 1 roof-mounted and 3 ground-mounted systems installed throughout the properties—mainly with the intention of cutting electricity costs, which formed a significant portion of the overhead of his business. Rob says the output of the systems has been more than he initially expected they would be, at 30-40kWh/per day in wintertime; these were figures he initially expected to be the average annual output.
System details:
-3x 10kW ground-mounted systems at different addresses, each using 168 x 60W QSolar thin-film amorphous silicon panels, and 2x 5kW Xantrex inverters.
-A 10kW roof-mounted system has also been installed on one of the properties using 52 x 190W NESL monocrystalline panels and a 10kW CMS inverter
Jim and Lynda: 5kW system near Tamworth, NSW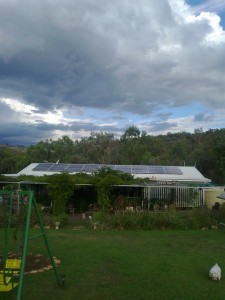 Installed February 2011
Jim and Lynda have a rural plot near Tamworth, where they keep 20 goats and a horse. They installed their system to reduce their electricity bills on the 60c feed-in tariff.
-5.23kW roof-mounted system in Limbri 2352
-129 x 179W Monocrystalline NESL solar panels with a 5kW CMS inverter
-Hot water system also installed
Al: Two 10kW, two 5kW, and one 1.5kW systems throughout NSW
Al is a property developer who has overseen the installation of a number of large-scale solar systems in different parts of New South Wales, on factory units, holiday homes, real estate investments, and residences. His decision to install systems was part of a long-term plan to install solar and 'green up' the properties under his management. In fact, even before the wave of government subsidies came into effect and drove the solar industry in Australia to its current level of competitiveness, Al had already installed his first system–1.5kW on the roof of his residence. When New South Wales introduced its Feed-in Tariff under the Solar Bonus Scheme, Al saw his opportunity and jumped on the chance, installing much larger systems on 4 separate properties.
"The reason we decided to go solar," says Al, "was that we were keen to use our resources for environmental improvement. Installing photovoltaics seemed to us at the time to be the most straightforward and effective option. We have also invested in wind turbines and new photovoltaic technologies, as longer term commitments, but the roof solar panels are up and running now, so we getting an immediate and tangible result."
The systems have been performing more or less to his expectations, and apart from some minor shading issues on a couple of the installations, he says he is happy with his investments.
System details:
-2x 10kW systems on western Sydney using Conergy panels; one uses Fronius inverters, the other SMA
-5.4kW system in Manly, using Conergy panels and a Fronius inverter
-5.8kW system on a residential premises using Conergy panels and an SMA inverter
-The 1.5kW system installed before the Solar Bonus Scheme uses an SMA Sunny Boy inverter and Conergy panels
Interested in operating a solar farm in NSW? Contact Solar Choice.
If you run an agricultural property in rural NSW, solar PV offers a great way to reduce your electricity costs. The NSW Office of Environment and Heritage, as part of its Renewable Energy Precincts initiative, is in the process of investigating ways to offer incentives for the uptake of large-scale solar farms in regional parts of the state. Solar Choice, as Australia's nation-wide Solar Energy Brokering and Quote Comparison service, is able to give impartial advice for individual customers on their solar power options. Solar Choice's Commercial arm, Solar Choice Commercial, in particular, is experienced in tender management for large-scale solar installations, and offers solar power installation finance options for eligible customers.
© 2011 Solar Choice Pty Ltd
Further reading
Is Solar right for you in NSW?
Solar power reaching grid price parity in parts of rural NSW
Other articles about Solar Power in NSW
Other articles about Commercial Solar Power and Solar Farms

Latest posts by James Martin II
(see all)