Nu-Lok Roofing is an Australian company that specialises in the installation of natural slate and ceramic tiles using the patented Nu-Lok Roofing system. Notable for the solar PV industry, however, is the exclusive NuLok Solar Insert product, which integrates into the roof tiles rather than conventional solar panels that sit above the roof. This means that the roof line is not compromised in any way when viewed from the outside.

The field of building-integrated photovoltaic (BIPV) focuses on the replacement of conventional building materials with alternatives that actively generate electricity from the sun's rays. Although small compared to the the number of solar arrays using conventional rooftop solar panels, BIPV solutions are growing in number. Nu-Lok's Solar Inserts add one more choice to the expanding range of options.
Aesthetics are of course a matter of personal preference, but for those who are not fans of the way that a standard, retrofitted solar array disrupts the otherwise mostly clean lines of a roof, BIPV is an attractive option. In keeping with BIPV best practice, the Solar Insert quietly and discreetly fulfills all of the essential functions of a normal slate tile, while also producing electricity. Each Solar Insert unit is a 45 watt (W) module that fits seamlessly into a traditional roof, without jutting out as conventional panels would. The result is a functional roof which few would guess provides the added benefit of clean energy.
Those who are interested in learning more can download a spec sheet here (PDF).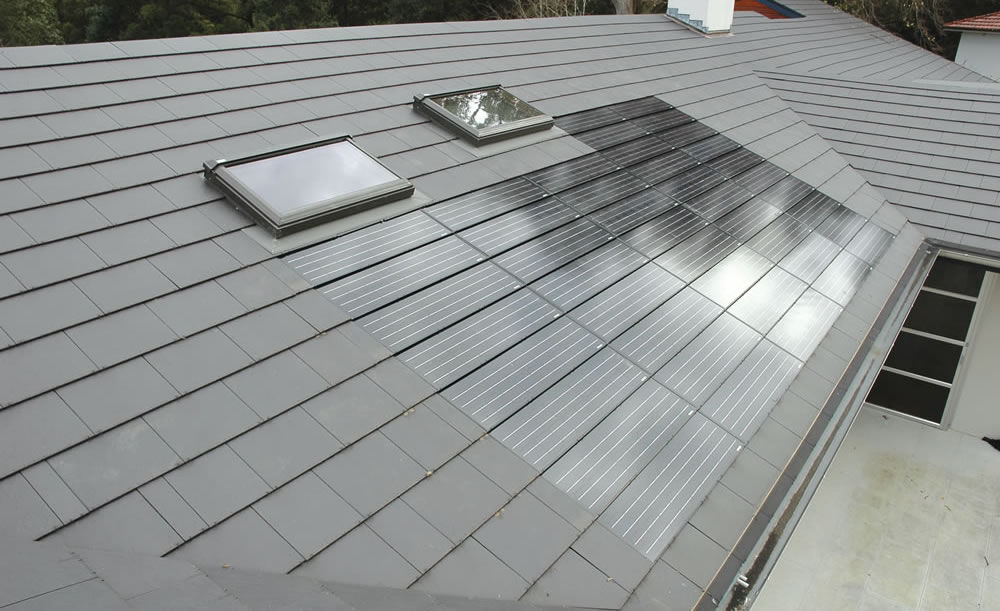 Nu-Lok's Solar Insert, integrated into a slate roof using Nu-Lok's patented roofing system. (Image via Nu-Lok Roofing / Roofsolver Pty Ltd)
© 2014 Solar Choice Pty Ltd