SANYO is a Japan-based Fortune 500 company and one of the largest electronics manufacturers in the world. Although probably best known for its home appliances, Sanyo is also a major player in global solar panel manufacturing. This article outlines the points of difference for Sanyo's innovative hybrid HIT panels. What distinguishes HIT solar panels from other panels in the industry?
SANYO HIT Solar Panels: higher efficiency through hybrid technology
-SANYO HIT Solar Cells-
HIT cells are SANYO's signature solar pv technology. They are a hybrid technology that combines monocrystalline silicon with amorphous silicon–two common cell types in the PV industry–into one for high-efficiency, heat-tolerant cells. The SANYO website describes the panels as "the most technologically-advanced solar panels in the world", owing in great part to their hybrid nature, which is unique to SANYO.
-HIT-N235SE10 Solar Module Key Attributes and Points of Difference-
-One of the highest conversion efficiencies (sunlight to electricity) in the world: up to 21.1% solar conversion efficiency, 18.6% module efficiency, compared to efficiencies of 13-14% among conventional crystalline modules. Advances in efficiency relative to SANYO's other HIT panel model (HIP-210NKHE6) are thanks to two changes to the technology: 3 tabs as opposed to 2 (minimising electrical losses in cell fingers), and anti-reflection coated glass (reducing losses from reflection and scattering of sunlight, thereby capturing more light).
-HIT cells' high heat tolerance–the best in the industry–is an especially advantageous characteristic in Australia's sunnier, hotter areas. The HIT-N235SE10's temperature coefficient is -0.30(%/°C), or a loss of 0.3% efficiency for every degree over 25°C. By comparison, SANYO's own multicrystalline panel has a temperature derating coefficient of -0.44 (%/°C). Although modules by other industry-leading companies achieve higher rated efficiency, if you plan on installing your system somewhere prone to hot weather, heat-tolerant panels actually produce more kilowatts of electricity per hour of sunlight.
-Thanks to higher efficiency, panels are 20% smaller than most panels of similar rated output: ideal for those with limited roof space looking to maximise their power production.
–Guaranteed to perform at rated power or higher at time of purchase. While most modules on the market have a performance margin of +/-5%, the HIT-N235SE10 panels are tested and guaranteed to produce at their rated Pmin (minimum rated power, in this case 223.25W) at the time of purchase. Sanyo also offers a 25 year performance warranty, which covers the silicon wafers themselves, and a 5 year workmanship warranty, which covers all parts of the modules.
–Relatively lightweight at 15kg per panel: less weight loading on roofs. (By comparison, SANYO's own multicrystalline panel of the same capacity weighs in at 23kg)
-SANYO's HIT solar cells are also made at a lower temperature than traditional cells, requiring less energy and materials to produce for a more environmentally-friendly manufacturing process.
-Although clearly a matter of taste, HIT panels have what might see considered an aesthetically-pleasing appearance: thin panels with subtle black frames that sit low on roofs.
-What does HIT stand for?-
The HIT acronym stands for "Heterojunction with Intrinsic Thin-layer".
To break this down, 'heterojunction' (meaning 'different junction') refers to the fact that the more efficient monocrystalline silicon portion of the HIT cell is sandwiched between two layers of amorphous silicon. 'Intrinsic thin-layer' refers to the thin layer of monocrystalline silicon that is the 'meat' of the sandwich. Ordinarily, solar panels are strictly divided into either crystalline or amorphous technologies; combining these into one module is the HIT panel's claim to fame.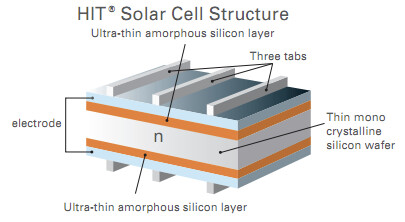 -Product Specifications/Electrical Characteristics-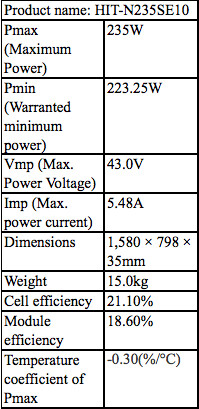 You can compare how SANYO HIT panels compare to a number of other name brand panels on the Desert Knowledge Australia website, an invaluable resource for those shopping around for solar panels.
-Other products by SANYO-
-SANYO's other HIT panel model is the HIP210NKHE6, a 210kW panel which, although more cost-effective, has a slightly lower solar conversion efficiency of 16.7% (solar efficiency of 18.9%).
-Sanyo also offers a 230W multicrystalline panel (MP6-230E01) with a module conversion efficiency of 14.1%.
-Component standards met/awards-
All three models of Sanyo panels are certified by the Clean Energy Council (CEC) of Australia, and are on the list of CEC-approved components.
-Warranty-
25 year performance warranty
5 year workmanship warranty
(Your installer may also offer additional warranties for the entire system.)
Read about solar panel and solar system warranties.
About SANYO
-Company Headquarters-
Global head office: Moriguchi City, Osaka, Japan
Oceania head office: North Ryde, NSW
-Factory location-
SANYO HIT solar photovoltaic cells are manufactured in Japan.
-History in the Industry-
SANYO Electric Co., Ltd. is a global, leading provider of energy, environment and lifestyle applications. SANYO covers a broad range of products and services such as rechargeable batteries, photovoltaic systems, biomedical equipment, HVAC/R systems, digital imaging devices, home appliances, electronic components and others. SANYO has been active in the solar power industry for over 30 years.
-Quote from Bill Crichton President/Managing Director of Sanyo Oceania-
SANYO have more than 30 years experience in solar technology and we are confident our new 235 watt solar panel is amongst the best and most reliable in the market. The new panel is capable of producing more electricity per panel than our previous models, which ultimately means bigger savings for our consumers " it will reduce payback periods and this is critical now with reduced Government incentives.
Solar Choice is a solar installation comparison service: we don't undertake our own solar array installations, but we do offer free independent solar quote comparisons of what's on offer from trusted solar system installers nationally. Our installers may use components from different manufacturers, and if you're new to solar power installations, you will probably want to know what distinguishes one company's panels, inverters, batteries, and other system parts from those of their competitors. This article is one of a series written to help you make an informed decision about purchasing your solar power system.
Written by James Martin
Solar Choice Analyst
Sources and links:
HIT-N235SE10

Latest posts by James Martin II
(see all)