If you live anywhere in regional Western Australia (essentially anywhere outside of Perth & surrounds) and you have grid electricity, your power is probably delivered by Horizon Power, whose electrical grid is spread thinly over a sparsely-populated but incredibly large geographical area. Due to the Horizon grid's unique nature in WA and the rest of Australia, rates for solar electricity exports differ significantly depending on the location of homes and businesses who decide to have a solar power system installed, as do the requirements for having a system installed. This article takes a look at what you need to consider when installing a solar power system on the Horizon grid in northern WA as of January 2014.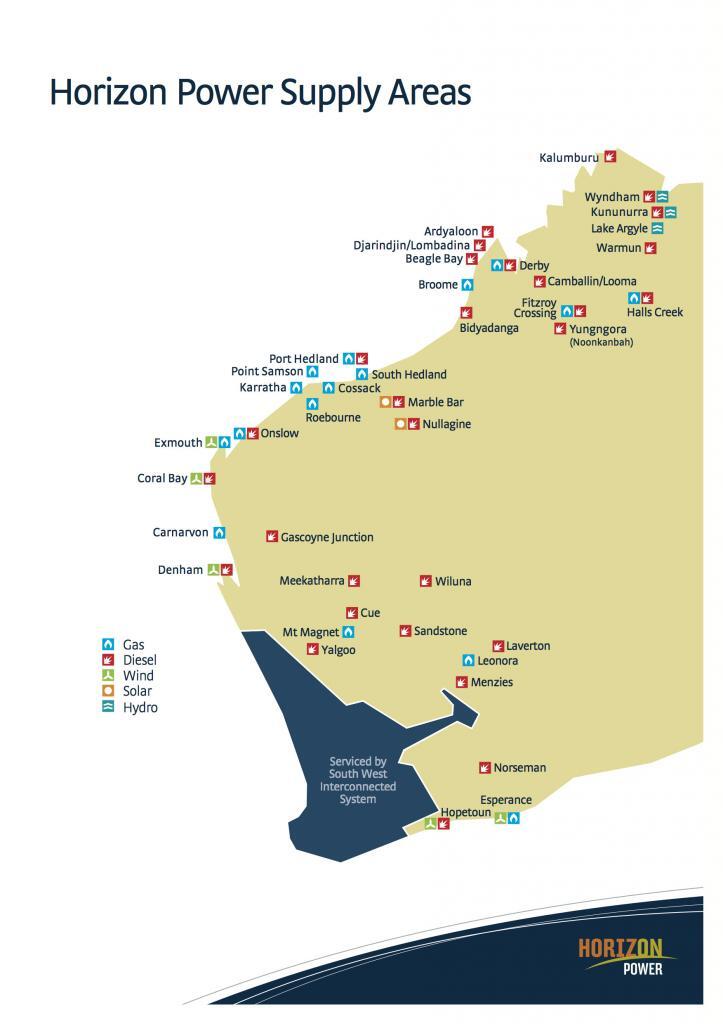 Going solar in regional Western Australia: What you need to know
1) Rooftop as well as ground-mounted solar photovoltaic (PV) systems are still allowed on the Horizon Power grid, but the utility has put procedures & requirements in place in order to more closely regulate their impact on the network. Everyone who wishes to connect a solar system to the grid must submit an application to connect before making any financial commitment to having the system installed. There are 3 components to the application: The application form itself (PDF), a contract (separate forms for residential or commercial customers), and the satisfaction of Horizon's technical requirements (PDF) for small-scale renewable energy generators.
2) In some regions, Horizon offers generous incentives (as much as 50c per kilowatt-hour) for the export of excess solar electricity to the grid (solar power from a rooftop system goes first into the appliances of the building it is attached to; any excess is automatically exported to the grid). In other areas, there is no incentive available for exporting power to the grid. (A list of current rates is available here.)
3) Different regions have varying allowable limits for newly installed solar PV capacity. Horizon publishes an estimation of the current capacity available in a council-by-council breakdown, which is available here. In some areas, capacity has already been met and Horizon will not allow the connection of systems that do not have the capacity to prevent export of solar power.
4) Solar smoothing devices (such as Magellan's device designed for this purpose) are now generally required on new solar PV installations in the Horizon network. These devices help to mitigate the effect that a sudden loss of output caused by clouds passing (or similar shading issues) can have on grid stability. Solar system installers that operate in Horizon's jurisdiction should be across what the installation of a solar smoothing device entails.
Compare installation prices from installers in WA
Interested in going solar in WA? Solar Choice works with a network of installers who operate across Australia. Request a Solar Quote Comparison by filling out the form to the right of this page or call 1300 78 72 73 to learn about your options and get free, impartial advice from our team.
© 2013 Solar Choice Pty Ltd

Latest posts by James Martin II
(see all)