And here's a quick blog article to talk about a cool thing you can do with a solar system on your roof: Mow your grass (and trim your edges) with the sun.
We recently upgraded our clunked-out push mower with a $20 second-hand plug-in electric Ozito mower (the lady who sold it to us on Gumtree even had the receipt!). Not having used a petrol mower in probably something like 15 or 20 years, moving to the electric after my experience with the clunkinator felt like a dream. I never thought I'd be so excited to mow a lawn – which I did for the first time in months last Saturday.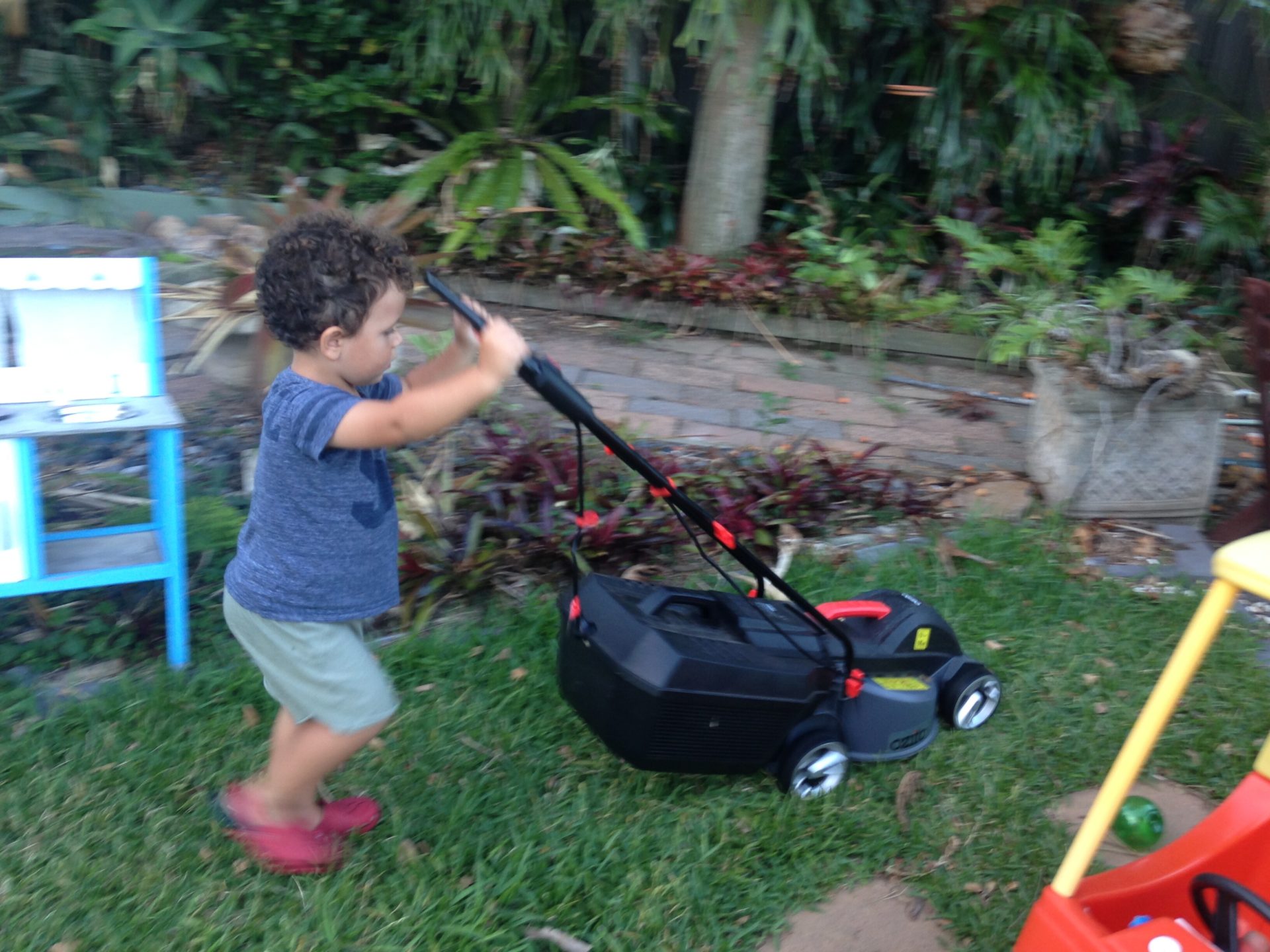 So easy you can get your bizarrely lawnmower-obsessed 2 year old to do the mowing for you!
Compare Solar & Battery Quotes
Electric lawnmowers aren't exactly news: When I told my mother about the fact that we'd just bought one, she recounted the story of when my late grandfather (who died in the mid 90s) buying one and chuckling about how the instruction manual warned him not to accidentally run over the cable. "What kind of a moron would do that?" was the implied thought behind the chuckle.
But the things sure aren't foolproof, and after tossing the lead around for 5 or 10 minutes you can see how accidents of this nature might be more common than you'd initially expect. Maybe this is why they're not exceptionally popular – that and the fact that they tend to be small and have a narrow body compared to most petrol mowers, which means more time to finish a lawn. (When I told my father about it, he mocked it as a toy because it doesn't have an engine that runs on a liquid fuel. I told him he's welcome to put his hand inside it any time and see if he changes his mind.)
That being said, they cost about a third the price of a battery-powered one (much less if you get a pre-loved one), and if use them when the sun's out you don't have to pay for fuel. So I'm sold!
And as a bonus, the old push mower is now a fun new toy for a small child with an irresponsible father!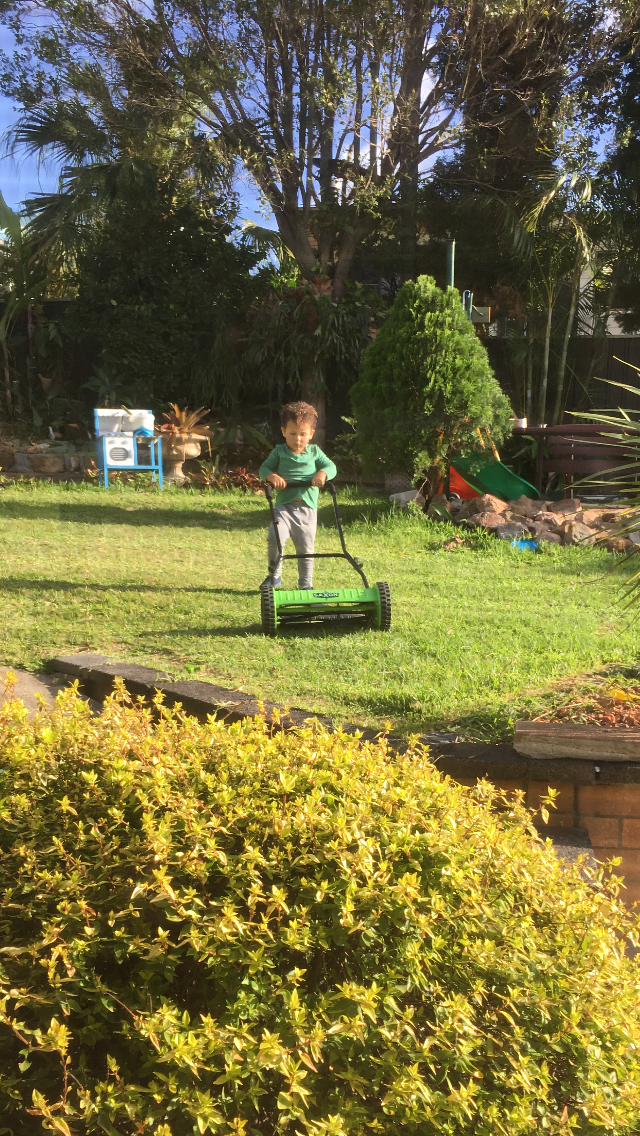 I also bought a brand new Ozito edger/blower package for about $80 that runs on batteries. It got the job done for our (relatively small) yard, and if I keep charging it during the day like I have, my whipper-snipping will be solar-powered as well (although not quite as efficient as plugging directly into a wall).
What it looks like through the monitoring lens
Switching the thing on to mow the overgrown patches of grass in my back & front yards, I of course wanted to see what it would look as I used it. The model I have uses 1400W (or 1.4kW), which means that its consumption sits well below my solar production. You can see the energy used by the lawnmower in mid afternoon (along with some other stuff like the cooktop) in the screenshots from Reposit and Solar Analytics web portals below (top & bottom image, respectively).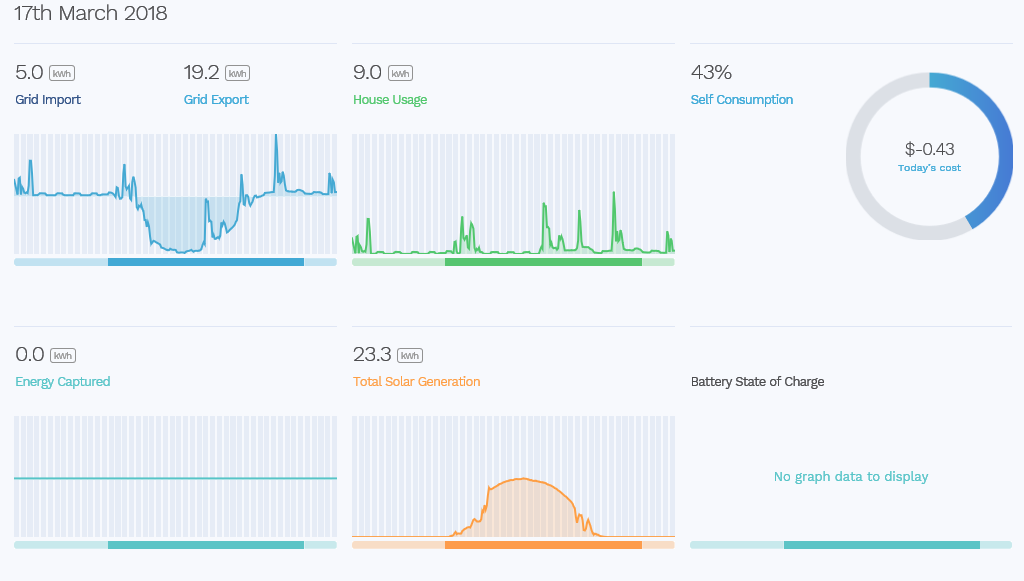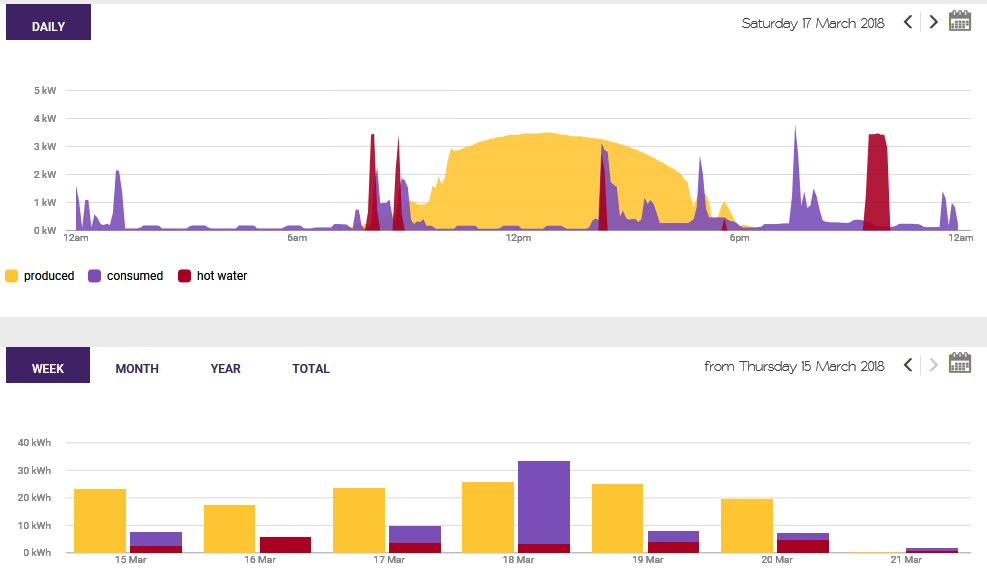 One thing that I wanted (but forgot) to do was take a screenshot of the Reposit app (in particular, the real-time 'flows' screen) while I was operating the lawnmower to see exactly how much it was consuming. This is something 'fun' that I like to do with lots of different appliances and devices around my house, just to see what can fit under our solar production curve. I guess I'll save that for the next time I do some mowing.
(And in the meantime, below is an example of what the 'flows' screen that I love so much looks like – from the day after I mowed the lawn, when we had our monstrous AC unit on.)
Join our mailing list to follow along
Get a free, instant solar & battery quote comparison
Compare Solar & Battery Quotes
© 2018 Solar Choice Pty Ltd

Latest posts by James Martin II
(see all)