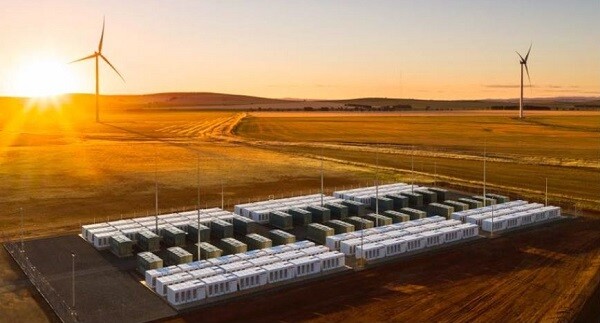 Plans to give South Australia's Tesla big battery a 50 per cent boost in capacity have been confirmed by renewables developer Neoen, in a bid to expand the grid services of the already world-leading Hornsdale Power Reserve.
Neoen said it was adding hundreds of new Tesla Powerpack batteries – a total of 50MW/64.5MWh – to the existing 100MW/129MWh facility, lifting its capacity by 50 per cent and reinforcing its ranking as the biggest lithium-ion battery in the world.
As reported in RenewEconomy on Monday, the upgraded battery will become the first in Australia to provide digital – or "virtual" – inertia to the grid, a vital network service previously only delivered only by synchronous generators.
Neoen says these inertia capabilities – dubbed by Tesla as its Virtual Machine Mode (VMM) – should be able to provide 3,000 "megawatt seconds", or 50 per cent of the state's inertia requirements – thus minimising the need to use gas generators. They will also help the state Liberal government meet its target of net 100 per cent renewables by around 2030.
The $71 million upgrade is being supported by the Australian Renewable Energy Agency – which is providing $8 million – along with the Clean Energy Finance Corp, and the South Australia government, which is putting in $3 million a year for 5 years (on top of its $4 million a year for 10 year commitment to the original installation for emergency grid support).
"Alongside additional power system reliability and continued cost savings to consumers, the expansion will provide an Australian-first large-scale demonstration of the potential for battery storage to provide inertia to the network which is critical to grid stability and the future integration of renewable energy," Neoen said in a statement.
"This will ensure South Australia can continue to harvest its world-class wind and solar resources and support the transition to net 100% renewable energy generation in the 2030s, and further drive down electricity prices for all consumers."