The Solar Choice Dubbo office has brokered a solar deal for Southern Cross Care at Broken Hill. The Residential Care facility purchased a commercial scale, 150kW solar PV, system that will significantly reduce their energy consumption and future energy bills.
The Southern Cross Care facility is a residential care and retirement facility based in Broken Hill, near the NSW and South Australian border. Due to the critical care required by many of the facilities residents, as well as the additional energy required to run air conditioning units and catering equipment, energy use is high. The main focus of the product was developing a solar PV system that would help Southern Cross Care reduce their energy bills, the main building at the complex uses 100kW of electricity an hour alone.
Working with building facilities managers, Solar Choice analysed the energy bills for the Broken Hill buildings and discussed the financial resources available to develop a project description that would meet much of the facilities energy needs and, use the budget they had to the best effect.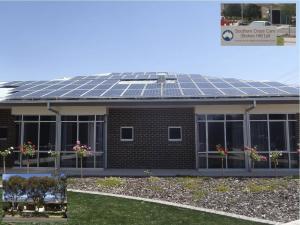 Once the initial scope of the project was defined Solar Choice put the tender out to selected members our installer network, our Dubbo office manager then worked with Southern Cross Care to help them make an informed decision on what was the best system and installer for them. Although they were impressed with all of the tenders put forward, their final decision was based on one installer providing them with what they felt was the 'full package'.
A representative for the installer said:
"Our Solar Engineering and Installation teams have done a fantastic job I must say and everyone has been focused on delivering a premium quality commercial solar installation in a safe and efficient manner. Thank you Solar Choice for the opportunity to deliver this industry leading commercial solar PV project."
The system will provide Southern Cross Care at Broken Hill with an average of 675 kWh of clean energy everyday, this figure will be higher in the summer months and slightly lower in winter. Solar Choice is proud to have been involved with this project, and hope that the valuable funds released once the system has paid for itself will allow the staff at Southern Cross Care at Broken Hill offer even better care for their residents.
Images via the installer
© 2012 Solar Choice Pty Ltd