The popularity of rooftop solar power systems has soared globally in recent years, and Australia remains one of the global leaders for home solar uptake. This is due in part to the fact that solar power is more affordable here than in many parts of the world, thanks to federal government incentives & competition between installation companies.
Those who have purchased a solar system have done so as an investment–a way to save money on power bills. However, in many cases solar system owners, having no means of monitoring generation in real-time, have no idea how much power their solar system has produced (and therefore how much money it has saved them) in a given period until they get their quarterly power bill. If the system has malfunctioned or underperformed, there may be no way to tell until it is too late, and any downtime eats into savings.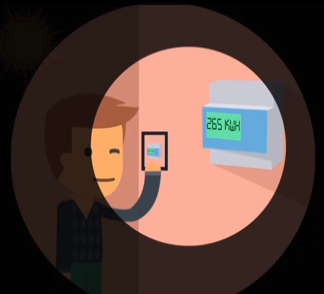 Therefore, ideally, all system owners should have some kind of monitoring device. Sun MonitOZ is one product that is soon to become available on the Australian market (June 2014) that aims to make monitoring inexpensive and hassle-free. Instead of a physical component that must be integrated into the system's wiring or connected to the inverter, as is the case with many monitoring systems, Sun MonitOZ is a web portal/smartphone app that is accessible from anywhere with an Internet connection.
Sun MonitOZ utilises satellite data to make climate-based, site & system-specific estimates of the output of specific solar systems. This allows solar system owners to not only see how much power their system is producing, but also to quickly determine if there is an issue that may need addressing. Its primary function is to alert system owners when something appears to have gone wrong–when the disparity between expected output and actual output crosses a threshold.
This simple solution could be ideal for those who already have a solar system but no monitoring equipment, or for those who are planning on having a system installed but do not want to invest in more expensive monitoring options.
Sun MonitOZ is looking for beta testers!
In the run-up to its product launch in Australia, Sun MonitOZ are looking for 10 people to test the beta version of the app. Those who are interested can contact them them directly on contact@sunmonitoz.com or visit www.sunmonitoz.com.
© 2014 Solar Choice Pty Ltd