The world's electricity mix is changing much more rapidly than could have been anticipated just a decade ago. As renewable energy sources like wind and solar power grow to take up an ever-larger share of the world's electricity generation portfolio, it becomes increasingly important to know what to expect from them–preferably as far in advance as possible. Only this sort of insight can 'smarter' approaches to generating, transmitting and distributing electricity be developed.
Reuniwatt, a company based in France's Reunion Island, develops forecasting tools to facilitate the smart grid & renewable energy revolutions underway globally. Their tools promise to be useful to a wide range of players around the world, including solar & wind power project developers, electricity grid system operators, electricity services providers and power system component manufacturers.
It is perhaps not surprising that Reuniwatt was established where it was. Reunion Island, as is the case with many small islands or isolated areas, is home to what could could be described as a 'thin' electricity grid, where the critical act of balancing supply against demand can sometimes be tricky due to lack of redundancy in supply lines and generation plants. Furthermore, most fuel must be imported and is frequently expensive, strengthening the business case for renewable energy, whose fuel is freely available on-site. However, a heavier reliance on renewables makes it all the more crucial to be able to understand with a high degree of accuracy when they will be available; generation is dependent on the whims of the weather.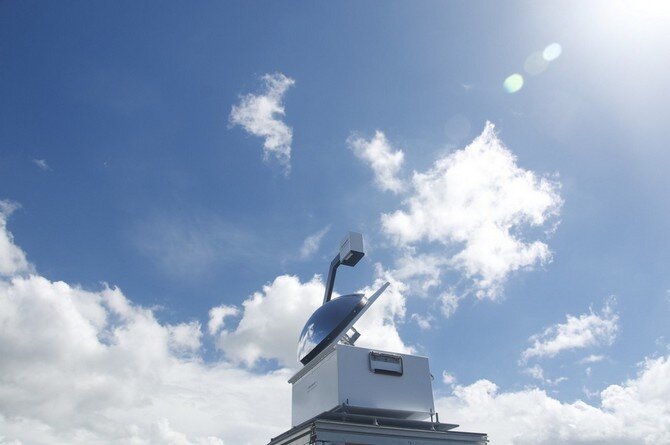 Reuniwatt's Soleka is a decision-making tool that the company has created to give site-specific forecasts on solar PV system production. With a sky/solar monitoring devices that sit on-site with PV plants, Soleka provides generation predictions as much as 24 hours in advance for the optimisation of infrastructure production planning, as well as more specific 'intra-day' forecasts and 'shortcasts' which estimate system output up to 6 hours or as little as 15 minutes ahead of time, respectively. Having this sort of predictability means all the difference for solar power plant operators on partially overcast days, when intermittent shading from clouds could knock back system output for short periods of time.
Soleka's strength lies in great part in Reuniwatt's possession 'high temporal resolution' climate data, on the back of which it also provides modelling solutions for project developers, utilities and governments who wish to investigate the renewable energy potential of a given site or multiple sites. Their Climate Information Systems is a software-as-service platform that adds a climatic aspect to geographic information system (GIS) technology, with data updated in real-time.
As solar power capacity grows in Australia, information as detailed as that provided by Reuniwatt will prove indispensable to making the most of this burgeoning technology's potential, especially for large-scale projects.
Those interested in contacting Reuniwatt should email info@reuniwatt.com or visit www.reuniwatt.com.
© 2014 Solar Choice Pty Ltd