Landowners stand to benefit substantially by using their land for utility-scale solar farm developments
The number of commercial-scale solar installations has been increasing significantly in Australia, thanks to the growing affordability of solar PV technology and the rising cost of electricity from the grid. Utility-scale, multi-megawatt (MW) solar projects are similarly projected to grow in number in the near future, with more and more banks, corporations, councils, and individuals beginning to view them as an excellent investment choice.
Solar farms are ground-mounted and typically start at around 500 kilowatts (kW, 1MW = 1,000kW) but have no hard upper limit on capacity, although systems greater than 5MW are still newsworthy rarities in Australia. As a rule of thumb, a 1MW solar farm will occupy approximately 2-3 hectares of land.
Solar systems over 100kW in capacity are eligible to create large-scale generation certificates (LGCs), which provide an ongoing revenue stream for the project's owner/investors. Additionally, terms for a power purchase agreement (PPA) may be negotiated between the project developer and businesses or other organisations with high energy demand.
Solar farms for landholders: What kind of land is best suited?
Solar farming is a great opportunity to raise the value of a piece of land, particularly where that land is of marginal value otherwise. Solar farms tend to be a particularly attractive investment where large energy users are nearby or on-site, but these are not prerequisites for project development.
Lots best suited for potential solar farm development will:
Have an area of least 2ha
Be mostly flat with a slope that rises towards the south
Be mostly free of shading from trees
Be located near an electrical substation
Be hidden from the view of neighbours
Be available for at least 20 years
How Solar Choice Commercial can help you develop a solar farm on your land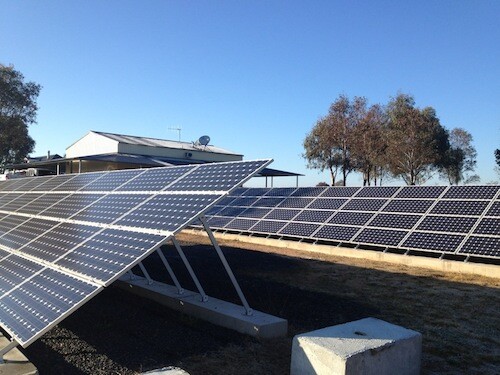 Solar Choice Commercial has managed tenders for solar projects for hundreds of clients across Australia. With our online Tender Management Platform, an experienced & professional team of brokers, and nation-wide network of solar installers & project developers, Solar Choice is in a unique position to allow our clients to choose an option that is best suited for their needs and budget. We also offer a Commercial Solar Financing Package to clients who meet certain eligibility criteria.
A ground-mounted solar farm in western NSW. Project tender managed by Solar Choice Commercial.
If you are interested in developing a piece of land that meets the above criteria and are thinking about investing in solar, get in touch with Solar Choice today by filling out this form.