The 60MW Ganawarra project in north-west Victoria – the state's biggest solar farm, to date – has been connected to the grid, and will soon begin on the installation of a new Tesla big battery, to make it one of the biggest solar-storage installations in the world.
Ganawarra, jointly owned by Wirsol Energy and Edify Energy, has been exporting to the grid at low levels for a few weeks now, with full production expected to be achieved in the next few weeks.
Solar Choice was the originating developer of the Gannawarra Solar Farm having secured the site and planning approval back in 2013, subsequently working closely with Edify Energy to clear land matters such as pre-construction conditions, EPBC approvals and fulfilments of indigenous heritage duty of care. Solar Choice remains actively engaged on further stages across additional land within the wider Gannawarra site.
The project, located between Swan Hill and Kerang, will then begin work on the Gannawarra Energy Storage System – a 25MW/50MWh Tesla Powerpack battery that will help shift some of the solar plant's output into the evening, or to peak demand periods.
The new battery – one of three to be installed in Victoria – will be completed by December 1, in time for the 2018/19 summer. The output from both the solar farm and the battery storage installation are contracted to EnergyAustralia.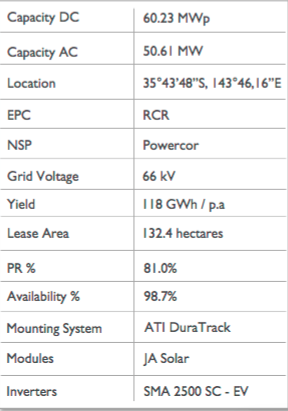 "The Gannawarra solar farm is in every respect a world leading project and is testament to the future role of solar in enhancing energy supply across Australia," Mark Hogan, managing director of Wirsol, said in a statement.
"The next step is combining the Gannawarra Energy Storage System powered by a Tesla Powerpack battery to the solar farm, which will set a new benchmark for solar projects in this country.
"The benefits of these types of projects will resonate with Australian consumers and the broader economy for many years."
Compare Solar & Battery Quotes
Listen to an interview with Solar Choice managing director Angus Gemmell about the project.

Latest posts by Giles Parkinson
(see all)