Background on Fimer – Company History
Fimer was established in 1942 with an initial focus on the design and manufacture of welding equipment. No Fimer, headed by Filippo Carzaniga, operate across a number of sectors including solar, batteries and e-mobility. Fimer is headquartered in Vimercate, Italy and now have over 1,100 employees and a distribution network extending across over 100 countries.
Fimer established their Solar Division in 2007 – and widely increased their scope after acquiring major solar inverter manufacturer ABB in 2020. Fimer have recently expanded their product line into solar batteries with their REACT battery designed to be compatible with most residential solar applications.
Fimer's REACT product uses battery cells that are manufactured by Samsung in South Korea. The battery enclosure, inverters/chargers and associated components are manufactured in Fimer's plant in Italy. Fimer have an Australian office and warehouse where they keep stock and can process warranty claims.
Fimer's products are available in Australia through a number of different distributors including One Stop Warehouse, Greentech (any subisidiaries) and Supply Partners.
Basics of Fimer React 2 battery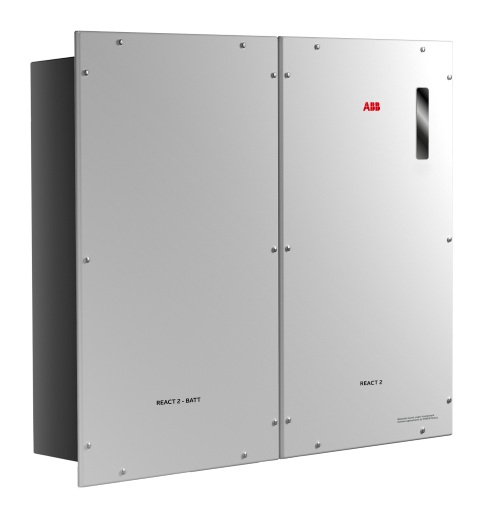 Among the components of the REACT 2 energy storage system is a high-voltage Li-ion battery with a long life span and a storage capacity of up to 12 kWh as per their datasheet. The modular solution can scale to meet the requirements of any home, expandable from 4 kWh to 12 kWh which can meet the needs of most residential solar applications in Australia.
The solution encapsulates battery modules which are manufactured by Samsung – one of the world's leading battery companies.
The battery comes in a similar enclosure to the hybrid inverter which makes an aesthetically appealing solution (see image to the right). The battery must be connected to a REACT 2 hybrid inverter which comes in 3.6kW or 5kW options. The REACT 2 battery is not compatible with any other hybrid inverters.
When solar panels are connected directly to the REACT 2 battery there is space for the following system sizes:
| | |
| --- | --- |
| Fimer Battery | Maximum Suggested Solar PV Size |
| REACT 2 3.6kW | 6.6kW |
| REACT 2 5kW | 8kW |
The REACT 2 battery also comes with an intelligent monitoring system which can help the owner understand their energy consumption and battery usage patterns and further reduce their carbon footprint.
The battery is only compatible with single-phase grid connections. With an environmental protection rating of IP65 the REACT 2 hybrid inverter can be installed outdoors, while the REACT 2 battery solution has an IP54 rating meaning it is better suited to an indoor installation or somewhere well protected from dust and the elements.
React 2 Battery – Points of Difference
The REACT 2 is easily recognisable due to its appealing design with the battery enclosure symmetrically aligning side by side with the hybrid inverter. The units can be wall-mounted in a single row on brackets that are designed to interlink.
95% Depth of Discharge
The high quality Samsung batteries that are used within the REACT 2 battery solution feature a 95% depth of discharge which is better than many of the Fimer's competitors (e.g. Sonnen 90%, Alpha ESS 90%). When comparing battery solutions it is best to focus on the usable capacity of a battery which multiplies its nameplate capacity by the depth of discharge.
Back Up Mode for Grid Outages
During a blackout the REACT2 can provide 3kW of single-phase power in its built in anti-islanding mode. This means your home can continue to function critical appliances like lights and fridges until the power comes back on. How long this lasts depends on how much power you are using, how full the battery is and whether its daytime and the batteries are still charging. In theory you could continue to power your house for days.
How Much Do Fimer React 2 Batteries Cost?
Please refer to the below indicative prices:
| | |
| --- | --- |
| | Indicative Price* |
| Fimer React 2 5kW Unit (excl. battery) |  $2,100 to $2,400 |
| Fimer React 2 4kWh battery | $3,400 to $3,600 |
*Please note price is indicative only and excludes installation costs.
Compare quotes from up to 7 installers in your area now.
Australian Warranty Terms For Fimer React 2 
The Fimer REACT 2 battery comes with a warranty of 5 + 5 years or 3,650 cycles (whichever is shorter). The required REACT 2 hybrid inverter comes with a separate 10 year warranty period. The battery is considered to be faulty when it cannot be charged up to 60% of its rated energy level which allows for the natural degradation of the battery over 10 years.
For the battery warranty, the first 5 years covers the full replacement cost of batteries including shipping costs and labour required for the removal and re-installation on site. From years 6 – 10 the warranty only covers the repair of replacement of the battery. The cost of removal, re-installation and shipping costs would be worn by the customer.
It should be noted that if the batteries are sitting at the wholesaler or installer's warehouse for longer than 3 months then the warranty period has already commenced. Fimer's warranty document states that their warranty "in no case will extend beyond 123 months from the date of shipment from the factory". 
The installer of the battery is always the first point of call for any issues, however warranty claims can be made directly with Fimer by calling 1800 769 663 or by filling out the contact section of their website.
Read more about ABB (Fimer) Warranty Documentation here
React 2 Battery Specifications
| | |
| --- | --- |
| | React 2 |
| Usable Capacity | 12 kWh |
| System Nominal Voltage (AC) | 170-575 V |
| Max. Output Power | 2kW (per battery module) |
| Dimensions (H x W x D) | 740 mm x 490 mm x 229 mm |
| Weight | 50 kg |
| Operating Temperature Range | -20…+55°C (out of 0…+40°C temperature range, battery will be disabled) |
| Warranty | 5 + 5 years |
Fimer REACT 2 Battery Independently Tested
ITP Renewables are currently operating an independent battery testing centre which performs accelerated life cycle testing on a range of batteries in 3 year phases. The centre is supported by a  $1.29m grant from the Australian Renewable Energy Agency (ARENA) under its Advancing Renewables Program, and testing is conducted scientifically without interference from any manufacturers. ITP is currently testing 15 residential scale batteries available on the Australian market, and has had a total of 26 batteries installed at the centre.
The Battery Test Centre installation consists of two REACT 2 Batteries totalling 8 kWh of nominal capacity and are connected to a 5 kW Fimer REACT 2 UNO inverter. At the time of the test commencing in February 2020 the batteries and inverters were still branded ABB, but this has smoothly transferred over to Fimer through the acquisition in March 2020.
In the latest report, the Fimer battery has performed well without any technical or operational issues. The degredation of the battery looks to be in line with their warranty policy with the data suggesting 91% capacity remains after 890 cycles (which is the equivalent of over 2.5 years of daily usage).
Battery Government Rebate Schemes Across Australia
South Australia, New South Wales, Victoria, and Australian Capital Territory all currently have a home battery scheme in place.
The South Australian Home Battery Scheme enables eligible South Australian residents to receive up to $4,000 per installed battery.
The New South Wales Home Battery Scheme offers an interest-free loan up to $9000 for eligible households looking to install a solar battery.
The Victorian Government under the Solar Homes Program provides to those eligible, a maximum discount of $4,174 off the battery sale price. The next release of battery rebates is on the 2nd of September 2020.
The Australian Capital Territory Government under the Next Generation Energy Storage program provides a rebate of $825 per kilowatt (kW). An average household with a 5kW system would be eligible for approximately $4,000.
Read more product reviews from Solar Choice
Compare quotes from up to 7 pre-vetted installers in your area now.
Since 2008 our knowledge and sophisticated software has allowed over 180,000 Australian households and businesses to make a well-informed choice on their solar & battery installer.