The world-famous Elon Musk, CEO of Tesla, announced an entry into the energy storage market in 2015 with the launch of the home battery product, the Tesla Powerwall.
Perhaps more famous for their electric vehicles, Tesla Motors have been praised for their ability to make leaps and bounds in research and development.
Tesla Australia has attempted to make leaps in the energy sector recently with the newer version of the Powerwall.
How Much Does The Tesla Powerwall 2 Cost?
A common question in people's minds at the beginning stage of their research is "How much does a Tesla Powerwall cost?".
In 2017 the Tesla Powerwall 2 launched with the cheapest price point at $9,000 for 13.5 kWh making it one of the most cost-effective options in the residential battery market.
Since then, initially, high demand and higher production costs led to the wholesale cost of the battery reaching $16,500 in 2022.
Since the start of 2023, Tesla has dropped the price of the Powerwall 2 by 42% to $9,650 including GST after Tesla's $750 rebate.
Tesla is expected to launch the Tesla Powerwall 3 in 2024, so are likely trying to get rid of all remaining Powerwall 2 stock.
In Australia, across our network of over 150 solar installers, we expect this installed cost of a Tesla Powerwall 2 to cost between $12,000 and $14,000 excluding Solar Panels and any rebates that might be available in your state.
Tesla Powerwall 2 Price Change History:
| | | |
| --- | --- | --- |
| Date | Wholesale Price | Change |
| 2017 | $9,000 | |
| 2018 – February | $9,600 | +$600 |
| 2018 – October | $12,250 | +$2,650 |
| 2019 – July | $11,700 | -$550 |
| 2020 – October | $12,500 | +$800 |
| 2021 – February | $13,300 | +$800 |
| 2021 – May | $12,750 | -$550 |
| 2022 – March | $13,700 | +950 |
| 2022 – May | $14,650 | +$950 |
| 2022 – October | $16,500 | +$1,850 |
| 2023 – February | $14,599 | -$1,901 |
| 2023 – April | $12,900 | -$1,699 |
| 2023 – June | $12,100 | -$800 |
| 2023 – August | $11,350 (after rebate) | -$750 |
| 2023 – November | $9,650 (after rebate) | -$1,700 |
*You can now claim a $750 rebate if Powerwall is installed before 31 December 2023 and is registered online.
Or in a visual form – you can see the trend in the graph below: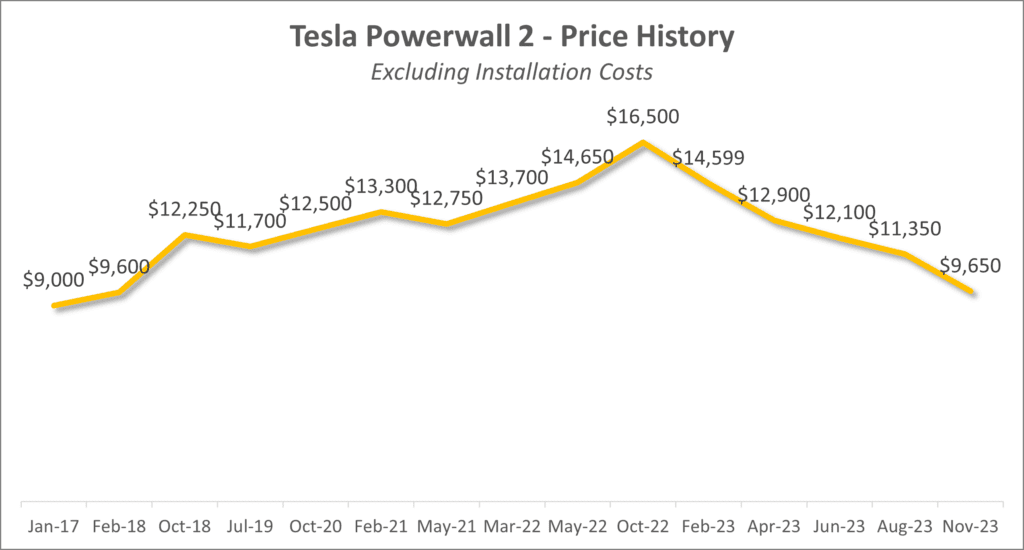 Whether the Tesla Powerwall 2 is a cost-effective product for your system will depend on a closer examination of your electricity needs.
To see if home solar battery storage is worth it, our detailed Solar Battery Sizing and Payback calculator to see the financials for your system.
Tesla's official release of the Powerwall 2 & Solar Roof
The Chemistry of a Tesla Powerwall 2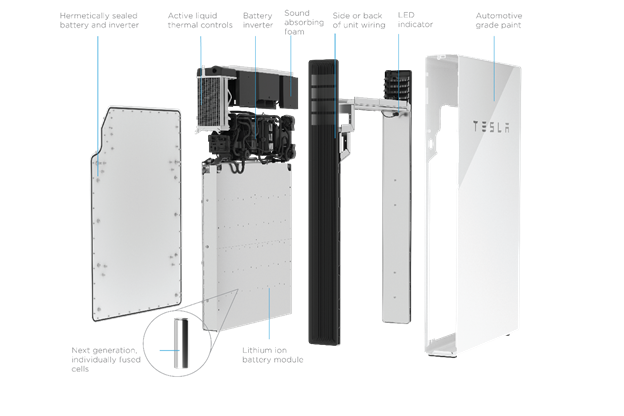 Batteries have a positive cathode, a negative anode and are separated by an electrolyte in a simple view of a battery.
The Tesla Powerwall 2 uses Lithium-ion technology where the cathodes are made from a compound of Lithium, Cobalt, Nickel and Manganese (LiNiMnCoO2).
Other lithium battery chemistries in the on-grid home battery storage market include lithium iron phosphate (LiFePO4) and lithium cobalt oxide (LiCoO2).
The battery comes with a 10-year warranty and provides 5kW of output power, making it suitable for large residential homes. Multiple batteries can be daisy-chained together for commercial use.
The battery is 1.15m by 0.76m and can be wall-mounted indoors or outdoors.
If combined with an additional backup component, the Tesla Powerwall 2 can provide power during a blackout.
Compare solar and battery quotes from local installers now.
Pros and Cons of the Tesla Powerwall 2
Of course, with any product, there's the good and the bad. We've summarised the key points below for you:
Pros
Cons

Excellent specifications including 100% depth of discharge
High-profile company and strong warranty offer
Very easy-to-use app and interface

One of the most expensive battery solutions on the market
Limited supply so there can be a waiting period for your installer to get the battery in stock
Not designed for 3-phase applications as you can only connect the battery to one phase.
Tesla Powerwall 2 Warranty for Australian Customers
The Tesla Powerwall 2 for Australian customers offers two types of warranties: time-based and throughput-based. The time warranty covers defects for 10 years, excluding damages from improper use or installation. It also ensures less than 30% degradation from its 13.2kWh capacity over 10 years. If the battery discharges only 9.2 kWh or less after 10 years, you're eligible for a warranty claim.
The throughput warranty varies with usage. For typical home use, like storing solar power for evening use or during blackouts, Tesla offers 'unlimited cycles'. This means about 3,600 cycles over 10 years, assuming one cycle per day.
For other uses, like participating in Virtual Power Plants or off-grid charging, the warranty covers a maximum throughput of 37,000 kWh from the battery's AC output. This equates to roughly 10 kWh per day, similar to one battery cycle per day over 10 years, considering battery degradation.
Read through Tesla's full warranty conditions in this document.
Tesla Powerwall 2 Performance Specifications
| | |
| --- | --- |
| AC Voltage | 230V |
| Feed in Type | Single-phase |
| Grid Frequency | 50 Hz |
| Usable Energy | 13.5 kWh |
| Depth of Discharge | 100% |
| Real Power | Max continuous 5kW (charge & discharge) |
| Power Factor Output Range | +/- 1.0 (adjustable) |
| Internal battery DC Voltage | 50V |
| Round Trip Efficiency | 90% |
| Warranty | 10 Years |
Tesla Mobile App Functionality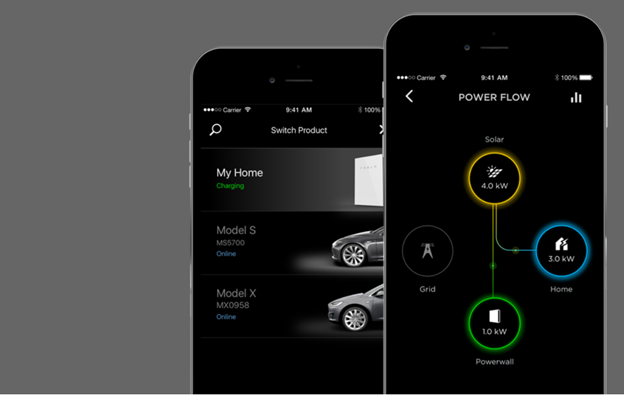 Tesla has made a user-friendly mobile app for people who own a Tesla Powerwall 2 or Tesla electric vehicle. This app is available on the Android and iOS stores. The app shows real-time performance and operation data for the Powerwall 2 and EV. Users can switch their battery between three modes: Back-Up only, Self-powered, and Time-based control. The app is especially helpful when combined with Solar PV.
Back-Up Only: The Back-Up Only feature is designed to store all available energy in the battery, ensuring that it remains fully charged. This feature helps to ensure uninterrupted power supply to the system during blackouts. If used with a Solar PV system of sufficient size, the battery can potentially last for weeks.
Self-powered Mode: When using the Self-Powered mode, batteries are utilized to make the most of free energy generated from rooftops. This helps reduce energy bills by using energy from the grid only when necessary. Residential batteries help homeowners manage their evening and early morning power usage.
Time-based Control: The Tesla Powerwall 2 has an intelligent feature that enables it to charge when electricity is cheaper, and discharge power when it's more expensive, but only if the owner has a time-based electricity charge from their retailer. The financial benefit of this feature depends on the tariffs of the electricity retailer and is usually not enough to justify the cost of the battery system alone.
How Do I Get a Tesla Powerwall 2 Battery?
To get a Tesla Powerwall 2 you need a local Tesla Australia-accredited solar installer. You can click here to get a free quote comparison from up to 7 local installers near your home.
Read About Home Battery Government Schemes Across Australia
South Australia, New South Wales, Victoria, and Australian Capital Territory all currently have a home battery scheme in place.
The New South Wales Home Battery Scheme offers an interest-free loan up to $9000 for eligible households looking to install a solar battery in certain postcodes.
The Victorian Government battery rebate has now ended.
The Australian Capital Territory is offering interest free loans for projects including battery storage.
Read more product reviews from Solar Choice

Latest posts by Jeff Sykes
(see all)
Reviews from Australians who have installed Tesla Batteries
Rated 4.48 from 21 reviews
27th November 2023
Vaughan
VIC - 3555
6kW system
23rd November 2023
Ken
VIC - 3251
7kW system
Love the Tesla. No bills in summer (when system is working properly) and minimum bill in Winter. Still have power for essentials, phone, internet and Coffee Machine
13th November 2023
Mark
SA - 5091
6kW system
Very happy with it. It may cave cost a little extra, but after doing my research as to how it can and will be used (especially in a blackout) it was a no brainer for me.
12th November 2023
Marian
SA - 5050
10-15kW system
Works very well. Supplies all night time power and during grid outages.
26th October 2023
Julian
NSW - 2444
6kW system
Powers the house overnight and blackouts . Perfect
23rd October 2023
John
-
6kW system
I already had a battery for the existing system and the Solar Wholesale team completed a faultless install by adding the new system to the existing setup. The two systems are working in harmony thanks to the Solar Wholesales installation team.
6th October 2023
John 2
ACT - 2602
6kW system
Has occasionally gone off and needed a reboot to get back into production. I needed to call Tesla support once and they talked me through the reboot. Labelling of the various circuit breakers varies somewhat from the terms used in the Tesla documentation. I don't know whether that is a difference in terminology between USA and AU.
20th September 2023
Christian
ACT - 2618
10kW system
1st August 2023
David
NSW - 2439
6kW system
we purchased a Tesla as they were available unlike my first choice (in early 2022). Unit is nicely packaged and integrates well with the Fronius Inverter. The app that lets us track what is happening provides the info I require when I check it out each day. As a retired Electrical Engineer I'm happy so far.
21st July 2023
Peter
ACT - 2600
6kW system
21st July 2023
Bernie 2
ACT - 2614
8kW system
The battery seem to be delivering what was expected.
27th June 2023
Sara
VIC - 3228
5kW system
15th June 2023
Martin
-
7kW system
The battery was faulty and needed to be replaced. The replacement battery from Tesla is working well so far.
22nd May 2023
Craig
SA - 5007
8kW system
Installing a Tesla battery a couple of years back completed the "loop" in the system by storing excess production that is drawn on once the sun goes down. This coupled with retailer Energy Locals plan has seen our energy costs go down to the lowest they have ever been
14th March 2023
Steve
QLD - 4020
9kW system
Holds up to 10 Kwh, great use of excess solar energy!
9th March 2023
Luke
-
6kW system
24th January 2023
Graham
-
10kW system
27th November 2022
Athol
-
7kW system
18th November 2022
Christobel
-
8kW system
Christian advised these batteries are more reliable
10th October 2022
George
-
8kW system
Tesla Battery is fantastic with no maintenance and a fantastic app to use through your Phone,Has performed as described by Sam as we experience frequent blackouts in the area!!!
7th September 2022
Nicholas
WA - 6230
10-15kW system