The world-famous Elon Musk, CEO of Tesla, announced an entry into the energy storage market in 2015 with the launch of the home battery product, the Tesla Powerwall. Perhaps more famous for their electric vehicles, Tesla Motors have been praised for their ability to make leaps and bounds in research and development. Tesla Australia has attempted to make leaps in the energy sector recently with the newer version of the Powerwall.
How Much Does The Tesla Powerwall 2 Cost?
A common question in people's minds at the beginning stage of their research is "How much does a Tesla Powerwall cost?". In 2017 the Tesla Powerwall 2 launched with the cheapest price point at $9,000 for 13.5 kWh making it one of the most cost-effective options in the residential battery market. Since then, initially, high demand and higher production costs led to the wholesale cost of the battery reaching $16,500 in 2022 before reducing in price in early 2023 to $12,900 including GST.
In Australia, across our network of over 150 solar installers, we expect this installed cost of a Tesla Powerwall 2 to cost between $15,000 and $17,000 excluding Solar Panels and any rebates that might be available in your state.
Tesla Powerwall 2 Price Change History:
| | | |
| --- | --- | --- |
| Date | Wholesale Price | Change |
| 2017 | $9,000 | |
| 2018 – February | $9,600 | +$600 |
| 2018 – October | $12,250 | +$2,650 |
| 2019 – July | $11,700 | -$550 |
| 2020 – October | $12,500 | +$800 |
| 2021 – February | $13,300 | +$800 |
| 2021 – May | $12,750 | -$550 |
| 2022 – March | $13,700 | +950 |
| 2022 – May | $14,650 | +$950 |
| 2022 – October | $16,500 | +$1,850 |
| 2023 – February | $14,599 | -$1,901 |
| 2023 – April | $12,900 | -$1,699 |
Or in a visual form – you can see the trend in the graph below: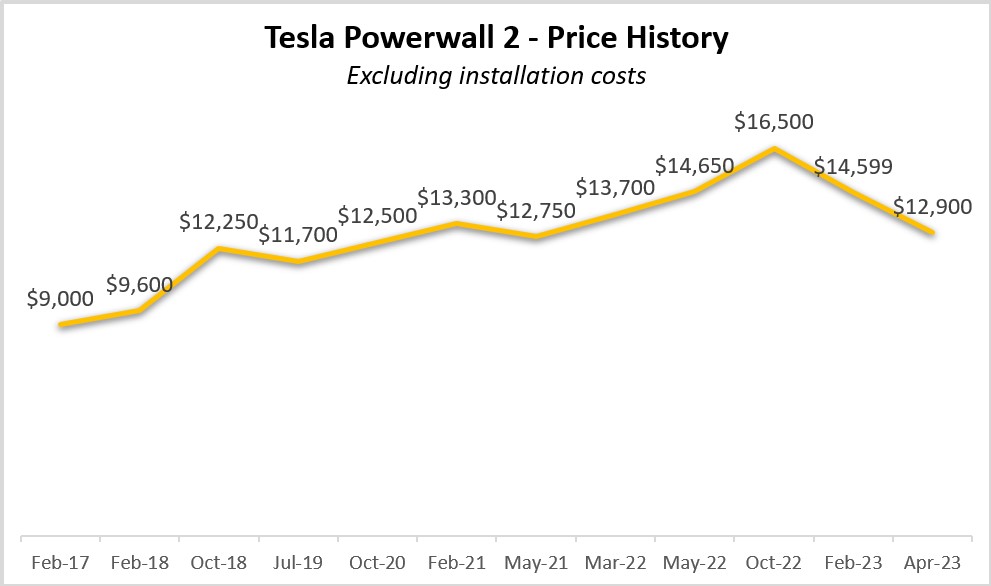 Whether the Tesla Powerwall 2 is a cost-effective product for your system will depend on a closer examination of your electricity needs. To see if home solar battery storage is worth it, our detailed Solar Battery Sizing and Payback calculator to see the financials for your system.
Tesla's official release of the Powerwall 2 & Solar Roof
The Chemistry of a Tesla Powerwall 2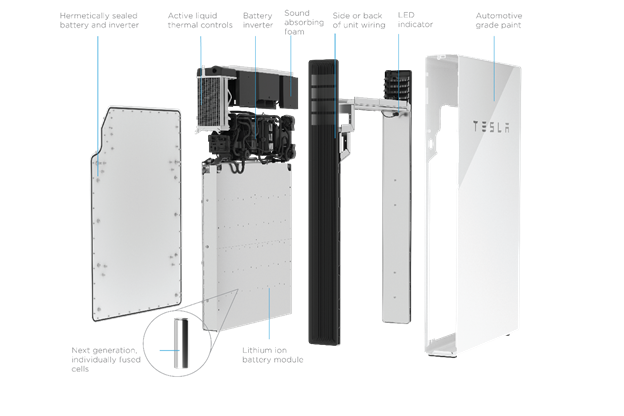 Batteries have a positive cathode, a negative anode and are separated by an electrolyte in a simple view of a battery. The Tesla Powerwall 2 uses Lithium-ion technology where the cathodes are made from a compound of Lithium, Cobalt, Nickel and Manganese (LiNiMnCoO2). Other lithium battery chemistries in the on-grid home battery storage market include lithium iron phosphate (LiFePO4) and lithium cobalt oxide (LiCoO2).
The battery comes with a 10-year warranty and offers 5kW of output power catering to most large residential homes and multiple batteries can be daisy-chained together for commercial usage. The battery is 1.15m by 0.76m and can be wall-mounted indoors or outdoors. If installed in combination with an additional 'backup' component, the Tesla Powerwall 2 can be designed to provide power during a blackout.
Compare solar and battery quotes from local installers now.
Pros and Cons of the Tesla Powerwall 2
Of course, with any product, there's the good and the bad. We've summarised the key points below for you:
Pros
Cons

Excellent specifications including 100% depth of discharge
High-profile company and strong warranty offer
Very easy-to-use app and interface

One of the most expensive battery solutions on the market
Limited supply so there can be a waiting period for your installer to get the battery in stock
Not designed for 3-phase applications as you can only connect the battery to one phase.
Tesla Powerwall 2 Warranty for Australian Customers
Solar batteries often come with a time and throughput warranty. The time warranty covers a period of years that eligible faults can be claimed, while the throughput warranty gives a certain number of kWhs discharged or a number of cycles completed before the warranty expires.
The Tesla Powerwall 2 comes with a 10-year warranty for defects, with the normal set of exclusions including improper use or installation. The warranty also covers a maximum degradation to 70% of its nameplate capacity of 13.2kWh at the end of the 10-year period. That means if your battery can only discharge 9.2 kWh or less after 10 years then you might be able to make a warranty claim.
The through-put warranty that you get with your Tesla Powerwall 2 depends on how you use it. For typical residential applications where the battery is used to store solar power during the day and discharge in the evenings or during blackouts, Tesla offers 'unlimited cycles'. In this scenario the battery is cycling once a day, so this equates to around 3,600 cycles over 10 years.
For any other usage, the battery has a maximum throughput of 37,000 kWh as measured at the battery's AC output. Although it is not specifically mentioned battery uses like participating in Virtual Power Plants or charging your battery off the grid would likely put your battery into this category. The throughput of 37,000 works out to be roughly 10kWhs a day, so after factoring in the degradation of the battery, this will be fairly similar to 1 battery cycle per day for 10 years.
Read through Tesla's full warranty conditions in this document.
Tesla Powerwall 2 Performance Specifications
| | |
| --- | --- |
| AC Voltage | 230V |
| Feed in Type | Single-phase |
| Grid Frequency | 50 Hz |
| Usable Energy | 13.5 kWh |
| Depth of Discharge | 100% |
| Real Power | Max continuous 5kW (charge & discharge) |
| Power Factor Output Range | +/- 1.0 (adjustable) |
| Internal battery DC Voltage | 50V |
| Round Trip Efficiency | 90% |
| Warranty | 10 Years |
Tesla Mobile App Functionality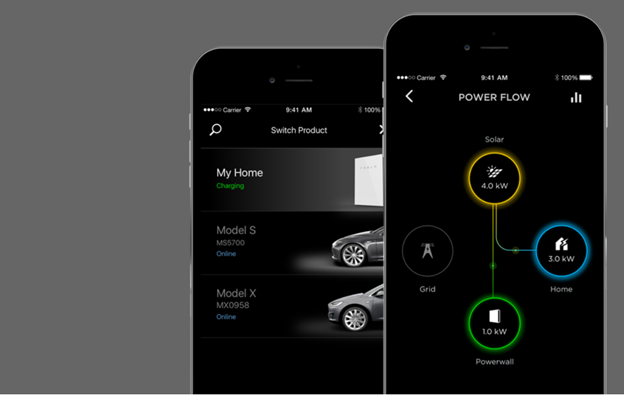 Tesla has developed a mobile app, supported on Android and iOS app stores. This enables users to view the real-time operation and performance history of their Tesla Powerwall 2 and if applicable their Tesla EV as well. App users can monitor system performance if combined with Solar PV and can switch the battery between 3 modes: Back-Up only, Self-powered and Time-based control.
Back-Up Only – switches the battery to store all possible energy and keep the battery full. This means in the event of a blackout power will continue for the system and can potentially last for weeks if coupled with a sufficiently sized Solar PV system.
Self-Powered – This mode maximised the financial utility of the battery enabling a household to capitalise on as much free energy from their rooftop prior to drawing any energy from the grid and incurring a cost from their local electricity retailer. This is the common purpose for residential batteries as homeowners seek to tackle evening and early morning power usage.
Time-based Control – If the owner has a time-based electricity charge from their retailer, then the Tesla Powerwall 2 has the smarts to charge only at the 'off-peak' rates and discharge the power at peak rates. The actual financial benefit available depends on the tariffs of the electricity retailer but is generally insufficient to merit the investment into a battery system alone.
How Do I Get a Tesla Powerwall 2 Battery?
To get a Tesla Powerwall 2 you need a local Tesla Australia-accredited solar installer. You can click here to get a free quote comparison from up to 7 local installers near your home.
Read About Home Battery Government Schemes Across Australia
South Australia, New South Wales, Victoria, and Australian Capital Territory all currently have a home battery scheme in place.
The South Australian Home Battery Scheme enables eligible South Australian residents to receive up to $4,000 per installed battery.
The New South Wales Home Battery Scheme offers an interest-free loan up to $9000 for eligible households looking to install a solar battery.
The Victorian Government under the Solar Homes Program provides to those eligible, a maximum discount of $4,174 off the battery sale price. The next release of battery rebates is on the 2nd of September 2020.
The Australian Capital Territory Government under the Next Generation Energy Storage program provides a rebate of $825 per kilowatt (kW). An average household with a 5kW system would be eligible for approximately $4,000.
Read more product reviews from Solar Choice

Latest posts by Jeff Sykes
(see all)
Reviews from Australians who have installed Tesla Batteries
Rated 4.71 from 14 reviews
20th September 2023
Christian
ACT - 2618
10kW system
1st August 2023
David
NSW - 2439
6kW system
we purchased a Tesla as they were available unlike my first choice (in early 2022). Unit is nicely packaged and integrates well with the Fronius Inverter. The app that lets us track what is happening provides the info I require when I check it out each day. As a retired Electrical Engineer I'm happy so far.
21st July 2023
Peter
ACT - 2600
6kW system
21st July 2023
Bernie 2
ACT - 2614
8kW system
The battery seem to be delivering what was expected.
27th June 2023
Sara
VIC - 3228
5kW system
15th June 2023
Martin
-
7kW system
The battery was faulty and needed to be replaced. The replacement battery from Tesla is working well so far.
22nd May 2023
Craig
SA - 5007
8kW system
Installing a Tesla battery a couple of years back completed the "loop" in the system by storing excess production that is drawn on once the sun goes down. This coupled with retailer Energy Locals plan has seen our energy costs go down to the lowest they have ever been
14th March 2023
Steve
QLD - 4020
9kW system
Holds up to 10 Kwh, great use of excess solar energy!
9th March 2023
Luke
-
6kW system
24th January 2023
Graham
-
10kW system
27th November 2022
Athol
-
7kW system
18th November 2022
Christobel
-
8kW system
Christian advised these batteries are more reliable
10th October 2022
George
-
8kW system
Tesla Battery is fantastic with no maintenance and a fantastic app to use through your Phone,Has performed as described by Sam as we experience frequent blackouts in the area!!!
7th September 2022
Nicholas
WA - 6230
10-15kW system