Note: Solar Choice is not a solar installer and has no financial or other incentives to promote any product brand over another.
Overview of Fox ESS – Company History
Fox ESS is a manufacturer of solar inverters and energy storage solutions with headquarters in Wuxi, China. The company is one of the newest manufacturers in the renewable industry having been founded in September 2019. It is a subsidiary of Tsingshan Group, a Fortune Global 500 company and the largest producer of stainless steel in the world. The parent group has more than 56,000 employees and recorded an annual sales revenue of 37.6 billion USD in 2019.
Tsingshan Group has developed one of the world's largest nickel (Ni) supply chains with mining, refining and production located in Indonesia. Fox ESS hopes to utilise this as a competitive advantage as the use of nickel is becoming more prevalent in electric vehicles and battery storage.
Being a new company Fox ESS are yet to set up a local presence with no listed Australian office address or Australian website. There is however a Australian contact number (1300 377 369) for service and tech support.
A Brief Rundown on Solar Inverters
A solar system's inverter is the point at which the DC electricity produced by solar panels is turned into grid-compatible AC electricity.
String inverters (such as Fox ESS's product range) have traditionally been the standard in the solar industry. They send the power produced by solar panels to a central inverter that changes it from the DC electricity to the usable AC electricity that powers homes.
On the other hand, Microinverters, convert DC to AC electricity at each panel and allow for monitoring and power regulation at the panel level. This is useful for homes that are located somewhere with shading from clouds, trees, or other buildings.
Fox Inverters Available in Australia
Fifteen of Fox's Inverters (under the name of Maitian Energy Co Ltd) are approved by the Clean Energy Council for the Small-scale Renewable Energy Scheme, which is Australia's home solar rebate program.
F Series Single-Phase Inverter
Fox-ESS's F-Series offers single-phase and dual-MPPT inverters covered power output range from 3kW to 6kW for small to medium residential installations. The maximum DC power input is 9kW and the average maximum efficiency is 97.4%. As its name states, a single-phase inverter can produce single-phase power from the PV modules and connect to single-phase equipment or the grid.
Similarly, this inverter has a moisture ingress protection of IP65 that make it suitable for all indoor and covered outdoor installation locations. All of Fox ESS inverters come with remote monitoring via a web portal or an app.
Hybrid Solar Inverter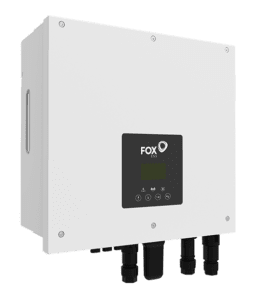 The hybrid solar inverter has both the capability of converting DC power to AC, and using DC power to charge a DC battery (which is why in the image to the right you can see two sets of cable entry points). This is ideal if a solar system owner is hoping to install a DC battery, or if they wish to keep their options open to installing a DC battery in the future (without changing their inverter).
Fox ESS's hybrid inverter has options up to 6kW meaning it can support solar panel arrays of up to around 8kW. Their largest 6kW hybrid inverter can output solar electricity and discharge the battery at 6kW providing enough power for most households – even with lots of appliances running simultaneously.
Like their other residential solar inverters the hybrid inverter is IP65 rated making it suitable for indoors or outdoors installation
T Series 3-Phase Inverter
Fox's T-Series solar inverter is aimed at residential properties with a 3-phase connection and small-scale commercial installations with options ranging from 3kW to 25kW. The maximum input range is up to 37.5kW and it has an average maximum efficiency of 98.6%. A 3-phase inverter basically has 4 wires – 3 actives and a neutral which could supply power at the standard 240V and at 415V for some large power-needed appliances. This is realized by a three-phase connection effectively tripling the power available as appliances can be split across each of the three phases.
This inverter has a moisture ingress protection of IP65 making it suitable for indoor or covered outdoor installation locations. Besides, it is fully optimised for the upgrade to the Fox-ESS range of battery storage system (requires additional Fox-ESS equipment).
Compare quotes from up to 7 installers in your area now.
Fox ESS Inverter Efficiency
An important aspect of getting the most value out of a solar inverter is to choose an appropriately sized inverter to optimise the solar panel system efficiency. To read about the importance of inverter sizing and system efficiency click here.
Residential inverter efficiency standards are generally 95 to 98 per cent. Fox ESS's solar inverters meet these standards and have at least 97.4% max efficiency for their residential range and extending up to 98.6% for the 25kW commercial solar inverter.
Fox ESS Inverter Warranties for Australian Customers
Fox ESS's standard warranty policy (covering the below models) guarantees that their products will be free from defects in materials and workmanship for a period of 10 years (120 months) from the date of installation, but no more than 125 months from the date of manufacture of the product (whichever comes first).
This includes all the Fox ESS product series referenced above in this review except the Hybrid series which only has a 5 year standard warranty.
FoxPlus Warranty
If the product is registered via the Fox ESS website within 3 years from the date of manufacture of the Product, an additional 2 years will be provided for S, E and F series models. In these additional 2 years, the FoxPlus warranty will cover the cost of repairing the solar inverter only. It will not cover transportation costs or be eligible for service rebates/compensation.
FoxPro (Extended Warranty)
The customer or installer can purchase full warranty coverage from years 10 to 20 of the solar inverter – called the FoxPro warranty extension. The FoxPro warranty extension is available for purchase within 3 years of the solar inverter being installed and commissioned.
If customers experience any warranty-related issue, the original installer who installed the system should be the first line of support for replacing or repairing the product. The warranty document confirms in the event of the original installer going bust, then the customer must find another installer to process the warranty claim for them.
An unusual term is that they require an inspection in year 6 of the inverters operation by a Fox authorized technician, otherwise warranty will be invalidated.
Hopefully as Fox ESS increases in size and presence in Australia we will see the establishment of an Australian office and local support staff to help service any issues that are experienced with their products and expedite a returns process with their Chinese production facilities.
Fox-ESS Solar Inverters Pros and Cons
Pros
The Fox-ESS technically stands up quite well with a great maximum efficiency rating of 97.4% on its single-phase inverter range
Although Fox-ESS is a young company they have the backing of their parent company Tsingshan Group, a Fortune Global 500 company
Cons
Lack of experience and track record have been founded in 2019
Limited footprint in Australia with no local office or Australian website
Comparison Fox-ESS Solar Inverter Specifications (common models)
T-Series

T-10

F-Series

F-5000

E-Series

E-3000

Rated AC Power Output
10kW
5kW
3kW
Maximum Continuous Output Current
15.9A
23.9A
14.3A
Phases
Three-phase
Single-phase
Single-phase
Number of MPPTs
N/A
2
2
Maximum DC Power
15kW
7.5kW
3.9kW
Maximum Inverter Efficiency
98.6%
97.4%
97.4%
Dimensions
475*384*186 mm
402*476*148 mm
360*370*128mm
Weight
20kg
15.5kg
13.5kg
Warranty
Refer to Warranty Policy
Refer to Warranty Policy
Refer to Warranty Policy
Operational Temperature Range
-20°C to 60°C
-20°C to 60°C
-20°C to 60°C
Made in
China
China
China
So, is Fox-ESS a good solar inverter brand?
Fox-ESS is still a young company who are building a presence in Australia and attempting to win market share. There are always risks in buying products from a young company as they do not have a track record to prove they will be around to service the products and uphold warranty claims if necessary. This is particularly the case in solar power where products have long warranty periods and expected lifetimes.
There are some promising signs from Fox-ESS to suggest they will be competitive with some of the major brands over time, but at present there are no particular features of these inverters that would justify the risks of buying from such a young company.
Read more product reviews from Solar Choice
Compare quotes from up to 7 pre-vetted installers in your area now.
Since 2008 our knowledge and sophisticated software has allowed over 300,000 Australian households and businesses to make a well-informed choice on their solar & battery installer.

Latest posts by Jeff Sykes
(see all)
Reviews from Australians who have installed Fox-ESS Inverters
1st August 2023
Linda
NT - 0870
6kW system
Neat and tidy unit. Easy to read.