Note: Solar Choice is not a solar installer and has no financial or other incentives to promote any product brand over another.
Overview of SMA – Company History
SMA Solar Technology AG is a German company focused on manufacturing and supplying solar energy equipment. The company was founded in 1981 by a team from the University of Kassel and has since grown into company with 3,000 employees and over AU$1billion in revenue (according to their 2018 annual report).
The company supplies photovoltaic solar inverters to the residential market under the Sunny Boy name, Sunny Tripower and Sunny Highpower into commercial market and Sunny Central for large scale applications and utility-scale solar farms. SMA also produces the Sunny Island predominantly used in off-grid and battery applications.
A Brief Rundown on Solar Inverters
A solar system's inverter is the point at which the DC electricity produced by solar panels is turned into grid-compatible AC electricity.
String inverters (such as SMA's product range) have traditionally been the standard in the solar industry. They send the power produced by solar panels to a central inverter that changes it from DC electricity to the usable AC electricity that powers homes.
Microinverters, on the other hand, convert DC to AC electricity at each individual panel and allow for monitoring and power regulation at the panel level. This is useful for homes that are located somewhere with shading from clouds, trees, or other buildings.
SMA Sunny Boy inverters were named as a PV Evolution Labs Top Performer
PV Evolution Labs (PVEL) independently test solar inverter reliability. The tests are voluntary, with solar inverter manufacturers paying to participate in the testing. This testing process is internationally renowned and is an accurate reflection of the solar inverter's performance.
To see the full PVEL scorecard results click here.
In 2019 the SMA SB7.7-1SP-US-40 ranked as a top performer in the following 3 tests:
Passive Chamber
Power Thermal Cycling
30 Day Runtime Performance
What are SMA solar inverters point of difference?
SMA's primary point of difference is their 40 year history as a inverter developer and manufacturer. Their inverter's have truly stood the test of time and have a proven reliability and low-failure rates than emerging market entrants and Chinese inverter companies cannot compete with.
The SMA Sunny Portal
SMA offer one of the best free built-in monitoring systems in the residential and commercial market. The system has been intelligently built and adapted to pro-actively identify faults and anomalies and to send this information to both the owner and the installer. Where a warrantied product fault is identified, SMA guarantees they will supply a replacement within 3 days otherwise the operator can claim compensation.
SMA Smart Meter
With an SMA smart meter home and business owners can monitor both the solar power generation and their energy consumption through the Sunny Portal. This is generally sold as an optional extra in the Australian market but enables the operator to gain much more valuable insight into managing the electricity usage. The smart meter also enables home owners that are restricted to a certain system size (e.g. 5kVA in most of Victoria) install a larger solar system and limit the amount of energy that is exported back into the grid.
SMA's warranty offer for Australian customers
SMA offers a standard 5-year warranty for their residential and commercial solar inverters. This warranty is automatically extended to 10 years for the Sunny Boy and Tripower series if the customer registers the product online within 12 months of the installation.
This means most customers can get a free 10 year warranty which is now a standard expectation in the Australian market. SMA also has the option to pay for a warranty extension up to 15 years on most of their inverter models.
SMA has a very strong track record and a large physical presence in Australia, so we believe that you would be well supported if you needed to make a warranty claim.
Limitations of SMA Solar Inverters
The residential range of SMA inverters are limited to 2 MPP inputs. As the SMA inverters are string inverters, that means if you are hoping to install solar panels on more than two roof orientations then you will require 2 inverters or third party power optimisers. Some 5kW inverters now come with 3 or more MPP inputs to prevent this challenge as it add significant additional cost to the project. Additionally in shaded environments SMA inverters won't perform as well as micro-inverter or power optimiser solutions.
SMA inverters come with a standard 5 year warranty. This is rapidly becoming one of the shortest inverter warranties offered in Australia with many of the growing Chinese companies offering a standard 10-year warranty. As we've discussed previously, a warranty is only worth something if the company providing it is still around and there is an accessible route to claiming it if your Solar Installer is no longer around. Our advice would be to request the 5-year extension on SMA's inverters so that you can make an apples for apples comparison.
SMA Solar Inverter Costs
As many SMA inverters are manufactured in Europe, this higher quality product comes with a higher price tag in comparison to the inverters that are designed and manufactured in China.
Indicative pricing
| | |
| --- | --- |
| SMA Sunny Boy 5KW Inverter | $1,700 to $2,000 |
| SMA Tripower 10KW Inverter | $2,800 to $3,500 |
| SMA Tripower 25kW Inverter | $4,500 to $5,000 |
Keep in mind that inverter costs generally only run between 10-20% of your total system, so often it is worth investing in a high quality inverter given this will have a large impact on the efficiency and performance of your Solar Power project.
Compare quotes from up to 7 installers in your area now.
SMA Inverter Technologies
SMA offers a range of string inverters under the Sunny Tripower and Sunny Boy series, catering to various solar installation needs.
Sunny Boy
The Sunny Boy series is solely focused on the needs of smaller-scale residential systems. These single-phase inverters are equipped with two Maximum Power Point (MPP) trackers,
Within the Sunny Boy series, the inverter output capacity ranges from 1.5kW to 6.0kW, providing flexibility to suit different system sizes. The 5kW Sunny Boy inverter has historically been one of the most popular solar inverters for homeowners across Australia over the last decade. The maximum efficiency of this series is 97%.
One drawback of the Sunny Boy is the inverter only comes with LEDs lights indicating status. Many of the other residential inverter options on the market now have LCD displays which show the real-time performance of the system.
Sunny Tripower
The Sunny Tripower series comes in output capacities from 3.0kW to 10.0kW for larger residential applications that have 3-phase power connected. These inverters feature 2 MPP trackers and have a max efficiency of up to 98.3%. This maximum efficiency puts them towards one of the best options on the market.
SMA also has a Sunny Tripower X series which has models rated from 12kW to 25kW. These are suited to very large residential applications or small businesses. The Tripower X features an additional MPP tracker (total of 3) to give solar designs more flexibility in the solar panel layout. Up to 5 of these inverters can also be linked together for larger commercial applications.
The inverters feature SMA's 'opticool housing' technology and DC overvoltage protection.
Sunny Tripower CORE2
For large commercial project SMA's CORE2 inverters offer a solution with an output rating of 110kVA. They can be paired with up to 165kW of solar panels which can be split across an impressive 12 MPP trackers.
Sunny Tripower CORE1
Unlike SMA's other inverter, the CORE1 inverter is designed to be mounted onto the ground, given its immense weight of 84kg. The free-standing inverter has an output capacity of 5MW and can accommodate up to 7.5MW of solar panels.
The CORE1 is designed for utility-scale projects, but has also been used on some of the biggest scale commercial solar projects. The inverter comes with the arc-fault circuit interrupter and I-V curve diagnosis which are features designed to add value to solar farm developers and investors.
Comparison SMA Solar Inverter Specifications (common models)
| | | | |
| --- | --- | --- | --- |
| | Sunny Boy 5kW SB5.0-1AV-41 | Sunny Tripower 8kW STP8.0-3AV-40 | Sunny Tripower 25kW STP 25000TL-30 |
| Rated AC Power Output | 5,000VA | 8,000VA | 25,000AV |
| Maximum Continuous Output Current | 22A | 3 x 12.1A | 36.2A |
| Maximum DC Input | 7,500W | 15,000W | 45,000W |
| Maximum Inverter Efficiency | 97% | 98.3% | 98.3% |
| Dimensions | 435 x 470 x 176 mm | 460 x 497 x 176 mm | 661 x 682 x 264 mm |
| Weight | 17.5 kg | 20.5kg | 61kg |
| Warranty | 5 Years | 5 Years | 5 Years |
| Operational Temperature Range | -25°C to 60°C | -25°C to 60°C | -25°C to 60°C |
| Made in | Germany | Germany | Germany |
So, is SMA a good solar inverter brand?
In our opinion you cannot go wrong with an SMA inverter. It was one of the few brands in the Australian market that has truly stood the test of time with proven performance and reliability for over 20 years.
Example of a large-scale SMA Inverter Solar Project
SMA solar inverters were deployed on the 60MWdc Gannawarra Solar Farm in Victoria in 2018. The Solar Farm project was originally developed by Solar Choice and funded by a partnership of Manly-based Wirsol and Edify Energy.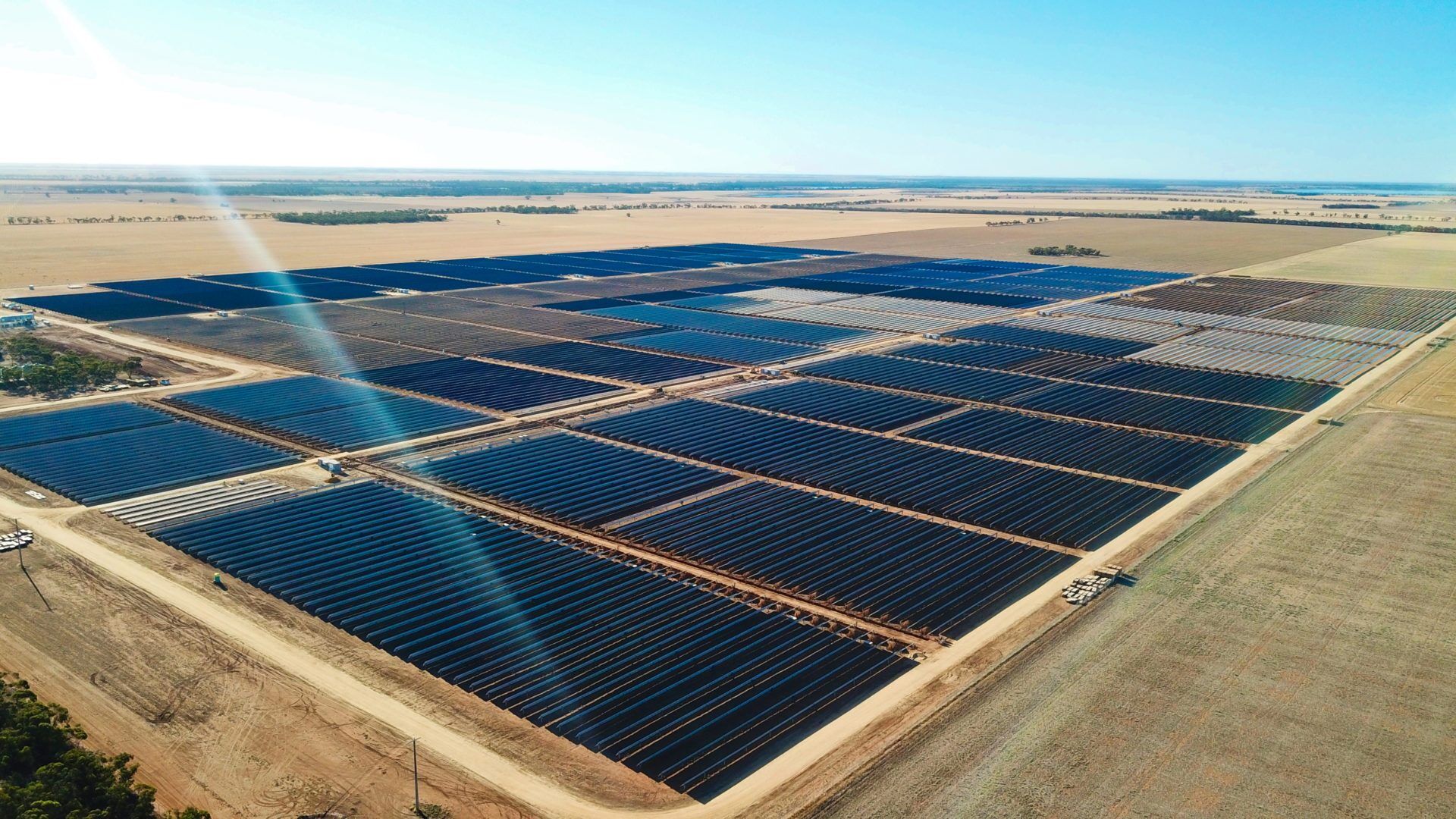 SMA inverters were selected on the basis of their bankability and proven track record in similar projects. The project features 11 MVPS 5000SC-EV inverter stations and a SMA Power Plant Controller. The project was subsequently integrated with a large-scale Tesla Battery to provide grid support services to the local networks and capture peak pricing events on the National Energy Market.

Read more product reviews from Solar Choice

Compare quotes from up to 7 pre-vetted installers in your area now.
Since 2008 our knowledge and sophisticated software has allowed over 300,000 Australian households and businesses to make a well-informed choice on their solar & battery installer.
Reviews from Australians who have installed SMA Inverters
Rated 4.71 from 35 reviews
8th August 2023
Matt
-
5kW system
SMA app is better than I expected. Glad I got the consumption meter too. Love being able to see real-time data from both my generation and consumption.
20th June 2023
Michele
NSW - 2775
6kW system
6th June 2023
Ian
-
6kW system
4th June 2023
Steve
QLD - 4565
6kW system
16th May 2023
Micky
-
6kW system
It does as it should. It's a shame SunBoost isn't as reliable
14th April 2023
Barry
-
6kW system
13th April 2023
Geoff
-
7kW system
14th February 2023
Ted
VIC - 3431
6kW system
Placed on Wall With Cover for Protection Against the Elements.
24th January 2023
Michael
QLD - 4300
5kW system
10 years good service. No problems . I also have 5 Enphase panels with mini converters by REA. They are even more efficient in use of space and PV output.
7th November 2022
Michael
-
6kW system
18th October 2022
Tobias
TAS - 7112
7kW system
SMA is a good inverter, no one will dispute that. There was a minor issue with the software after a self-update caused the webui to display some JSON tags, however that fixed itself within a few days. The UI is very intuitive but also provides very detailed and specialised data and options.
5th October 2022
Andrew
-
10-15kW system
30th August 2022
David
QLD - 4556
6kW system
Daily Summary of output helps me to time my peak use of electricity, and monitor trends according to weather and day length.
27th August 2022
Bradley
-
7kW system
25th August 2022
Jon
-
10kW system
25th August 2022
Marianne
-
7kW system
Had 2 inverters installed these have not skipped a beat
30th June 2022
Linda
-
6kW system
30th June 2022
Bob
QLD - 4069
5kW system
23rd June 2022
Julia
-
7kW system
Simple and great monitoring app.
10th May 2022
Des
-
6kW system
12th March 2022
Kevin
QLD - 4860
7kW system
4th March 2022
Brett
-
6kW system
14th February 2022
Paul
-
6kW system
9th February 2022
Nick
-
5kW system
3rd February 2022
Peter
WA - 6149
6kW system
SMA App only shows total power being generated. A friends Fronius App also shows how much power is being used and how much is going out to the grid.
29th September 2021
Glenn
TAS - 7004
6kW system
23rd August 2021
Keith
WA - 6285
6kW system
23rd August 2021
Stuart
-
5kW system
This was the brand recommended by Solar Choice, who are clearly experts in this field. We were happy to be guided by them. We also understand this brand may also retain its value well over time.
5th August 2021
Angela
-
10-15kW system
30th July 2021
Ellen
-
30-50kW system
Seems to be working well and software is providing the data we need.
8th July 2021
Jon
-
20-30kW system
6th July 2021
Glenn
-
15-20kW system
No comment on the brand. I am experiencing over voltage shutdowns regularly. This is apparently grid related. The installer did come back and tweak the settings which improved slightly but there is a moderate amount of loss.
2nd July 2021
Julie
-
6kW system
It works...what more can I say
14th April 2021
Geoff
WA - 6530
3kW system
17th March 2021
John
SA - 5066
5kW system
working well 4 years later